08.12.09
home | metro silicon valley index | the arts | stage | review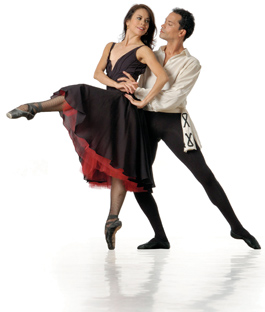 Photograph by Dale Dong
DANCE FEVER: Karen Gabay and Raymond Rodriguez keep on their toes with Pointe of Departure.
Departure Arrives
Ballet San Jose regulars Karen Gabay and Raymond Rodriguez bring their summer troupe, Pointe of Departure, to town for one night
By Jessica Fromm
BEFITTING a prima ballerina, longtime Ballet San Jose principal dancer Karen Gabay's most recent project is a stripped-down celebration of dance in its rawest, purest form. As resident choreographer and co–artistic director of Pointe of Departure, a small, nonprofit ballet company based in Cleveland, Ohio, Gabay and co–artistic director Raymond Rodriguez (also of Ballet San Jose) will bring their troupe's summer repertoire to the South Bay for the first time.
The duo and their troupe of 16 Ballet San Jose dancers will present a self-titled, eclectic program on Saturday (Aug. 15) in a one-night-only engagement at the Mountain View Center for the Performing Arts.
"Our budget is very minimal, so the ballets are far from being overproduced," says Gabay in an email interview. "Both of us felt it would be a good time to give California a try and see how receptive audiences would be to see ballet in the summer and with a scaled-down performance of dance."
Gabay has choreographed two of her own original dances for the show, Gare du Midi and Hooray for Hollywood!. The former, which debuted in 1993 as part of the Cleveland Ballet's first Hidden Talents program, is a humorous look at a late-night train station.
"The inspiration to that piece was taken from my experience in a waiting room in Europe at the Gare du Midi station [in Belgium]," says Gabay. "The music is Bernstein, and the piece is a look at the various characters that I saw in the wee hours of the morning while waiting for my train."
Originally performed in Cleveland in 2005, Hooray for Hollywood! is an energetic tribute to the silver screen, a fusion of classical ballet and Broadway dance with music compiled from classic films. The Aug. 15 show will also include a pas de deux between Gabay and Ballet San Jose dancer Ramon Moreno called Munecas. Developed by Cuban choreographer Alberto Mendez, the playful dance portrays the duo as dolls.
Also dancing in the production are some of Ballet San Jose's best and brightest performers, including Alexsandra Meijer, Maria Jacobs-Yu, Maximo Califano, Jing Zhang, Peter Hershey and Amy Marie Briones.
Gabay says the show will be set on a bare stage, with the lighting and the dancers' bodies as the main showcases of movement.
"There are no real sets, so hopefully lighting, great dancing and music will enable the audience to use their imaginations a bit," says Gabay. "They are actually very pared down to leotard and tights, but the dancers are so incredibly wonderful that I think they will be seen for who they are, rather than hidden in costumes. I have always felt that dancers work so hard to develop their bodies, so why not show them off in the most flattering way."
Gabay, Rodriguez and the Pointe of Departure dancers were busy performing in Cleveland all last month, so they will only have 10 days of rehearsal in Mountain View to get the program up to performance level.
A professional ballet dancer for three decades, Gabay said that the pressure and challenge of getting a performance right is what spurred her to start Pointe of Departure and to continue choreographing and performing in the summer ballet off-season.
"It is difficult to stay in shape, and it is not quite as easy to stay motivated if you know you are not performing or dancing for three to four months," says Gabay. "It is much more a responsibility [as an artistic director], because I have to see the whole picture and worry about fundraising, schedules, marketing aspects, choosing the proper program, dancer concerns and basically running the whole show." 
Gabay believes that the local debut of Pointe of Departure will draw a new, diversified Bay Area audience that wouldn't typically come to the ballet during the normal fall/spring ballet season. "I hope it will bridge the stereotypical image that people have about ballet, especially about men in ballet, and hope that they can see how dancers are wonderful athletes under their graceful exterior."
POINTE OF DEPARTURE performs Saturday (Aug. 15) at 8pm at the Center for the Performing Arts, 500 Castro St., Mountain View. Tickets are $21–$40. (650.903.6000)
Send a letter to the editor about this story.