08.12.09
home | metro silicon valley index | the arts | books | review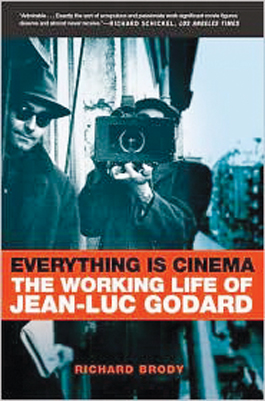 Godard Is Everything
By Richard von Busack
RICHARD BRODY'S heavy tome is, unfortunately, the best thing about Jean-Luc Godard in English. Everything Is Cinema—as Jonathan Rosenbaum noted a year ago—is most useful in exhuming some of the political, censorship and film-production problems Godard has faced during his 50-year-plus career. Brody charts the director's course from intransigent film critic to the cometlike transit through the 1960s and a long string of films, decades ahead of their time, such as Alphaville, Breathless and A Married Woman. Brody also stresses the importance of the later works such as Sauve Qui Peut, Hail Mary and King Lear (a nonadaptation of a play Godard apparently refused to read). Brody knows his French culture well, and he is certainly the most learned critic at The New Yorker, particularly when he's writing about silent and early sound film. He's placed to become a star writer like Pauline Kael. This might explain his attack on Kael; he likens her, unforgivably, to Cosmopolitan's Helen Gurley Brown. Problem is, Brody doesn't address most of Kael's arguments against Godard's lesser work or the auteur theory in general—such as the question of why self-plagiarism for commercial reasons is evidence of art. And when writing about a witty director, Brody shows little humor of his own. One can sense the author's shock at Godard's hilarious quip about how his inability to prevent Steven Spielberg from rebuilding Auschwitz proved that he had labored in vain.
The accusations Brody makes of Godard's anti-Semitism are based on hearsay and Godard's own strident anti-Zionism. And the quotes here, of Godard caviling against the United States, seem almost cherry-picked. Then again, Brody doesn't mention the names "Ronald Reagan" or "George W. Bush" to explain why a European might hold a brief against America. Moreover, Godard is clearly a man who'll say anything for attention or to cause a sensation. It's the showman in him, or the philosopher. And at last Brody's insinuations about Godard's pedophilia need a longer rebuttal, or at least the answer to this question: What attracted a centrist writer like Brody to such a revolutionary talent like Godard?
EVERYTHING IS CINEMA: THE WORKING LIFE OF JEAN-LUC GODARD by Richard Brody; Henry Holt; 704 pages; $20 hardback.
Send a letter to the editor about this story.