08.12.09
home | metro silicon valley index | silicon valley restaurants | review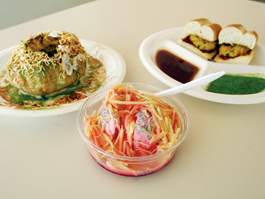 Photograph by Felipe Buitrago
THREESOME: The unusual treats at Bangalore include raj kachori (left), falooda ice cream and the vada pav sandwich.
The Scoop on Bangalore
The Indian veggie specials at Bangalore Cafe go down easy with some exotic ice cream
By Stett Holbrook
IF ALL that Santa Clara's Bangalore Cafe served was its menu of southern Indian vegetarian food, it would still be one of my favorite stops on El Camino Real. The cafe offers an extensive menu of chaat, dosas, vada (fried lentil cakes) and other fast and delicious Indian food.
Bangalore's spicy bisibelebath is one of the best versions of the southwest Indian specialties I've had. The creamy richness of the lentil and rice dish hits you first and is followed by a long, simmering spiciness and the discrete pop from tiny mustard seeds. And I love vada pav, a small spiced potato-cake sandwich served on great crusty bread with tamarind and mint sauces for dipping.
But Bangalore Cafe also happens to be the home of Real Ice Cream, purveyor of supremely delicious Indian ice cream and kufli. Cheap and delicious Indian food plus thick and rich (but egg-free) ice cream? I could easily come here once a week every week. But in spite of the restaurant's culinary riches, Bangalore attracts a mainly Indian clientele. Where's everybody else? You're missing out on one of Silicon Valley's true gems.
The restaurant is not much to look at. The stark dining room is filled with Formica tables and bench-style seating and festooned with larger-than-life-size pictures of food and some tinsel hanging from the ceiling. There's a table set out in front of the counter topped with Indian prepackaged sweets and snacks. This is Indian fast food, so you walk up to the counter to order and wait for the nice lady to call your number to pick up your food when it's done. You pay for everything in advance, including the ice cream, so part of the fun for me is eating the spicy food and anticipating the cooling creaminess of the sweet ice cream at the end of the meal.
Start off with a few items from the chaat menu. Chaat are little snacks served as street foods in India, and they work well as appetizers over here. There's an ephemeral quality to chaat that makes it a fleeing pleasure. While a burrito can sit wrapped up until you get home and still taste good, chaat must be eaten immediately. Crispy ingredients made from puffed rice and wheat are added to moist ingredients just before serving. Wait more than a few minutes, and it becomes a soggy mess. But those few moments when the chaat is at its prime are as delicious as they are short-lived.
Pani puri ($3.99) is one my favorites. Pani is the Hindu word for water, and puri are hollow, puffed shells made from wheat flour. The shells are typically filled with chunks of boiled potato and garbanzo beans and topped with a spicy mint sauce and sweet tamarind chutney, then dunked in the "water," a spicy, sour and salty mixture concocted from various herbs and spices. The result is a blast of flavors and textures, a true sensual experience.
Sev puri ($3.99) is another chaat classic made from little puffed discs topped with garbanzo beans and sprinkled with "sev," little squiggly rice flour crunchy things. The snack is served with the same tamarind and mint sauces that you douse over the top and pop in your mouth.
For something more substantial, go for the chole tikki ($4.75), garbanzo beans cloaked in a thick, red gravylike sauce poured over a little fried potato patty.
For a full plate of food, the bisibelebath combo is the way to go ($7.99). The aforementioned spicy lentil-rice stew is served alongside vada and idly. The idly is a rather bland rice-lentil cake. Far better is the vada, a fried lentil donut peppered with cumin seeds and other spices. Dipped into the spicy, tomato-based sambar sauce, it jumps to another level.
The set dosa ($4.99) is a simple but satisfying lentil-rice crepe served with a creamy-spicy coconut milk stew. The chile-onion uthappam ($5.99) is more of a pancake. Both dishes are loaded with protein thanks to the lentils, and it's amazing how substantial they feel.
The only bummer about the restaurant is everything is served on crappy Styrofoam plates and bowls that are destined for a landfill where they will spend the next 5,000 years taking up space. There are more biodegradable, disposable plate options that are so much better and cost about the same. OK, enough of my lecture.
For a beverage, you must order the badam milk ($1.99). It's a sweet drink made from almonds and flavored with saffron and cardamom. It's just the thing to cut the spiciness of the food. It's kind of like an Indian version of horchata. Get it.
After you've cleared your plate, it's ice cream time (single scoops go for $2.50). Real Ice Cream makes regular flavors such as chocolate and strawberry, but who wants that when you can choose from fig ice cream, cardamom ice cream or gulkand ice cream (rose petal) or falooda ice cream (rose water and falooda seeds). Best of all is the kulfi. Kulfi is made with cream and sugar like ice cream, but the cream is boiled down into a thick, caramel-like syrup. The result is a dense and chewy dessert that will bend a metal spoon in half and make gelato seem like whipped cream by comparison. My favorite is the pista kulfi made with almond, pistachios and saffron. I like it so much I ate my single scoop and bought a pint to go and dug into it as soon as I got home.
---
Bangalore Cafe
Address: 3077 El Camino, Santa Clara.
Phone: 408.984.6601.
Hours: noon–2:30pm and 5–9:30pm Tue–Fri, noon–9:30pm Sat and noon-9pm Sun.
Cuisine: Indian vegetarian and ice cream.
Prices: Most entrees $4–$8.
Send a letter to the editor about this story.