08.12.09
home | metro silicon valley index | movies | current reviews | film review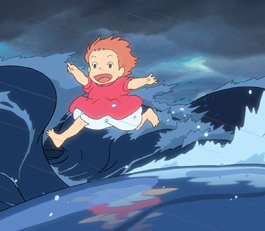 © 2008, 2009 Nibariki-GNDHDDT
WAVE RIDER: Ponyo skims the seas in Hayao Miyazaki's new animated feature.
Golden
A magical goldfish offers animated enchantment in 'Ponyo'
By Richard von Busack
THE NEW Studio Ghibli cartoon Ponyo is a beautiful, gentle entertainment for children, and if that sounds like a minor recommendation, it is. In a field stuffed with reinventors, director Hayao Miyazaki (Spirited Away, et al.) is a genuine inventor. The little echoes from Pinocchio and Hans Christian Andersen's The Little Mermaid can be noted, but they don't affect the tale or the telling much. One can never tell where a Miyazaki story is going.On a Japanese beach of today, 5-year-old Sosuke (voiced by Frankie "The Bonus Jonas" Jonas) finds a magic talking goldfish with a human head. Ponyo (Noah Lindsey Cyrus) is happy to live in a bucket, but she sickens in captivity. A mystical rogue wave takes her back home. We learn that Ponyo's father is a weary undersea wizard, Fujimoto (Liam Neeson). This former human seeks to heal the oceans with magic. Fujimoto was once the lover (or husband) of the colossal sea goddess Gran Mamare (Cate Blanchett). Mamare might also incarnate Kannon, the Japanese version of Kwan Yin; some passing sailors identify her as "the goddess of mercy," apparently just to throw off my pedantic self. The progeny of wizard and goddess are a large school of enchanted fish. Ponyo, the best and the brightest of them, wills herself to escape her father and become a humanoid—a pink amphibian—who is sometimes disguised as a little girl. Ponyo's escape sets off nature on a rampage. The coast floods, and the moon leaves her orbit.
Moments of enchantment appear throughout Ponyo. After seeing Cars, I hadn't thought there were acceptable ways of animating automobiles, but the subcompact of Sosuke's mother, Lisa (voiced by Tina Fey), is practically alive as it darts around the coast roads. The Studio Ghibli animators really opened up the box of colored pencils for the seaside landscapes; they're still industrial enough—with high-tension wires and rusty docklands—to keep from being pretty-pretty or precious. The rapport of son and mother is a rare thing to see in any kind of film. Lisa is never surprised by her child or his strange new friend. After Ponyo returns home for a time, Sosuke, eyes slitted from crying, dutifully laps the ice cream cone his mother bought to console him. Like a real child, he feels he shouldn't be consoled, but the ice cream is consoling him anyway. It's an Ozu-worthy moment. Miyazaki also stages a joke about the Orson Welles–ish look on the face of a colicky baby. ("Look, she likes you!" say the parents; while the baby's expression says no, she certainly does not like anyone, not one little bit.) In our country, where scientists tread softly, Ponyo is on easy terms with evolution; a line says young Ponyo might well be reduced to "sea foam, where we all originated." But there's no threat in this potential drowning, and this injured my grown-up sense of drama. Avoiding clear stories of good and evil, Miyazaki is both Buddhist and animist, telling of the opposition of creative and destructive forces. I admired the balance, but I missed the thrust—the feralness of a fairy tale. Ponyo is not as tart and scary as some of its Ghibli predecessors; like Pixar's Finding Nemo, it skews young.

PONYO (G; 100 min.), directed and written by Hayao Miyazaki, photographed by Atsushi Okui and with the voices of Cate Blanchett and Noah Lindsey Cyrus, opens Aug. 14.
Send a letter to the editor about this story.