08.12.09
home | metro silicon valley index | columns | style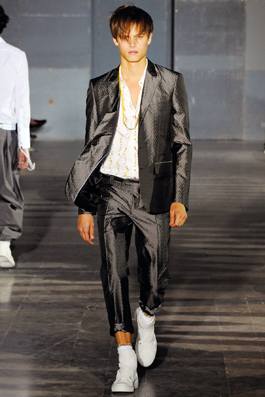 FINE AND DANDY: This shiny, notched dinner jacket by Kris Van Assche featues a minute, spotted pattern.
Putting on the Ritz
By Jessica Fromm
TAKING A CUE from James Bond, men's fashion is seeing a resurgence of the dandy dinner jacket this summer. By mixing the levels of formality of men's suiting, the current interpretation of this look pairs classically formal tuxedo elements with more causal attire. Designers are matching rolled-up slacks, open-collared shirts and driving shoes with shiny jackets made of satin or silk, some even sporting subtle floral patterns. Shawl collars, the most classic, conservative collars for a dinner or tuxedo jacket, are also seeing a resurgence, along with fancy peaked and satin notched lapels.
Men have two options: buy individually or buy a full suit and mix and match pieces depending on the occasion. When buying a jacket by itself, vintage shops are a great option, because their items tend to be sold individually and are lower in price.
If one wants to make an investment and purchase a full dinner suit, keep in mind that suits bought off the rack tend to be somewhat bulky, in which case tailoring is a great option to get the modern, slim cut that is essential to this season's look.
The most important thing to remember when shopping for a suit is to pay attention to the jacket's shoulders, because they are the only part of the outfit that really can't be changed. The way to know if the shoulder of a jacket fits correctly is to put one's arms to the side and lean a shoulder against a wall. If the shoulder pad touches the wall before the arm does, the jacket is too big. The jacket's shoulder should follow the form of the arm, and the only way for a tailor to fix this is to open up and cut the shoulder pad itself, which will send alteration prices sky high.
In addition, the fit of the modern dinner jacket should be tight but not skin tight. The body of a dinner jacket should fit pretty well right off the rack, perhaps a tiny bit too big around the waist so a tailor can take in the darts in front, which is generally pretty inexpensive. The jacket's fabric should sit against the body, but it shouldn't hug it, and the area around the closing buttons shouldn't crease or look like it is straining.
As for the elusive patterned dinner jacket, the rule is to mix no more than two patterns with one solid. More patterns will make the outfit look muddy. If a man is going to wear a patterned jacket with a patterned tie, he needs a solid-colored shirt to go with it to provide a break between the two designs so they don't clash.
Send a letter to the editor about this story.