08.13.08
home | metro silicon valley index | columns | silicon alleys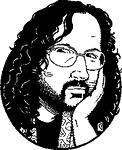 Silicon Alleys
The Hidden City
By Gary Singh
FREMONT resident Xavier Nuez specializes in urban blight photography. For 17 years now, he's slithered into desolated wastelands across America and documented rundown shipyards, busted fire escapes, defunct ballparks and deserted alleyways. He makes photographic monuments out of ruins. "Long after dark, I venture into bleak urban settings, seeking out dramatic stories and elusive splendor," he asserts on his website (www.nuez.com). Since Nuez shoots only in film and only at nighttime, the photos have a surreal, almost sinister look about them. When seen in large format, the details are staggering.
Fifteen of his photographs, each around 32 feet by 40 feet, will be featured at Stanford Art Spaces from Aug. 28 to Oct. 23. Throughout the rest of the year he will exhibit in Chicago, Portland, St. Louis, Beverly Hills and Louisville, Ky. Last week I caught up with him by phone from Ann Arbor, Mich., where he was on his way to the Gold Coast Art Fair in Chicago. We discussed what it's like to discover beauty in the most hideous thrown-away blighted eyesores imaginable.
"I love these places because you get away from your structured life," he said. "You step into chaos for a while. It's a release. You just kind of abandon society. It's like a little oasis in the city. At the same time, you're getting away from the glossy surface of so many things, and step into a place with zero pretenses. These are places that nobody really cares about, they're kind of utilitarian, but they're hidden and they're dark and out of the way."
Nuez's plight to capture the poetic splendor of dark blighted alleyways has not come without certain elements of danger, naturally. Thugs have pointed guns at him, police have questioned him and gangsters have chased him. But he says it's all worth the profound thrill he gets from exploring forgotten, decimated locations. Time gives these old alleys and buildings a certain personality he says is far more interesting than any modern building.
"There's something about old weathered buildings and ruins," he explained. "They develop a character that you can't find in anything that's new. You look at them and you can sense the history. You can imagine the people that have come and gone and the hundreds of stories that have taken place in this dark corner of the city. When you're in these places, you know there's a lot of stories, but there's no one to ask. All you can do is imagine."
Nuez has a history of homelessness in his family and he often ponders if it's all related, since he began exploring these places as a kid, which eventually led to photographing them for a living. 
"My dad spent time living on the street," he said. "So did one of my brothers and an uncle. For a time, for a long time, I just assumed that was going to be my fate. So even while I would go through these places and be in awe of the chaos, I also looked at them as a future home. I had a very pessimistic outlook of my future, but at the same time, I tried to put a positive spin on it."
And therein lies the success story. As of right now, Nuez is making a living by exploring rundown alleys and selling his photographs.
"When I started doing these shows, I really had little hope," he recalled. "I guess I didn't really have a lot of confidence in people's ability to appreciate this kind of urban decay. But as it turns out, people are very curious about the seedy side of the city. They want to see it. Another thing is that when I started shooting these places at night, I assumed that every photographer did this. I just thought it was normal. You get a camera and you go into an alley at night and you take pictures. What else would you do?"
Contact Gary Singh or send a letter to the editor about this story.