08.13.08
home | metro silicon valley index | movies | current reviews | film review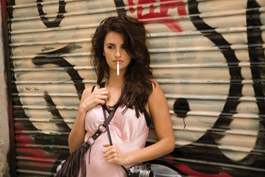 Photograph by Victor Bello
KNIFE LIFE: PenÚlope Cruz has it in for her ex-husband in 'Vicky Christina Barcelona.'
Four-Sided Triangle
Woody Allen returns to form with comic romantic geometry of 'Vicky Cristina Barcelona'
By Richard von Busack
SOMETHING Mediterranean got into Woody Allen, and it's about time. Vicky Cristina Barcelona is Allen's strongest film in years, his most affable and least haunted. The sneaky sensualist in Allen has evolved into something less tentative. There's a Henry Miller quality to the romantic misadventures here. The film starts with a splash of mosaics at the Barcelona airport. A narrator (Christopher Evan Welch) describes two arrivals for a summer holiday. They are as unlike each other as Snow White and Rose Red. Chronic Dissatisfaction Syndrome sufferer Cristina (Scarlett Johansson) has just dumped her New York boyfriend and disowned the 12-minute film she worked on for months. Her more staid traveling companion, Vicky (Rebecca Hall), is going to settle down to a life of dull safety with her fiance, as soon as she gets back to the United States. At a restaurant, the two young women are simultaneously picked up—gently but bluntly—by Juan Antonio (Javier Bardem), a successful artist. He wants to fly the three of them into a nearby town and thence into the space of one large bed. Few actors can carry off the double-seducer role as well as Bardem, and his smokiness keeps the film far away from lecherous ickiness. Also, Juan Antonio has his cross to bear: his violent yet needy ex-wife, Maria Elena (PenÚlope Cruz), who is also a painter. She once perforated him with a knife, and she's not completely out of the picture yet. There are some performers who seem especially handicapped by having to speak English. Let's blame the treacherous language instead of them. Cruz is ravishing here, even in awkward poses, as when she's seen from a high angle shot, with her pants' legs wadded up to her knees, straddling a canvas she's working on. Johansson's hair is dyed a convincing gold. Fine as she is, she is just part of the four-sided triangle. She does not distract from Cruz or the fascinating Hall, a dark, handsome physical type that doesn't get idealized in the movies very often.
Naturally, Barcelona does its stuff, with feast-day fireworks, the Gaudi tour and the bird market at Las Ramblas. Over these scenes, the narration can sometimes Rick Steves it up. When it describes feelings and apprehensions, it also seems unnecessary. There's no need for a Flaubert tone when there's so little space between the way the characters act and the way they're thinking. There is also a certain flatness in the background characters. On the one hand, the other members of the cast aren't shticking relentlessly. On the other hand, they're also not doing much of anything else. At times, one starts to miss the flow of jokes. There is a good one about the obscene sound of the word "snorkeling." (Leave it to a longtime comedy writer like Allen to not neglect the funny "k" sound.) American movies tend to suggest sexual freedom and then ringingly endorse monogamy as if it's something they just invented. While Allen comes to his usual conclusion that anhedonia rules the world, he's on the side of these libertines in his new film. That makes all the difference.

VICKY CRISTINA BARCELONA (PG-13; 96 min.), written and directed by Woody Allen, photographed by Javier Aguirresarobe and starring Scarlett Johansson, Javier Bardem, Rebecca Hall and Penelope Cruz, opens Aug. 15 at Camera 7 in Campbell and the Guild in Menlo Park.
Click Here to Talk About Movies at Metro's New Blog
Send a letter to the editor about this story.