Agust 15-21, 2007
home | metro silicon valley index | the arts | stage | review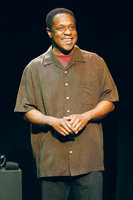 The past recalled: Brian Copeland recalls his journey from Alabama to Northern California.
Coping
Brian Copeland's 'Not a Genuine Black Man' tells how one brother survived San Leandro
By Marianne Messina
BE PREPARED to hear the f-word, the n-word, the gory details of prejudice and other adult travesties visited on unsuspecting kids in the San Jose Stage Company presentation of Brian Copeland's bitter-funny Not a Genuine Black Man. The title was inspired, Copeland tells us, by a letter he received from a disgruntled listener of his talk-radio show: "I am disgusted every time I hear your voice, because you're not a genuine black man." Copeland ticks off the shameful white behaviors that might have motivated this hate mail. For example, raised Catholic, he spent five years as an altar boy: "Apparently, I was one of the lucky ones." In a mixture of humor and horror story, Copeland tells of being an 8-year-old kid chased by a group of white teenagers until he came upon a policeman. After enacting the tale, Copeland conversationally observes that white folks are shocked to learn the cop isn't going to help 8-year-old Brian, while "black folks are going 'mm-hmm.'"
Copeland's suggestion that the stories will read differently to audiences from different parts of the color spectrum became most apparent when he apologized for his guilty white pleasures, like Rick Springfield. (And I can relate to Rick Springfield guilt. I just always thought it was about liking bubblegum pop by a soap-opera star.) Enacting the roles of his regal, former-model mother, his feisty grandmother, his 4-year-old son and others, Copeland's one-man show (which has enjoyed a long run in San Francisco) sketches its way back and forth through time. Between the added backstories and scenes that present not so much a time line as a gestalt of adult Brian's depression and attempted suicide, the chronology can be a little tough to follow. It helps that Copeland keeps returning to 1972, a year which serves as the narrative glue of the sketches. Determined to leave Birmingham behind, along with Brian's erratic, violent father, Brian's mother is lured in 1972 to the "99.99 percent white" San Leandro by a real estate broker with a progressive agenda.
Also to guide us through the time line, Copeland and director David Ford have designated specific zones for each scene and solidified the shifts with unique lighting designs by David Hines. Visually, as Copeland traverses the bare floor (the only set is a table with drinking water) pinpointing memories from zone to zone, that one particular year permeates all other times in his life. The lack of good friends and mentors in young Brian's bleak picture grows ever more conspicuous. Copeland acknowledges these people near the end of the show to finish on a feel-good (if somewhat over-orchestrated) note.
Even on a night Copeland called "the hardest show I've ever done" (the eve of his real grandmother's funeral), the show was amazingly funny and heartfelt. In sudden shifts of perspective, Copeland can come out of the most grueling moments to offer brief, humorous asides. And his imagery is often ingenious, like when he talks about driving his 1999 Mazda as if it were a video game, giving him the sense that if the car crashes "a screen will come up and say, 'Start over.'" From his mother's quiet pride to his own painful withdrawal, Copeland's characters represent an important conversation about the ways we respond to the world's battering and badgering. And judging from Not a Genuine Black Man, each response yields its own glorious results. Perhaps the strongest voice in the conversation comes from Copeland's grandmother, who toughed out her problems with fierce resolve. Her loving advice for Copeland's depression was "Get up off your black ass." For the remainder of the run, you'll notice an empty seat dead center of the house; as Copeland put it, "That's her seat."
Not a Genuine Black Man plays Thursday (Aug. 16) at 7:30pm, Friday at 8pm, Saturday at 2pm (Aug. 25 at 8pm) and Sunday at 2pm through Aug. 25 at The Stage, 490 S. First St., San Jose. (408.283.7142)
Send a letter to the editor about this story.