August 15-21, 2007
home | metro silicon valley index | silicon valley restaurants | review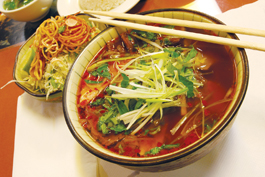 Photograph by Felipe Buitrago
Let's go bowling: Mi quang is My Khe Quan Hue's most popular dish.
Vietnam All Over
As construction on Vietnam Town begins, My Khe Quan Hue shows what Story Road has to offer
By Stett Holbrook
CONSTRUCTION crews recently broke ground on Vietnam Town, a 20-acre shopping center development that's sure to change the face of San Jose's Story Road. Patterned after San Jose's upscale Santana Row, the urban mall will house approximately 250 small businesses that will cater to the city's 85,000 Vietnamese residents. Many of those businesses will be restaurants, and if I have anything to do with it, it will attract many non-Vietnamese in search of good food, too. I'm hungry already.
As construction kicks into gear, there are also plans to designate a one-mile strip of Story Road as a Vietnamese business district. San Jose has America's largest Vietnamese population and Vietnamese-owned businesses are clustered around the Story Road neighborhood. There are Little Saigon districts in Orange County, but San Jose would be the first to recognize the cultural legacy of immigrants from throughout Vietnam.
Vietnam Town is sure to draw national and international attention, but my hope is that the new mall doesn't squeeze out the established restaurants that have made this area so vital. The array of Vietnamese restaurants in San Jose is one of the city's culinary strengths, and one of my new favorites is My Khe Quan Hue.
The restaurant is named after a central Vietnamese town called My Khe (pronounced "me kay"). Food from central Vietnam is underrepresented in San Jose, and that's part of what makes this small restaurant such a find. Most of the restaurants in San Jose serve food from southern and northern Vietnam. Central Vietnam is home to what is perhaps the country's most elegant and complex cuisine. The food from the central city of Hue, once the royal capital of the country, and nearby hills is spicy, ornate and often labor-intensive.
My Khe has only a dozen or so tables, and it's packed at lunch. English is definitely a second language here but the servers are fast and friendly. Starters such as banh beo ($2.95), tiny dishes of thick rice pudding dusted with shrimp powder and dried pork, and banh uot thit nuong ($3.25), thick rice noodle rolls filled with grilled pork sausage, basil and lettuce, are good, but the best I tried was banh xeo ($6.50), a big, turmeric-seasoned crepe filled with bean sprouts, mushrooms and shrimp. It's served with a mound of lettuce leaves and mint and you eat it by wrapping bits of the pancake in the lettuce and dunking it in the nouc cham dipping sauce. It's great.
But really the things to get here are the excellent noodle soups. The most well-known central Vietnamese noodle soup is bun bo hue, named after the city. At My Khe, the soup ($6.50) is loaded with beef, thinly sliced pork and cubed blood cakes. Sounds gross, I know, but it's not as bad as it sounds. Just take them out if you don't want them. The soup is not as spicy as other versions I've had but it has a deep and lively broth. The noodles themselves are spaghettilike and fresh and springy.
For me the real star was the mi quang ($6.50), an egg noodle soup made with wide noodles tinted taxicab yellow (turmeric?). The voluminous bowl is sprinkled with ground peanuts and fried shallots and filed with slices of mild fish cakes and pork. Like the noodles, the broth is yellow and has a clean, fresh flavor. A crispy rice cracker tops the whole thing. It's a great meal in a bowl, and judging by everyone else around me, it's the most popular item on the menu.
Coming in a close second is banh canh ($5.95), a thin noodle soup with made with fish cakes, sweet potatoes and the nutty, sweet flavor of young bamboo. Fried shallots, tomatoes and cabbage round it all out. It's another vibrant soup with a great, spicy broth. Bun cha ca da nag ($6.50), a northern Vietnamese–style fish-cake soup with fat, slippery rice noodles, is also a good choice.
Maybe My Khe will open a second location in the Vietnam Town mall. Judging by the quality of the food and the crowds, it would do well. Either way, it's one of San Jose's stand-out Vietnamese restaurants and I hope it sticks around a long while.
---
My Khe Quan Hue
Address: 960 Story Road, San Jose.
Phone: 408.920.9603.
Hours: 9am–9pm every day except Wed.
Cuisine: Vietnamese.
Price Range: $5.95–$6.95 (cash only).
Send a letter to the editor about this story.