August 15-21, 2007
home | metro silicon valley index | the arts | books | review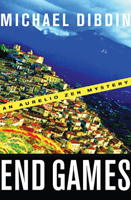 End Games
(By Michael Dibdin; Pantheon; 334 pages; $23.95 cloth)

Sometimes, a good mystery novel can substitute for a trip abroad. Martin Cruz Smith's Arkady Renko tells us more about modern Russia than we could learn on our own. Michael Dibdin does the same for Italy in his Aurelio Zen mysteries. Zen, a world-weary police detective, tackles the toughest assignments (not so much by choice but because his superiors want him out of the way) up and down Italy, with attention to food and keen observations on society: "Immutable, inaccessible and to all intents and purposes eternal, the vast deadweight of Italian bureaucracy goes spinning blindly on its way with utterly predictable momentum, indifferent to the weather outside." In the 11th installment of the Zen saga, the detective must fill a vacancy in Calabria, in the deepest south of the country. Old grudges meet high tech when a scout for a movie shoot sponsored by a video-gaming mogul is kidnapped. The investigation takes a bizarre turn when the American billionaire starts looking for the fabled tomb of Alaric and any number of local scam artists rush to satisfy his desires. Dibdin's ear for modern American lingo rings a little false, but his feel for Italy remains impeccable. Sadly, this is the last Zen novel; Dibdin died earlier this year, at the age of 60. End Games contains a wonderful summing up of Dibdin's relationship with his adopted country: "Italy was indeed the bel paese, inexplicably blessed, just as some people seemed to be. Everything went wrong all the time, but somehow it didn't matter, while in other countries even if everything went perfectly, life was sill a misery."
Review by Michael S. Gant
Send a letter to the editor about this story.