August 15-21, 2007
home | metro silicon valley index | movies | current reviews | film review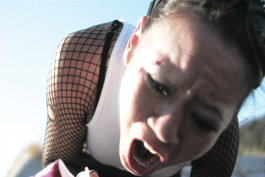 Raging: Syra McCarthy gets mad in 'Boxed Up.'
Valley Vision
Local director Sean McCarthy shows off two new short features at Camera Cinemas
By Richard von Busack
THE ALMADEN VALLEY'S Sean McCarthy is an independent who isn't yet 30 and who has made some 80 films—features, commercials, shorts and rock videos—on the sly and on the cheap. I think he's the most broadly talented local filmmaker I've encountered since I started writing for Metro more than 20 years ago. On Aug. 15, 20 and 23, at Campbell's Camera 7 (and at San Jose's Camera 12 on Aug. 28), McCarthy will unveil two calling-card-size films from his Guerrilla Wanderers company; also playing will be a series of various other shorts and works by his associates.
Boxed Up delivers 22 chaotic minutes with flashbacks, but the gist of it is the vengeance-crazed rampage of a woman warrior. She is played by Sean's sister, Syra, who previously appeared as one of the ornery teenage girls in McCarthy's Raging Cyclist. She is trying to solve the case of a masked maniac who is drugging and killing local girls. We see her on both sides of her transformation from an ordinary student to a tigress. What made her go on the warpath was personally witnessing an everyday act of domestic violence.
Familiar material, but McCarthy and his cinematographer, Khamisi Norwood, show serious confidence in all angles of filmmaking. The actors are all convincingly directed, no matter what they're doing, from being thugs to being high school counselors; even a montage of newscasters reporting on the crimes is free of that distance-inducing phoniness of the fake newscaster in a thriller. (Even A-budget films screw this up—frequently.) On no budget, McCarthy solves all the problems an action film presents. The stunt work looks genuinely hazardous, and McCarthy constructs a very convincing car chase out of a few fast swerves and some expert editing. He doesn't sacrifice clarity for the sake of rapidity, and the moments of pathos (a dying patient expiring in a hospital) are just as affecting as he intends them to be. True, I couldn't tell exactly how the Mafia was connected to the plot, and the actual approach into a killer's dungeon is almost always a letdown after the anticipation. Let's be clear, though—this is where the genre lets McCarthy down, not the other way around.
The sample 15 minutes of the other film, Superhero, shows McCarthy's gift as a comedic filmmaker. McCarthy plays chronic dweeb Montgomery van Chance, who believes himself to be a superpowered vigilante. A more likely story is that he's got the same problem with perception that professor Kinbote had in Pale Fire: that his superpowered foes are just mean ex-bosses and girlfriends who dropped him with justification. A British documentary crew (Ernest Kinsolving does the Nick Broomfield voice) watches him on his rounds. The sequence of Montgomery breaking and entering on the empty house of a criminal suspect—actually a soccer-mom neighbor he has the hots for—displays Richard Lester-worthy visual invention matched with the keen raunch of Judd Apatow's comedies. McCarthy's use of local actors and scenery makes you really see the cinematic possibilities of the area. McCarthy is going places, and yet one really hopes he'll be able to stay right here.

Boxed Up and Superhero, two films by Sean McCarthy, screen Aug. 15, 20 and 23 at 7:30pm at Camera 7 in Campbell (with afterparties at Sonoma Chicken Coop with live music) and Aug. 28 at 7:30pm at Camera 12 in San Jose
Send a letter to the editor about this story.