August 16-22, 2006
home | metro silicon valley index | silicon valley restaurants | review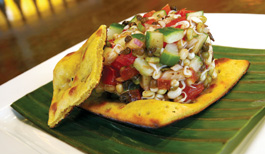 Photograph by Felipe Buitrago
A mung the best: The sprouted mung bean chaat salad at Junnoon
Bangalore Calling
And not just for your job, as Palo Alto's Junnoon captures the eclectic flavors of modern Indian cuisine
By Stett Holbrook
JUNNOON is not an Indian fusion restaurant.That's what our server told us soon after we sat down at this new Palo Alto restaurant. She described the food as eclectic modern Indian food, the kind of food you might get at an upscale restaurant in Bangalore or Mumbai. So if you're among Silicon Valley's recently laid-off high-tech workforce, you can stop wondering what your counterpart in India is doing with the money he or she earns from your offshored job. Judging by my visits to Junnoon, they're eating pretty well.
Consulting chef Floyd Cardoz, best known for his high-concept Indian restaurant Tabla in New York City, has teamed up with other chefs at Junnoon who have similar experience with high-end Indian restaurants in New York City, Washington. D.C., and London. In spite of the colorful fabric that hangs over the windows, Junnoon has a muted, earthy feel that's cool and comforting. There' s a small bar with wide, comfortable upholstered stools up front near the lounge, a window-backed corner with low couches and scattered pillows. The techno-ragas playing throughout the restaurant add to its downtown swank. There's an outdoor patio as well, but it feels a little too exposed to busy University Avenue for me. I think the womblike interior is more appealing.
You'll get a few free pappadams and a sesame dipping sauce to start your meal, but there are a number of other appetizers that are worth ordering. From the selection of raitas and chutneys ($4 each), I liked the chile-pepper-and-bay-leaf-spiked green papaya and spicy garlic chile chutneys. Others, like the tamarind and coconut ginger chutneys, were too sweet, and sapped rather than stoked my appetite. Junnoon's selections of naan and parantha are quite good and come out of the kitchen steamy and light.
You could easily make a meal from Junnoon's great selection of appetizers. The crab and cod cake ($12) was my favorite. It's rich and meaty and accented with fennel and onion seeds. Too bad the dish only comes with one cake. It went fast. The spiced mussels ($9) are another winner. The mussels themselves were fresh and good but what I liked best was the mildly spicy tomato and curry leaf broth. It tasted like an Indian-inspired version of cioppino. We asked for another order of naan so we could mop it all up. For something more substantial, go for the minced beef patty ($9). It's a light-as-air puffed pastry that surrounds deeply spiced ground beef. The piquant mint chutney served on the side is the perfect accent.
Junnoon really scores with several of its entrees. Malabar chicken stew ($16) is a must. The chunky mélange combines chicken, carrots, potatoes and lively spices in a barely sweet coconut milk broth. Substitute a few key spices and this rich and aromatic stew could pass for a Thai chicken dish. Goan lobster ($29) was another table favorite. Tender chunks of lobster are simmered in a velvety and moderately spicy sauce with fat shiitake mushroom caps. Serving lobster this way is much better than the traditional steamed version because it's more succulent and it draws out the natural sweetness off the shellfish. Rice flake-crusted sea bass ($22) arrived pan-fried to a golden brown and was snowy white and moist inside. The kokum sauce, made from a sweet and sour Indian fruit, provided a great foil for the mild fish.
While meaty and tender, the spiced tandoori lamb chops ($19) were unimpressive. Little of the mace and cardamom came through and the end result tasted like regular old lamb chops. The big disappointment was the black pepper steak ($19), a flatiron steak fanned out on the plate and served with a garlic-infused pomegranate molasses. It sounded good on the menu, but the meat was tough and one-dimentional. The sweet pomegranate sauce didn't help matters.
While entrees come with side dishes, there are several sides on the menu that are worth throwing into the mix. Black lentils ($6), spiced with ginger, garlic and tomato, are wonderfully buttery and rich. If you haven't carbo-loaded on the naan, try the cumin and chile-enlivened smashed potatoes ($6), too.
Junnoon happens to be downstairs from Facebook, the social networking website that caters to college students. Its twentysomething founders have turned down an offer for $750 million to acquire the company, and Business Week reported they're hoping to fetch $2 billion for the site. You're not likely to get a piece of that action, but you can grab a seat at Junnoon and enjoy the taste of modern India while you reconsider your place in Silicon Valley's ever-changing economy.
---
Junnoon
Address: 150 University Ave., Palo Alto.
Phone: 650.329.9644.
Hours: 11:30am-2:30pm and 5:30-10pm Mon-Fri, 5:30-10:30pm Sat.
Cuisine: Modern Indian.
Price Range: $16-$29.
Send a letter to the editor about this story.