08.19.09
home | metro silicon valley index | columns | silicon alleys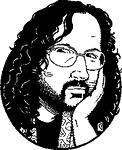 Silicon Alleys
Rosy Days
By Gary Singh
LAST WEEK saw yet another intradimensional moment in San Jose history as the Rosicrucian Order AMORC held a special ceremony commemorating the 100th anniversary of H. Spencer Lewis' initiation into the Rosicrucian tradition in Toulouse, France. It was in 1909 that Lewis made contact with the European leaders of the Rosicrucian Order, and on Aug. 12 of that year, he officially received the mandate to lay the foundation for the order's resurgence in North America. So, in 1915, Lewis launched the Ancient and Mystical Order Rosae Crucis (AMORC) in New York and then briefly moved the headquarters to San Francisco and Tampa, Fla., respectively, before eventually relocating to San Jose in 1927, where AMORC's head office has been ever since.
On the 100th anniversary of Lewis' original initiation last Wednesday, AMORC actually opened up the temple in Rosicrucian Park to the general public for this special meditation and ceremony. The temple is nowhere near as exciting as one would expect from a secret order, but the place was built in 1949 and boasts décor resembling that of ancient Egypt. A triangular altar sits in the middle of the place, and the "Guardians" wear ceremonial aprons and walk only in right angles as they move through the facility.
Now, I am not a Rosicrucian, nor am I proselytizing, but I can at least tell you this much: They are not a religion or a sect but a community of spiritual seekers and philosophers who study and practice metaphysical and natural laws governing the universe. Their teachings, which they trace to the mystery schools of ancient Egypt, offer a nonmainstream route to esoteric Western spirituality and include lessons on the structure of matter, human consciousness, psychic centers, the nature of the soul, intuition, the space-time continuum, vibroturgy, radiesthesia, karma, sacred geometry and other esoteric subjects. AMORC's members include people from all creeds. In fact, some Rosicrucian members do not subscribe to any specific religious beliefs at all.
That said, a gong signaled the beginning of the ceremony and we all proceeded to fill the pews and watch a History Channel–style biography of H. Spencer Lewis and his original 1909 trip to France to get initiated into the Rosicrucian tradition. Following this, we listened to an audio recording of Julie Scott, grand master of the English Grand Lodge for the Americas, which led everyone in a group meditation, helping to visualize the most positive aspects of politics and government, economics, education, health care and healing, religion and mysticism. Scott lives here in San Jose, but was away in Toulouse, taking part in a similar commemorative ceremony with other Grand Masters from the throughout the world.
At the San Jose temple, the meditation/visualization asked everyone to actively participate in the positive transformation of our society and the world, in both mystical and material ways: "One of the ways that we will accomplish this is through the Mystical Law of the Triangle—by bringing two things together, thereby producing a third. There are many applications of this principle. One very powerful formula from an old Rosicrucian exercise is combing thought and projection, which manifest change. We energize and enliven our thoughts by projecting them powerfully into the world. We accomplish this by experiencing our visualization fully, including imagination and emotion. We then give it power through our breath and by the use of vowel sounds, thus sending the vibrations of our visualization into the world."
The recording then led everyone in chanting of specific vowel sounds—owm, rah, mah, ohm—to help "visualize the power of our government being used for good," to "envision an economic system that uses money as an expression of divine love and sharing," and "envision education that inspires our young people, educating the whole self and encouraging new ideas."
In the end, I will finish by leaving things open for the conspiracy theorists, since according to AMORC's own history, H. Spencer Lewis also originally went to France to accompany his dad, a genealogist who was doing research on behalf of the Rockefellers. So Mote It Be!
Contact Gary Singh or send a letter to the editor about this story.