08.19.09
home | metro silicon valley index | music & nightlife | band review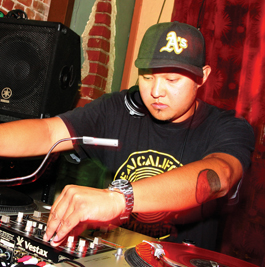 Photograph by Shar Guzmán
DUB MASTER: Audio Dru works out at Mission Ale House.
Audio Dru
By Colleen Watson
SUNDAYS might seem a little quiet in downtown San Jose, but not if you know where to look. At Mission Ale House not one but two DJs work the crowd. In the front, Alonzo spins house music. In the back is South Bay Dub Massive hosted by Audio Dru and guest DJs that he has brought in from around the area. 
Andrew Vincent Moyco, who goes by Audio Dru, is trying to bring dubstep to San Jose, and the crowd on Sunday seemed very appreciative. He describes dubstep as an evolution of Dub music and German bass; the music is punctuated by staggered beats and a pure deep, deep bass. Dubstep came about almost a decade ago in the United Kingdom but it is still an underground scene.
"I learned [dubstep] from the Cypher," said Dru. "That got me hooked on it. ... You can't just so-so like it."
The Cypher is an open-mic night that Dru started about three years ago at Johnny V's, which moved to Mission Ale House on Wednesday nights after Johnny V's closed. "It's like a soup kitchen for hungry MCs." 
Audio Dru is also a DJ with KSJS and has been for about five years. And although he is very passionate about bringing dubstep to the South Bay he is a hip-hop DJ first, but he said the hip-hop genre needs a little help. "I think hip-hop needs CPR." 
Dru is very active in the San Jose music scene and he just hopes to get people out and exposed to new types of music so that they can, "keep underground music alive."
Send a letter to the editor about this story.