08.19.09
home | metro silicon valley index | silicon valley restaurants | review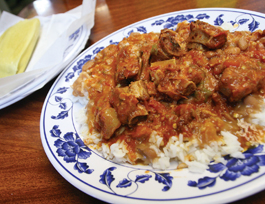 Photograph by Felipe Buitrago
MICHOACAN MEAL: Morisqueta with pork-rib pieces and uchepos star in Mendoza's menu.
Hold the Chips
San Jose's Mendoza serves tasty and unusual Mexican—not Mexican-American—dishes
By Stett Holbrook
I SHOULD HAVE known better. I was eating lunch at San Jose's Mendoza Taqueria a few weeks ago, enjoying a meal of uncommon dishes made in a central Michoacan style, when I let it slip.
"Can we get some chips and salsa," I asked our waitress.
The thumping jukebox came to an abrupt stop, and everyone in the restaurant stopped talking midsentence and swiveled their heads to look at me in disbelief. An icy silence hung in the air. It was as if I had asked for a plate of grilled baby hearts.
"No," she said, as a flicker of scorn crossed the face of my once pleasant waitress. "No se sirven aqui."
Translation: Chips and salsa aren't served here.
OK, I embellished that scene a little bit, but I did ask for chips and salsa, and the waitress did say they don't serve them, but she was actually quite nice about it.
Mendoza Taqueria is not your typical Mexican restaurant. It's typically Mexican, not Mexican-American, and that means north-of-the border gringo standards like chips and salsa, burritos and nachos don't appear on the menu. I knew this going in, but old habits die hard, and I reflexively asked for chips and salsa. Disculpame.
What the restaurant does serve is a lot more interesting than what it doesn't. Mendoza specializes in the food of Michoacan, particularly that of Apatzingan, a city in central Michoacan that has sadly become battleground in Mexico's drug wars. But the state is known for good food, too.
Order a few uchepos ($1.50 each), and you'll forget all about the absence of chips and hot sauce. The sweet-corn tamales are a street-cart favorite. Instead of being filled with corn, the kernels are mixed into the soft and moist masa. Peel away the green corn husks and squirt the tamale with the squeeze bottle of crema and green salsa provided. The spicy green salsa is a nice foil for the pronounced sweetness of the tamales, and the crema (a thinner version of sour cream) rounds it all out. They're cheap and good.
Enchiladas de güilotes ($9.50) are a Michocan classic. Corn tortillas are simmered in a red chile sauce and filled with a little onion and salty-tangy cotija cheese, a fry cry from the cheddar cheese–laden version of the dish served in most restaurants. The enchiladas are folded in half and topped with a mound of shredded cabbage. Crowning the whole shaggy but delicious mess are two whole fried quail—the güilotes. Coupled with the sliced avocado, pickled jalapeños and roasted potatoes, the dish is about as far away from a wet burrito as you can get.
Another signature item is the morisqueta ($7.25), a hearty, satisfying stew made with chunks of pork ribs still on the bone served over a tidy heap of rice and beans. Served with a stack of fresh corn tortillas, this dish will keep you filled up all day long. The ruddy Michoacan-style mole over chicken ($13) is another distinctive dish.
From the list of hand-written specials, I spied the gorditas ($1.50), and they're another must-order. The crispy, fried masa cakes are split open to reveal a satisfyingly chewy and moist interior. All the standard fillings are available (carne asada, al pastor, chicken, etc.), but I went for the less common aporriadillo—dried beef mixed with scrambled eggs. Doused with a little of fiery roasted chile salsa set on the table, it's a great three-bite snack.
The 12-year-old restaurant is done up in classic taqueria décor: Mexican beer posters, a map of Mexico and framed photos of what I guess are points of interest in Apatzingan. Mexican telenovelas (soap operas) fume and emote from a corner-mounted TV. The glass beverage cooler is papered with handwritten specials and items not on the menu. Be sure to give them a look.
There are also two door panels hanging on the opposite wall that bear the signatures of countless customers. Outside, idling vendors selling CDs and little cheap guitars are ready to show you their wares. Pure Mexico, or at least as close as you'll get to it in Silicon Valley.
---
Mendoza Taqueria
Address: 2100 Story Road, San Jose.
Phone: 408.259.4387
Hours: 9am–10pm daily.
Cuisine: Mexican.
Price Range: Most entrees $7–$14.
Send a letter to the editor about this story.