08.19.09
home | metro silicon valley index | columns | live feed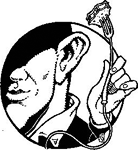 Time for Lunch
By Stett Holbrook
I HAVE RAILED against the federal school-lunch program before, so I won't cover the same ground again except to say that the food we serve our kids in a disgrace. Given the sky-rocketing rates of obesity and Type 2 diabetes in children, you'd think the Tater Tots, high-fat processed foods and various cruel gruels would have been 86'd from lunchroom menus long ago.
There's a growing and diverse movement to change what schools serve students in favor of real, good food instead of the prepackaged, heat-and-serve dreck that dominates the menu at most schools. But school-lunch reform is proving to be enormously complex. Entrenched interests like big agriculture and school unions are proving to be formidable obstacles to reform and children's well being. The sorry state of financial affairs in public schools isn't helping either.
There's hope, however, that the White House may push for changes in what we feed our kids. Many food policy analysts are watching to see what role Michelle and President Obama will play when the Child Nutrition Act comes up for congressional reauthorization this month. But like any other social injustice, change will come from the bottom up. It's already happening.
As school starts again for students over the next few weeks, the time is right to demand a school-lunch program that benefits kids rather than one that gives agribusiness a place to dump its surplus, publicly subsidized commodities. Slow Food USA is helping to organize a "national day of action" on Sept. 7 to bring real food into schools at "eat-ins" across the country aimed at showing support for school-food reform. The potluck lunch events will feature speakers and information on how to go about changing the school lunch program. In the Bay Area, several eat-ins are planned.
In Santa Clara County, eat-ins will be held in San Jose, Sunnyvale, Mountain View and way down in Hollister. In Sonoma County, lunches are planned for St. Helena, Santa Rosa, Healdsburg and Sonoma. In Santa Cruz County, events will be held in Santa Cruz and Davenport.
For more info go to www.slowfoodusa.org and click on Time for Lunch. For details on events in particular cities, click on the map that appears on the home page.
Send a letter to the editor about this story.