08.19.09
home | metro silicon valley index | movies | current reviews | film review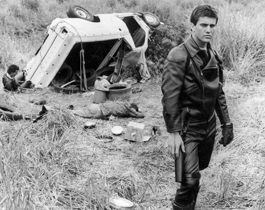 TO THE MAX: Before 'The Passion,' Mel Gibson knew what real acting was.
Wizards of Aus
'Not Quite Hollywood' tells the story of the seamy side of Australian cinema
By Richard von Busack
ODD: Two of the largest nations of the British Commonwealth managed to find their identities through sons of the Scots clan of Kenzie. Check it out: Canada's SCTV fulfilled its requirement for local broadcasting by creating Bob and Doug McKenzie, two idiot representatives of the Great White North. And since then, Canadians say "Eh?" ironically. But in Australia, an fictional "ocker" (dolt) called Barry McKenzie championed a distinctive Australianness in two separate movies. The amazing documentary Not Quite Hollywood gives us an excerpt of both McKenzie movies, particularly the Bruce Beresford–directed Barry McKenzie Holds His Own (1974). It is capped with the hero chundering Paris from the tip of the Tour d'Eiffel: "Owf! I have a funny feeling in my Ned Kelly [belly]. I'm gonna cry, 'Ruth'!" This vomit spray—piquant, visceral, polychrome and under pressure—suggests the content of Not Quite Hollywood, as well as its bold attack on high culture. Director Mark Hartley's irreplaceable documentary about the golden age of "Ozsploitation" has it all going on. Directors down under had a bruising but lucrative field day, from the opening up of censorship regulations in the early 1970s until direct-to-video saturated the grind market in 1985. The documentary starts its analysis with Age of Consent (1969). I wish the real implication of Michael Powell's last movie had been explored. It's referenced because of an old interview with star James Mason, mourning that Australia always promotes kangaroos and koalas to a world little interested in either beast. In fact, Age of Consent is an excellent forecast of what was to come in Australian cinema in the 1970s: naked chicks (Helen Mirren getting quite a sunburn) and a generous selection of Queensland hillbillies drinking beer and falling over.
In quickly edited, delirious bursts we get concentrated doses of what regaled Australians in their drive-ins. First, no-punches-pulled documentaries on Melbourne lingerie shortages, such as Australia After Dark (complete with forbidden footage of a black mass). Even nudity wore off, and then came the roughest stuff, such as the killer-hog movie Razorback (1984): "It was a $10 million movie with a $10 pig," comments director Russell Mulcahy. One marvels at the extremes of Turkey Shoot, a.k.a. Escape 2000 ("Utterly beyond redemption!" raved the L.A. Times). The roster goes on: giant saltwater crocs, the comatose madman Patrick, the Mad Max trilogy, filmed by an equally mad director and suicidal stuntmen. And not to be forgotten: Mad Dog Morgan. As consolation for being raped onscreen, star Dennis Hopper got so drunk that he was banned from Australia for life. I use italics, yes. This is significant drunkenness.
The film critics interviewed here are marvels of intransigence: rumbling old gentlemen of the press, they stand by their original judgment that these grindhousers were leeches and insects. Interviewee Quentin Tarantino makes up for these fogys' lack of enthusiasm. As always, one wishes more light and less heat from QT. Can't blame the man, though. What a cornucopia of crazy Not Quite Hollywood presents! And it's a heartening story, showing the transformation of a 'roo-ridden corner of the Empire to a nation with its own inimitable identity. As director Philippe Mora said of McKenzie and many worse examples of onscreen misbehavior: "There are always morons who see satire as documentary."

NOT QUITE HOLLYWOOD (R; 103 min.), a documentary by Mark Hartley, opens Friday at Camera 12 in San Jose.
Send a letter to the editor about this story.