08.19.09
home | metro silicon valley index | music & nightlife | band review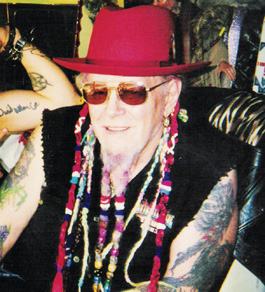 COMING UNCLEAN: David Allan Coe wrote country hits, but his two X-rated albums are still controversial.
Porn Into Exile
VooDoo Lounge brings two musical outlaws who lived double lives as smut peddlers
By Steve Palopoli
THIS is the story of two men who changed music. Maybe not for the better. But maybe so. According to the official story, they couldn't have been more different. One was a longhaired white redneck whose career as a Nashville hitmaker was shadowed by reckless behavior and accusations of racism. The other was a successful African-American R&B songwriter who had a hit of his own in the 1960s.
And yet, their paths crossed unexpectedly in the 1970s, when, for reasons that will be forever known only to them, they both risked their careers to record some of the filthiest, most offensive underground records that had ever been committed to wax. And now their paths will cross again when VooDoo Lounge brings both Blowfly (Aug. 21) and David Allan Coe (Aug. 26–27) in the same week.
There are other eerie similarities: both of these musical mavericks donned masks for their '70s period of extreme output. Both were accused of misogyny for their crude songs about sex. Both were obsessed with race and were not above using the dreaded N-word in the same song that referenced the KKK. And most importantly of all, both saw their underground songs as comedy, meant to entertain with shock and awe. When controversy came knocking, they seemed genuinely surprised that anyone was even listening, let alone taking them seriously.
The Nasty Rapper
Clarence Reid was just 20 years old when, basically, he recorded the first ever rap song. It was 1965, and the song was called "Rap Dirty." But Reid didn't want his career as the man who wrote and produced songs for "serious" R&B artists like Wilson Pickett and Sam & Dave—and later, disco acts like KC& the Sunshine Band—to be compromised. He'd also had the hit "Nobody But You Babe" under his real name. So he came up with the alter-ego Blowfly, supposedly after his grandmother heard his X-rated rapping and told him, "You're the nastiest thing I ever met, you're no better than a blowfly." "I'm known around the world as the nasty rapper," he proudly declared.
His debut album, 1971's The Weird World of Blowfly, is just bizarre. It features two songs about farting, one of them a spoof of "Raindrops Keep Falling on My Head" and the other of Curtis Mayfield's "Um, Um, Um, Um, Um, Um." It's not hard to imagine which song "Hole Man" is parodying. Everything else is either about scat or sex, or both. It's funny, but a lot like the X-rated party records of the time. More original is 1978's Porno Freak, and his best album, 1980's Blowfly's Party. Besides possibly inventing the genre of rap, Blowfly also laid the groundwork for graphic gangstas like the Geto Boys and Eminem, and was a direct inspiration for sex-crazed hip-hop crazies like Kool Keith. Interestingly, "Rap Dirty" also touched on the same theme of police racism that Ice Cube would blow up years later—and even sounds a little like "Fuck Tha Police."
Nothing Sacred
Texas singer/songwriter David Allan Coe came up in the time of outlaw country—"Willie, Waylon and Me," he would famously sing. His song "Would You Lay With Me (In a Field of Stone)" was a No. 1 hit for Tanya Tucker in 1973, and later recorded memorably by Johnny Cash. Johnny Paycheck went to the top of the country chart with Coe's song "Take This Job and Shove It" in 1977, a few years before the punkers in the Dead Kennedys got a hold of it. Coe's songs are well-known to fans of real country music—"Longhaired Redneck" is possibly the definitive anthem of '70s country ("they tell me I look like Merle Haggard, and sound a lot like David Allan Coe").
But in 1978, Coe appeared to have lost his mind. The record he put out that year, Nothing Sacred, is almost certainly the craziest and most offensive album ever released by a popular country artist. That is, until his follow-up underground album, 1982's Underground Album. Taken together, the pair of records are so over the top you have to wonder how no one talked him out of releasing them. With songs about gagging "Linda Lovelace," the joys of "Whips and Things," and voting segregationist as part of the KKK in "Rails," the albums have left countless jaws dropped over the years. The politics make no sense—"Fuck Anita Bryant" manages to be both pro-gay and anti-gay at the same time ("Throw that bitch in prison, maybe then she'll see just how much those goddamn homosexuals mean to me").
Another thing that's made Coe's underground records legendary is the fact that even as nasty jokes, they sound pretty incredible. "Pick Em, Lick Em, Stick Em" is a misanthropic parody of Kenny Rogers' "The Gambler.' "Nothing Sacred" is an equally brutal gospel spoof. "Fuckin in the Butt" is, unbelievably, the best bluegrass song Ralph Stanley never wrote, at least musically. "Rock and Roll Fever" slams the Stones for choosing rock over the Grand Ole Opry, while at the same time rocking harder than Mick and Keith had since Exile on Main Street.
Perhaps because he was so much more visible than Blowfly, Coe took a bigger hit for the controversy surrounding his underground records. Despite the pro-equal-rights and anti-racist lyrics of his other, "real" songs, and his protestations that his offensive songs were just tasteless jokes (and that he had a black drummer at the time he was recording them), Coe hasn't been able to quite shake the legacy of his most infamous tunes. Even worse for him, he is often mistakenly credited with the genuinely white-power songs of Johnny Rebel, which was the pseudonym Clifford Joseph Trahan used on racist recordings in the 1960s (and again after the attacks of 9/11), thanks to sloppy labeling on early download sites like Napster and Audiogalaxy. To this day, in big red letters on the front page of Coe's website, it says: "DAC is not Johnny Rebel."
BLOWFLY performs Friday, Aug. 21, at 8pm at VooDoo Lounge. Tickets are $12 advance/$15 door; call 408.286.VODO.
DAVID ALLAN COE performs Wednesday, Aug. 26, and Thursday, Aug. 27, at 8pm at VooDoo Lounge. The Shitkickers and Wiggle Wagons open. Tickets are $25 advance/$30 door, call 408.286.VODO.
Send a letter to the editor about this story.