08.19.09
home | metro silicon valley index | columns | style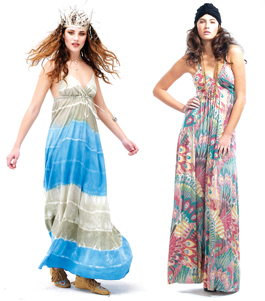 BOHO CHIC: Tie-dye and bold prints place attention on maxidresses by Gypsy05 (left) and Rachel Pally (right).
Maxi Power
By Andrea Muniz
WHILE SOME WOMEN chose to show serious skin during the summer months, others have opted for a more conservative yet equally sexy look. Enter the long, ankle-to-floor-length dress known as the "maxi." The maxi was unearthed from the 1970s vault last summer, appearing on celebrities such as Jessica Simpson and Eva Longoria. It was showcased as an alternative to the sheer tops, shirt-dresses and graphic miniskirts that also became popular during the spring and summer of 2008. Designers and consumers alike couldn't get enough of this stylish garment, and it's back again as a 2009 summer must-have.
Although all things "mini" are welcome in summer heat, the long skirt on the maxi allows for free, wispy movement and coverage on areas that many women aren't willing to flaunt. Legs, hips, thighs and tummies are discreetly safe from public view underneath the long skirt. Thanks to this flattering structure, even pregnant moms-to-be Heidi Klum and Grey's Anatomy's Ellen Pompeo have been seen sporting the look.
For the nonexpecting, it's best to make sure that this comfy, billowy frock doesn't get one mistaken for being pregnant. Tube-top dresses like Only Hearts So Fine show off long necks and defined collar bones, and bold patterns like Rachel Pally's Flora Maxi Dress in a peacock print place attention on the dress more than on what's being covered up. Hollywood-based store Gypsy05 has been popular with young L.A. starlets such as The Hills' Lauren Conrad and High School Musical's Ashley Tisdale for their bold maxidresses in tie-dye designs and organic fabrics.
The versatility of this bohemian-tinged trend is also a plus. Busy dresses can be downplayed for everyday outings with the use of flip-flops and minimal jewelry, or they can be taken up a notch into nighttime glam with the right pair of heels and chandler earrings for a more sophisticated ensemble. Women lacking long stems will have the more difficult task of finding a maxi that won't swallow them whole. The trick to this is to find a dress that is form-fitting on top, and has a smaller skirt that stays closer to the body. No one wants to be tripping over her dress all night, so if a pair of wedges doesn't stop the hem from dragging on the floor, a simple trip to a tailor to bring up the bottom is a great option.
Maxidresses are a comfortable, trendy and versatile piece that can be worn to the beach or on an evening out. With so many different cuts, patterns and materials available this summer, there should be a place in every women's closet for at least one.
Send a letter to the editor about this story.