08.20.08
home | metro silicon valley index | columns | silicon alleys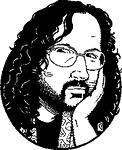 Silicon Alleys
Earning Our Name
By Gary Singh
NEXT WEEK, perhaps the most colossal, across-the-board, mammoth gathering of stars with every possible relationship to visual computing will descend upon San Jose. Orchestrated by Santa Clara's NVIDIA, pretty much the world pace-setter for visual computing technologies, NVISION08 is the first visual computing mega-event. No matter how much one lampoons the self-proclaimed Capital of Silicon Valley epithet, this event, like the 01SJ Global Festival of Art on the Edge, suggests the moniker finally fits. An entire universe of visual computing partakers—professionals, gamers, computer scientists, designers, manufacturers, hackers, academics and cutting-edge researchers—will inspire each other and celebrate all things visual in the digital world. If you think this is just about video games, think again. Here's a small example of who will be there and what will transpire:
* Former Apollo 11 astronaut Buzz Aldrin will hold court at a screening of Fly Me to the Moon, the first computer-animated film ever to be designed, created and produced entirely in 3-D. In the film, Aldrin plays himself during a live-action cameo.
* Special effect experts and television personalities Jamie Hyneman and Adam Savage, known for their exploits on MythBusters, are scheduled to "shoot or blow something up" inside the San Jose Center for Performing Arts. Bring the kids for that one.
* NASCAR driver and points leader Kyle Busch will speak about the many ways in which visual computing intersects with NASCAR—how the cars are designed, the professional simulations the drivers use to tune up between races and the graphics overlay on the television broadcasts.
* Die-hard gamers can participate in a Guinness World Record attempt for the longest-ever nonstop LAN party during the GeForceŽ LAN, a legendary online hoedown where thousands of gamers all over the world simultaneously join in over networks.
* An Emerging Companies Summit will interest entrepreneurs, VCs, investment bankers, consultants and industry analysts through numerous panel sessions and presentations including a fireside chat with kingpin of NVIDIA himself, Jen-Hsun Huang.
* Scientists and engineers from around the world will share their research on several topics including computational biology, game physics, human computer interfaces and haptics.
And as of yesterday, San Jose Mayor Chuck Reed has declared next week "Visual Computing Week." NVIDIA executives rolled over to 200 E. Santa Clara St. and received the honor personally. "NVIDIA and its NVISION08 event have demonstrated the market growth and cultural shift that can happen when art and technology come together," the mayor said. "As the Capital of Silicon Valley, San Jose remains the epicenter for digital technology and is the perfect place to stage an event which demonstrates the creativity and innovation that defines the region."
Just like the 01SJ festival, NVISION08 is something that bleeds into a zillion different disciplines. It's not just a computer scientist's conference, a video gamer's fest, a corporate investor's powwow or a hacker symposium. It's all of the above. San Jose and Silicon Valley are the definitive locales where it should all go down. You see, an idea bubbling among many movers and shakers is that this is an identity San Jo can finally market itself with. If the city is to be branded globally, this is it. Not just technology, but the intersection of both art and technology, which is the whole point of the 01SJ festival and now NVISION08. There is indeed a "there" there. In my personal warped analysis of the situation, this is a natural self-path that San Jose should be known for and should develop for itself. San Jose is a place whose conscience has been at odds with its True Will for far too long, and through the intersection of art and technology, it can now brand itself and cause change in its circumstances efficiently.
Contact Gary Singh or send a letter to the editor about this story.