08.20.08
home | metro silicon valley index | the arts | stage | review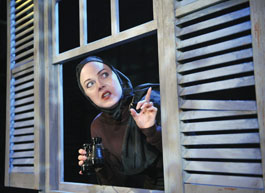 Photograph by David Allen
THE WATCHER: Beth Glover plays Edie Bouvier in 'Grey Gardens.'
No Eden in This Garden
TheatreWorks presents first post-Broadway look at 'Grey Gardens,' a musical about a mother-daughter duo gone mad
By Marianne Messina
AS A DOCUMENTARY about Edie Bouvier Beale and her mother, Edith Ewing Bouvier Beale, the 1975 film Grey Gardens takes viewers on a Dantean tour through the bowels of unending mother-daughter hell. Most of us get over or internalize our arguments with the judging parental voice, but "Little Edie" Beale lives this hell, externalized, well into her 50s as she and her bed-ridden mother argue how they ended up together, two destitute eremites in a crumbling mansion.
"I was fascinated by the movie," says Pulitzer Prize–winning playwright Doug Wright. "I was haunted by it, I was repelled by it, I was touched by it—I found it hysterically funny at times." And then he made it into a Broadway musical with lyricist Michael Korie and composer Scott Frankel. The show gets its post-Broadway premiere starting this week in a TheatreWorks production.
All three are quick to point out that turning the women's story into a musical makes perfect sense because music, particularly the old-style show tune, was an intrinsic part of their lives. Still, Wright was aghast when Frankel first suggested the idea. "I certainly never dreamed of working on it as a piece of musical theater," Wright recalls. "I told him absolutely not. ... To turn it into a musical-theater piece is to domesticate it and take everything that's edgy and dangerous and subversive about it."
Thirty years before agreeing to be filmed for the documentary, "Little Edie" had been a debutante, a model, a self-described singer and, as all evidence suggests, "gorgeous." Early in the film, the Maysles brothers zoom in on a photo album as the women flip through stunning images of their younger selves. A few years before the film was made, the seaside city of East Hampton threatened the women with eviction if they didn't clean up the mansion. It was then inhabited by raccoons and 50-plus cats. It made big society news, especially since their famous niece/cousin Jackie Bouvier Kennedy rescued them from eviction by a massive cleanup undertaking to the tune, according to author Gail Sheehy, of $25,000.
For TheatreWorks director Kent Nicholson, the sprawling Bouvier mansion is a character in the show, not just because its name "Grey Gardens" is the title of the musical, but because "it's where they're trapped." By the time the two beauties become eccentric older women, according to Nicholson, they've "sunk to a sorry state, and that home is literally a prison to them."
In the musical, Act 1 takes place in the home's elegant heyday, and Act 2 in its dilapidated state 30 years later. Nicholson relates that lyricist Korie envisioned each act as one day in Edie's life. "She's left to kind of repeat this day over and over again," Nicholson explains.
The musical looks at the irresistible question, Why could Edie not break free from her mother? In the film, Edie clearly feels her mother needs her. Even during a separate solo interview, shot outside, Edie trails off, saying, "I've got to get back and check on mother." At this point, one has to wonder if it's mother or the resumption of that domineering, circular dialogue that Edie needs to nurture. The musical entertains these issues metaphorically. The actress playing the mother in Act 1 (Beth Glover) goes on to play the daughter in Act 2.
One of the film's most poignant moments sneaks in casually; the women are sitting on their beds kibbutzing through a radio program by Norman Vincent Peale, the father of positive thinking. When Peale begins his sign-off, mother and daughter fall silent, rapt, as if straining to hear far-off music. Peale instructs his listeners to look in the mirror and ask themselves, "Am I a weak person? Am I a defeated person? Am I an inferior person? Not at all. I am a child of God, and I was intended to get on top of things, and I was intended to stay there."
Scoping in on both teary-eyed women, the camera creates a moment of universal recognition as these souls, living in a vicious Dantean circle, see a window out. If the musical can create one or two such moments, it will be a heady night of theater.
  GREY GARDENS, a TheatreWorks production, runs Aug. 20–Sept. 14 at the Center for the Performing Arts, 500 Castro St., Mountain View. Tickets are $26–$64. (650.903.6000)
Send a letter to the editor about this story.