08.20.08
home | metro silicon valley index | silicon valley restaurants | review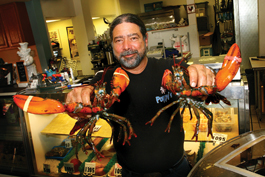 Photograph by Felipe Buitrago
CLAWING TO THE TOP: Michael Castelan, owner of Poppy's, shows off the raw materials from the menu of the popular Morgan Hill spot he runs with his wife, Jana.
Dining in
Morgan Hill
By Jessica Fromm
Poppy's
OF ALL the places to visit in downtown Morgan Hill, the mix of hometown hospitality and quality food is most evident at Poppy's Fish, Poultry & More.
A meat and seafood market as well as a restaurant, Poppy's has a very regular, decidedly unpretentious clientele. The place consists of inside and outside patio dining areas, and the décor reflects owners Michael and Jana Castelan's Parrot Head leanings.
With a family that has been involved in West Coast commercial fishing since 1895, the Castelans know seafood. Michael Castelan, who with his ponytail and scruffy beard looks like a cross between a Hell's Angel and Mr. Gibbs from Pirates of the Caribbean, treks up to Pier 35 in San Francisco three times a week to pick up fresh seafood for his market.
Poppy's offers only wild, natural or organic seafood and a selection of organic meats that includes buffalo, free-range poultry, beef, pork and lamb.
"I don't broil, I don't sauté our meat. Our thing here is that we don't do creams and sauces. We want you to taste the meat the way it's supposed to taste, and natural grilled, medium rare, hopefully, to bring the flavor out but still have it tender and juicy," says Castelan.
Make sure to order a half-dozen of Poppy's barbecue oysters on the half-shell ($12.95). These huge fresh Pacific oysters are shipped in special from Washington state and are barbecued in a delectable secret sauce that Castelan's father, "the Poppy," procured from a restaurant in Louisiana called Drago's. Lacking the superbriny taste of oysters that have been sitting around too long, you'll find yourself sucking down this shellfish topped with Parmesan cheese and hot sauce. Pair them with an iced glass of one of Poppy's three on-tap Alaskan Amber beers, or a bottle of Jimmy Buffet's specialty, Land Shark lager.
Also compelling is the rib-eye steak ($18.95), a hand-cut, 16-ounce piece of grass-fed organic beef covered in a simple herb rub and grilled to perfection. I always order my beef well done, which can be precarious when you're dealing with carnivores who think it's a sin if its not bloody, but Castelan was able to cook it through and keep it slightly crispy around the edges but not charred. Window-dressing for the steak was a choice of a simple baked potato or wild rice, and a brightly colored delectable mix of red and green organic Swiss chard that they sautéed in butter, garlic and balsamic vinegar.
Poppy's Fish, Poultry & More ...
Address: 30 E. Third St., Suite 120, Morgan Hill
Phone: 408.778.3200
Hours: 10am–7pm Mon–Thu, 10am–10pm Fri–Sat
Web: www.poppysfish.net
Email: [email protected]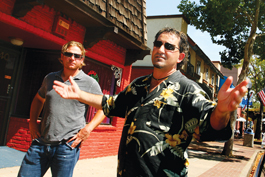 A LITTLE ITALY: Owner Maurizio Cutrignelli (right), and friend Andy Kwitowski, in front of Cutrignelli's namesake, a fixture in downtown Morgan Hill
Maurizio's
  MORGAN HILL locals have an inside joke about being in "the land of a thousand pizza parlors," but Maurizio Cutrignelli has been so successful with Maurizio's, a downtown institution, that he is ambitiously planning on opening a gourmet pizza venture of his own.
Named Mangia La Pizza, the new wood-fired oven pizzeria will be located a block away from Maurizio's at the Granary on Depot Street. He hopes to have it open in December. With the fine eats offered at his main restaurant, Maurizio's Authentic Italian Cuisine, I'm looking forward to this new Italian offering. But while I'm waiting, Maurizio's still offers solid Italian fare with a very personal touch.
Maurizio's is Maurizio. Italian through and through, he can be seen buzzing around town on his Vespa Beverly with cases of ravioli between his knees. With his thick accent and goatee, Maurizio is passionate about making his customers feel at home. It's not unusual to see him walking around the cozy 60-seat restaurant asking eaters how their meals are, talking and laughing.
"I'm hooked on it, kind of like I'm addicted to it," says Maurizio about being able to keep personal interaction with his Morgan Hill customers. "If somebody's grumpy, I'm no be grumpy—the quality of the people is what I see most important, they're friendly, they're, like, no fake. There are very wealthy people, they are just like simple, though."
As for the antipasti at Maurizio's, the Melanzane Rollatini ($7.50) is a solid choice. It features double rolls of thinly sliced eggplant stuffed with an obscenely sinful combination of cream, ricotta and mozzarella cheeses and baked in a pool of puréed tomato sauce. Though it sounded overly heavy on paper, the fresh basil, crispy nature of the eggplant and delicate tomato sauce kept it from becoming too rich. A perfect way to start off a meal.
The Insalata di Bietole ($5) consisted of a simple combination of four large slices of red wine vinegar beets topped with large plops of goat cheese. Mixed greens are piled on top and doused in olive oil and garlic. The big flavor of the beets was balanced well by the muted tang of the goat cheese. It was a refreshingly straightforward salad; with the strongness of the beets, anything more complicated would have made it overwhelming.
The attentive waiter recommended I try the Vitello Marsala ($19) for the main course, and it didn't disappoint. Buttery smooth thinly pounded veal was sautéed with fresh mushrooms and topped with a sun-dried Marsala cream sauce that was to die for. The herb-infused roasted squash and russet potatoes that accompanied the dish were surprisingly excellent on their own, as opposed to being little-seasoned understudies of the main course.
Most of the desserts at Maurizio's are imported frozen from Italy and are pleasant, even if they obviously do taste pre-made. The Chocolate Tartufo ($6) a cream-centered ball of chocolate gelato rolled in cocoa and hazelnuts and topped with chocolate syrup and a sprinkling of ground coffee, goes well with a cup of cappuccino, which is served in monster-sized cups—always nice.
Maurizio and his longtime friend Andy Kwitowski, owner of Ruby Sky nightclub in San Francisco, have also recently purchased the location of the Flying Dragon Chinese restaurant in downtown. They plan to open up an as yet unnamed "Asian fusion" eatery by next fall.
Maurizio's Authentic Italian Cuisine
Address: 25 E. First St., Morgan Hill
Phone: 408.782.7550
Hours: Lunch 11:30am–2pm Mon–Fri, dinner 5–9pm Mon–Thu, 5–10pm Fri–Sat; closed Sunday
Web: [ http://www.mauriziosrestaurant.com/ ]www.mauriziosrestaurant.com
Send a letter to the editor about this story.