08.20.08
home | metro silicon valley index | movies | current reviews | dvd review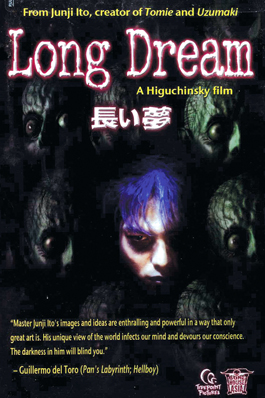 Long Dream
One disc; Tidepoint Pictures/Bone House Asia/Facets Video; $19.95
By Michael S. Gant
Japanese horror director Higuchinsky, who made cult fave Uzumaki, cultivates a mysterious persona—his face is pixilated in the interview that accompanies this 2000 TV feature, as if he were a crime suspect. The pose must be an in-joke of sorts, since he is clearly visible in a making-of documentary. Long Dream, only an hour long, is another collaboration with manga man Junji Ito. A Dr. Kuroda (Horiuchi Masami in John Carradine groove) is investigating the troubling case of a young man who suffers from "long dreams," nightmares that seem to go on for days and days, even for weeks, months and years. The ordeal ages the patient, so that he appears to be much older after each night's sleep. Eventually, he sprouts blue hair and giant bloodshot eyes popping out of a rubber mask; in the end, he turns into a weird mutant and simply withers into dust. The good doctor, gone mad like all horror-film medicos, believes that dreams function as a kind of immortality and that he can join his own dead lover (who appears in poetic interludes dressed in white and spinning a red umbrella, always a sinister sign in Asian horror movies) in "the eternal world of dreams" by tapping into this strange oneiric energy. The action is confined to the hospital, and the special effects are so minimal and obvious that I can only assume they are meant to be an affectionate tribute to the original Outer Limits. Some blood gets spilled, but Higuchinsky relies mostly on atmosphere and clever camerawork to lead up to a spiffy spin ending. The short pre-credit sequence, full of ominously approaching and receding Japanese calligraphy, is a miniature masterpiece.
Click Here to Talk About Movies at Metro's New Blog
Send a letter to the editor about this story.