08.20.08
home | metro silicon valley index | movies | current reviews | film review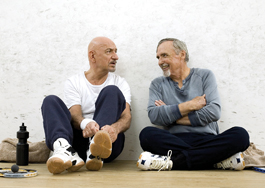 Photograph by Joe Lederer
HAMLET AND HORATIO: Ben Kingsley (left) and Dennis Hopper play contentious old friends in 'Elegy.'
Old Love
'Elegy,' Isabel Coixet's tame version of 'The Dying Animal,' should drive audiences back to the novel
By Richard von Busack
THE FILM starts not with a bang but a snigger. Right away, you can tell that Elegy is going to stint on the frankness of its source, Philip Roth's 2001 novel, The Dying Animal. The action begins with David Kepesh (Ben Kingsley) on a TV chat show. He is discussing a matter that Roth goes into in detail, the life of Thomas Morton (1576–1647).
Hawthorne's short story "The Maypole of Merry Mount" and Morton's presence on the jury of the damned in The Devil and Daniel Webster are only the introduction; Morton wasn't just a footnote to history but "a source of prurient fascination for the Puritans." Roth pinpoints Morton as the link between Shakespeare at his most pagan and Elvis at his most dangerous. Morton commenced the war of the godly and the profane in American life. That battle continues from the deep past all the way to today's electronic snarling over John Edwards' affair.
Roth writes: "Why isn't Morton seen for what he is, the founding father of personal freedom?" Rather a ringing passage. To equal it, Elegy starts out with Kingsley's professor agreeing when the chat host describes Morton as "a Hugh Hefner."
Trivializing a search for freedom—sexual or otherwise—is what movies do so often. Seeing the tame, tepid adaptation Isabel Coixet has wrung out of a furiously honest book makes it hard to do what you're supposed to do: to go along with it; to say that the book isn't ruined, it's on the shelf.
At 62, Kepesh is a high-ranking but not traffic-stoppingly famous New York–based British intellectual regularly seen on TV shows. He falls in what he thinks is erotic fixation with a former student, Consuela (Penélope Cruz), some 30 years younger than he is. They become lovers, despite the advice of Kepesh's best friend, George (Dennis Hopper), a noted poet: "Stop worrying about growing old, start worrying about growing up."
The affair is blighted by Kepesh's ardor, which displays itself as ardent jealousy. To cool that jealousy, Kepesh keeps a side thing going with a well-off but rootless business woman (Patricia Clarkson) who drops by for sleepovers.
Although Consuela never asks for commitment, she longs for Kepesh to become a larger part of her life. When the breakup comes, it's over his passive-aggressive refusal to attend a fancy party. Later, Kepesh loses George, in a passage that softens the meaning of the same incident in the book. "George's fate is both a lesson and warning to David," says the didactic press release, Cliff's Notes for the critic. The book's take on this fate is, again, different, and dwells upon a dying man's final reach for a woman's breast: the first thing we see on the way into life, why not the last thing we see on the way out of it?
Over a later and different tragedy, the two separated lovers, Consuela and David, meet again on New Year's Eve. Coixet plays this parable of acceptance of love and death as straightforward melodrama. The film unfolds in studious, glassy good taste, with a piano soundtrack (loads of Satie) rainy sidewalks and overcast beaches.
In the book, Kepesh's life as a critic and professor is less urgent than his hunger for flesh. Unfortunately in the movie, Kepesh's life as an intellectual never gets beyond the middlebrow. Since Nicholas Meyer's script has a real problem externalizing a lot of interior dialogue, some of the cultural appearances could have expanded on Kepesh's plight. Talking about mortality would have done it; this is the book's subject.
Turning an intransigent Jewish-American New Yorker into an Oxford Brit is just one of the mutations from the source. Decorative as Cruz is, she's 10 years older than Consuela as described in the book. How to play the Consuela of the book, though? Roth almost abstracts this woman into the shape of her body.
As for Cruz, she's much more sensual in Vicky Cristina Barcelona, even though more of her tawny physique is on display here. In 2008, when an actress does a topless scene, you can see a look of depressed surrender in her eyes that says, "I know this is going to be on the Internet, but here we go."
Compared to these scenes, Clarkson's torch-song strip to her black lingerie has more charge. Kingsley is still a virile old devil, still muscled and aerodynamically bald, if somehow not ruthless enough for the part. He tends to moistness and olive-oil tears. Perhaps the ideal man for this part was the far rougher Anthony Hopkins.
Elegy beefs up the role of Kepesh's son, Kenny, played by Peter Sarsgaard. Kenny's point of view is given a serious hearing, that his personal life is a wreck because Kepesh left his mother. The film sides with Kenny's argument that Kepesh is an overgrown teen who never settled down.
Sadly, this is another movie that knows what's good for us. It's meant to be chicken soup for our soul. Maybe the low point is Hopper's George spoon-feeding Kepesh when the old man sulks in bed, lovelorn. Hopper does what he can with his line "I've been playing Horatio to your third-rate Hamlet for 30 years." That's too close to home: Elegy plays Polonius to a first-rate book.

ELEGY  (R; 106 min.), directed by Isabel Coixet, written by Nicholas Meyer, based on the Philip Roth novel, photographed by Jean-Claude Larrieu and starring Ben Kingsley and Penélope Cruz, opens Aug. 22 at selected theaters.
Click Here to Talk About Movies at Metro's New Blog
Send a letter to the editor about this story.