08.20.08
home | metro silicon valley index | movies | current reviews | film review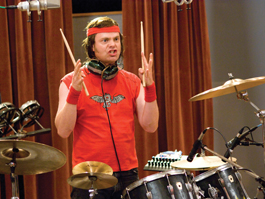 Photograph by George Kraychyk
SHOOT FOR THE MOON:Rainn Wilson wants to be a great rock & roll drummer even if he has to do it in his nephew's band.
Fool of Rock
Pete Best Syndrome strikes second-chance drummer Rainn Wilson in 'The Rocker'
By Richard von Busack
AS NOBEL LAUREATE George Bernard Shaw said, "I can forgive Alfred Nobel for inventing dynamite, but only a fiend in human form could have invented the Nobel Prize." The same goes for the Rock & Roll Hall of Fame, which catalogs and quantifies an art that ought to remain out of bounds. The Rocker is the kind of movie that has a hall of fame in mind. It dwells in the shadow of Richard Linklater's The School of Rock, and it keeps sanding off its own edges. The Rocker does have a fine premise for anyone who loves comedies about people who cannot get over things. In the 1980s, the Cleveland band Vesuvius got a contract with the provision that it had to fire its drummer. Twenty years later, the left-behind Robert "Fish" Fishman (Rainn Wilson, Dwight on The Office) is still suffering from Pete Best Syndrome. While he works at degrading office jobs, Vesuvius is going to be inducted into the Hall of Fame. Fish languishes across town, and the klieg lights of the academy flicker on his windows.
Having washed out in life, Fish must put up at his sister's house. There, he horns his way into the band "A.D.D." that his nephew Matt (Josh Gad) is forming. The members are downbeat guitarist Curtis (Teddy Geiger) and the usual precociously sassy bass player (Emma Stone). Fish makes an ass out of himself on YouTube. (Aside from this bare-ass shot, there's plenty of that solid laugh getter, the squidgy guy in the briefs; might one make a nonthreatening request for girls in their underwear sometimes?) On tour with A.D.D., he tries to inject some hellfire into these nice kids. The Rocker bops its creaky and slightly cautious way along under the bland direction of Peter Cattaneo (The Full Monty). Perennial second-banana Wilson tries to eschew his scarier qualities. Taking off his glasses helps gentle him, imparting a myopic, less-frozen look. But as the guy for whom time has stopped, Wilson is too often like the lead in a bad sitcom: not just foreshadowing some comedic business but practically outlining how the gag is going to play out.
This is too bad, because the occasional good joke snaps off like a firecracker: "It's like Abercrombie is making people now." Oddly, the film's supporting cast steals the movie. Jane Lynch gets up a wonderful head of steam as Fish's imposed-upon sister. Jason Sudeikis is rich as a proudly assholic A&R man with Rip Torn levels of sleaze. He promises the virginal Curtis the world: "You're going to get more ladies than Jay-Z got Mercedes. You're gonna need two dicks." Sudeikis' quick slapdown about how TV adds 10 pounds to the figure shows a puncturing spirit that could have been done this movie good. Sudeikis and Christina Applegate—as Curtis' mom—get into a fine exchange of barbs. I especially liked one gesture by this very brave woman and ever-appealing actress: after being kissed, Applegate wipes her lip with the side of her thumb, like a prizefighter. Fish's search for fame is like a man trying to heal a neurosis and thus makes the movie therapeutic instead of piquant. Applegate is the one who manifests the most love for the heat and juice of rock & roll.

THE ROCKER (PG-13; 102 min.), directed by Peter Cattaneo, written by Maya Forbes, Wallace Wolodarksy and Ryan Jaffe, photographed by Anthony B. Richmond and starring Rainn Wilson, plays valleywide.
Click Here to Talk About Movies at Metro's New Blog
Send a letter to the editor about this story.