August 22-28, 2007
home | metro silicon valley index | columns | silicon alleys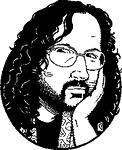 Silicon Alleys
Grading the Curves Of Monte Sereno
By Gary Singh
BEGINNING at the intersection of Quito Road and Saratoga-Los Gatos Road, right where the idyllic bedroom communities of Monte Sereno and Saratoga fade into each other like the shoreline and the sea, one can begin yet another side-splitting drive for 27 miles on the same road, and without even barely veering two miles east and west.
So start your engines at that intersection, which just happens to be at 37°14'12.48" latitude, and -121°59'34.8" longitude. Then venture north through the wooded affluent locale of Monte Sereno. The semiwinding road snakes its way over a few narrow bridges and forest terrain until you come to one of those yellow street signs with the black arrow designating the turn and declaring that the speed limit around the upcoming bend is 22 mph. Not 20 mph or 25 mph, but 22 mph. I understand the nearby "deer crossing" and "narrow road" signs, but 22 mph? God forbid Monte Sereno police catch anybody driving 23 mph around that turn. They'll surely be in for it.
And the absurdity doesn't stop there. A quarter-mile up the road, another sign proclaims that the speed around the upcoming turn is 19 mph. Not 15, not 20, but 19 mph. I doubt there is any other municipality in Santa Clara County where you'll find a 19 mph sign. Correct me if I'm wrong, please. I mean, why 19? Why not 19.37672811583 mph? I guess that wouldn't fit on the sign.
Anyway, Quito dive-bombs upon Westgate and El Paseo de Saratoga Shopping Centers, where, upon crossing Saratoga, it becomes Lawrence Expressway, yet another concrete paean to the paved-over nature of this valley. Lawrence, of course, then proceeds straight-up northbound, bisecting several east-to-west thoroughfares including Homestead. The coordinates of that intersection are 37°20'25.8" latitude and -121°59'44.88" longitude.
After barreling north past all the freeways, Lawrence veers west at Twin Creeks Softball Park and becomes Caribbean Drive, which then becomes Mathilda Ave as it traverses its way south through the main Yahoo! and Lockheed campuses. Before you know it, you're already barreling past the torn-down Sunnyvale town center and you've wound up on De Anza Boulevard, which doubles as Saratoga-Sunnyvale Road.
From there, you continue south and cross Homestead, the road you just crossed while going north on Lawrence. The coordinates of that intersection are 37°22'8.4684" latitude and -122°2'6.0684" longitude. Then you get to Cupertino and a bunch of Asian strip malls, and you're still only two miles west of where you originally were driving north on Lawrence. Again, you've never even left the same continuous street.
Going south past Bolliger and then Prospect, the affluent town of Saratoga reappears next, and Saratoga-Sunnyvale Road then becomes Saratoga-Los Gatos Road as you cross the main intersection of downtown Saratoga. From there, you can see the Los Gatos Hills as you rocket your way right back to the same exact intersection where you originally started: Saratoga-Los Gatos and Quito, well worth the 27-mile drive. During this campaign, you've experienced every slice of Silicon Valley culture. The adventure is complete. The entire drive forms a long, skinny rectangle going north-to-south and the width of this rectangle never stretches beyond two miles.
Now, of course, to measure the precise longitudinal width, I think you'd have to take into account the curvature of the earth and then break out some trigonometry, a math subject I haven't thought of since high school. But after this enlightening trip through a slice of Silicon Valley, I just found the desire to go study it again. I miss that blasted stuff. (Hey, it's all formulas—it ain't that hard, really.) So, if you've got the gas money to waste on this drive, go for it. And then recommend a math teacher, in case I got all the above stuff wrong.
Contact Gary Singh or send a letter to the editor about this story.