August 22-28, 2007
home | metro silicon valley index | music & nightlife | profile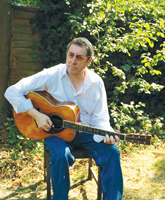 Favorite Uncle: Bert Jansch was already enjoying a career resurgence when the freaky folks adopted him and made him famous all over again.
Second Act
Fingerpicking maven Bert Jansch enjoys a late-career reappraisal
By Paul Davis
SAY WHAT you will about Devendra Banhart and his sometimes-maligned freak-folk ilk: those kids know their obscurant folk history, and they pay homage to their forebears at every opportunity. Perhaps one of the most notable '60s folk performers to be restored to prominence by Banhart's midas touch, hippie fingerpicker par excellence Bert Jansch has enjoyed the fruits of the past few years' reinvigorated interest in the eccentric, homemade folk sound of the late '60s and early '70s.
The thing about these latter-day reappraisals is that they come at the oddest of times: Jansch has long been a hero to guitar players who valued intricacy and songcraft over flash and fireworks. Smiths guitarist Johnny Marr has been an avowed Janschian for years, as has Brit chanteuse Beth Orton, yet it's only in the past handful of years that the Jansch appreciation train has reached critical mass. Once relegated to cutout bins and self-releasing albums, Jansch teamed up with tastemaking American indie label Drag City for his latest release, The Black Swan. For Jansch, however, it's just another step in a career that has ebbed and flowed but never stalled for lack of creativity or production.
Jansch is the archetypically articulate yet self-effacing Brit; he regards this late-career visitation from the goddess Fame with the bemusement unique to his countrymen. When asked why he thinks people have rediscovered his music now, Jansch hazards a modest guess. "I always think the younger generation latches onto stuff their parents were into," he says. "It comes around in cycles, people discover the music, and then the parents get enthused again."
A literate finger-style player who came of age listening to the likes of Big Bill Broonzy and Davy Graham, Jansch has influenced countless players since the release of his 1965 self-titled album, including '70s icons like Jimmy Page, Neil Young and Nick Drake and Britpop titans such as Marr and Suede's Bernard Butler. So while Banhart and his friends may have rekindled interest in him stateside, they are far from the first to worship at the altar of Jansch. His resurgence in popularity began with the 2000 release of Crimson Moon, as the player who had been relegated to obscurity and best-kept-secret status during the '80s and '90s was rediscovered by a new generation. Crimson Moon featured appearances by Marr and Butler and was commemorated by a British TV documentary that drew far more attention to Jansch than he had enjoyed since the early-'70s heyday of Pentangle, the folk supergroup he formed with John Renbourn.
In the past few years, elbow-rubbing with some of the luminaries of the contemporary indie folk community has raised Jansch's profile in America to a greater level than he's ever enjoyed. On The Black Swan, Jansch teams up with a veritable who's-who of indie artists and folk luminaries, including Orton, Banhart, Helena Espvall of Espers and Kevin Barker. While the California young bucks are relatively recent additions to the Jansch love train, he and Orton have a longer-running creative appreciation for each other and an ongoing friendship. Jansch explains, "I've known Beth for a couple of years—she actually came to me asking that I give her guitar lessons to begin with. It's amusing to me—she doesn't need lessons!"
Jansch hooked up with Banhart as an extension of a recording project he was working on at his home studio, where Jansch does all his recording, preferring the freedom to "constantly update my equipment and record when I fancy it." He began searching for a professional producer and approached Noel Georgson of Banhart's band. Jansch ended up playing as a member of Banhart's band in 2005, when he came to the United States to perform at the Bridge School Benefit, run by one of Jansch's most venerable and vocal acolytes. Indeed, Neil Young perhaps best summed up the unapologetic fandom that Jansch inspires in his famous and virtuosic followers, once declaring that "as much of a great guitar player as Jimi [Hendrix] was, Bert Jansch is the same thing for acoustic guitar ... and my favorite."
Bert Jansch performs Saturday, Aug. 25, at 8pm at the Brookdale Lodge, 11570 Hwy. 9, Brookdale. Tickets are $22 adv/$25 door. (831.338.6433)
Send a letter to the editor about this story.