August 22-28, 2007
home | metro silicon valley index | silicon valley restaurants | review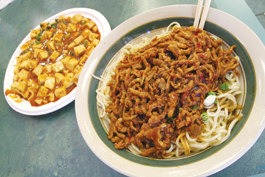 Photograph by Felipe Buitrago
Feel the Burn: Tofu and noodles get their fair share of chile in Fremont.
The Little Sichuan That Could
Tracking down Fremont's rare Chinese regional cuisine
By Stett Holbrook
FOR MANY Americans, Chinese food was their first foray into an exotic foreign cuisine. The Chinese diaspora has deposited a Chinese restaurant in almost every American city, and what was once unfamiliar food has become as mainstream as hamburgers and pizza. Chop suey, egg foo yong and General Tso's chicken have become all-American standards, dishes developed by Chinese cooks in America to appeal to American tastes.
Given this country's love for Chinese food, it's a shame that we don't dig deeper into the cuisine. True, too many Chinese restaurants serve oily, sweet and fried Chinese-American food, so it's hard to get a taste of the real thing, but we're fortunate in the Bay Area to have a multitude of restaurants that cater to Chinese tastes instead of American ones. Silicon Valley in particular is a gold mine of regional Chinese food that tastes altogether different from the same old No. 3 egg roll and chow mein combo.
I've been spending a lot of time eating in Fremont lately, one of Silicon Valley's best destinations for food made by immigrants for immigrants. Fremont is best known for its Afghan and Indian food, but it has plenty to offer on the Chinese-food front as well. Little Sichuan Express is one of the standouts—although you might think otherwise from the restaurant's spare, strip mall location. Fluorescent lights, classical music and indoor planter boxes of fake flowers dominate the aesthetic of this place. The tables are set with Styrofoam plates and a one-page paper menu on which you check off your order with blue Bic pens.
But the restaurant is a rare bird because it specializes in the fiery, complex-flavored dishes of China's western Szechuan province. And it's quite good. Many Chinese restaurants offer a few token Szechuan dishes, but few specialize in it. I had some memorable Szechuan food at Milpitas' South Legend restaurant and have been on the lookout for another Szechuan specialist ever since.
Not counting the list of specialties written in Chinese on the wall, there are 108 items on Little Sichuan Express's menu, so it's hard to know what to order. I went straight for a few Szechuan classics and both were excellent.
Spicy tan tan noodles ($4.95)—more often spelled dan dan noodles—are one of Szechuan's most famous street snacks and a good bellwether of a Szechuan restaurant's quality. At Little Sichuan Express, the spaghetti-size noodles arrive heaped in a bowl, some unsauced and others coated in the glistening red chile sauce that flavors so many Szechuan dishes. Chopped green onions and thin strips of chicken are sprinkled on top (the dan dan noodles are also served with ground pork). It's the sauce that defines the dish and it's great. It's spicy, for sure, but it's the pleasantly numbing effect of the Sichuan peppercorns that makes it so good. The peppercorns themselves have a great piney, citrus flavor.
Ma pa tofu is another Szechuan classic. According to Land of Plenty, Fuchsia Dunlap's excellent book on Szechuan food and culture, the dish translates as "pock-marked mother's bean curd" because it's named after the smallpox-scarred wife of a Qing Dynasty restaurateur who made it. The big chunks of tofu bob in a bright red and oily sauce that's somehow not oily tasting. It is spicy given how choked with chiles it is, yet not as lethal as it looks. The flavors of ginger and garlic come through strongly. It's normally served with ground pork on top, but I went for the vegetarian version ($5.95) that was just as good.
When I asked for a few recommen-dations on a second visit the waitress's index finger quickly went down the menu to General Tso's chicken (here spelled Cho's) and Mongolian beef. I declined and pointed to the word "Sichuan" on the menu. It's not that she didn't want to serve me the good stuff, she just wanted to offer me what she thought an American would want to eat. Ultimately she understood what I was after and her recommendations were great.
Dry-cooked hot spicy chicken ($7.45) is the ultimate finger food for those who like their nibbles spicy. Dry frying involves the use of very little oil and stir-frying the food until it is slightly dried out and develops a thin crust. For this dish, 2-inch-long, cleaver-hacked thighs are lightly fried with thick slices of ginger, garlic and green onion and whole chile peppers. Star anise gives the dish a delicious, aromatic edge. Sour long beans with ground pork ($6.95) is a great side dish because the tangy, slightly salty flavor works as a foil for some of the richer, oilier dishes. The beans are first brined and then stir-fried with the pork. It's an intriguing and unique dish.
My waitress steered me right with the innocuous-sounding home-style boiled beef ($6.95), too. It's a flaming dish of thin sliced beef simmered in a chile-pepper/ginger/garlic sauce that left a warm glow long after I finished. Kind of like Little Sichuan Express itself.
---
Little Sichuan Express
Address: 34420-G Fremont Blvd., Fremont
Phone: 510.608.0585
Hours: 11:30am–9:30pm Mon–Thu, 11:30am– 10pm Fri–Sat and 11am–6pm Sun.
Cuisine: Sichuan Chinese
Price Range: $3.95–$10.50.
Send a letter to the editor about this story.