August 22-28, 2007
home | metro silicon valley index | the arts | stage | review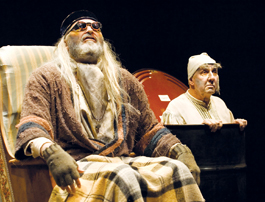 Photograph by Steve DiBartolomeo
Hamm and Wry: Paul Whitworth as Hamm, left, and Nick Ullett as Nagg take shots at each other from their respective disadvantaged positions.
Curtain Call
Poignant and absurd, Shakespeare Santa Cruz's 'Endgame' marks the departure of Paul Whitworth
By C. Kevin Smith
MIDWAY through Samuel Beckett's Endgame, the aptly named Hamm asks, "We're not beginning to ... to ... mean something?" His fretful question is met with laughing derision by Clov, Hamm's companion of uncertain relationship. "Mean something! You and I, mean something! Ah, that's a good one."
That question lies at the heart of Beckett's one-act tragicomic masterpiece, currently at Shakespeare Santa Cruz in a first-rate production that emphasizes the play's enduring pathos and humor. Sensitively directed by Peter Lichtenfels, with expert lighting, costume and set design from SCC's crackerjack creative team, Endgame is set in a house situated at the boundary of land and sea amid a gray, postapocalyptic landscape. Outside, nothing lives or moves. Inside, three men and a woman rage and remember and spar with each other as the darkening end comes on. Blind and unable to walk, Hamm (Paul Whitworth) sits in a jury-rigged makeshift wheelchair, a farcical throne from which to issue a stream of demands and pronouncements. Beckett threads numerous Shakespearean echoes into his luminously spare and poetic text, and Whitworth, SCC's departing artistic director, endows Hamm with the right blend of narcissistic grandeur and human frailty, the old Bard's speciality.
Also sharing the stage are Hamm's parents, Nell and Nagg, both consigned to finish out their days in "ashbins," as Beckett writes. Through Hamm's exchanges with Nagg (Nick Ullett), we learn of a legacy of casual cruelty spread across the generations. Ullett is excellent as he reminds Hamm, his face darkly leering, how Hamm wept from fear as a child. "We let you cry. Then we moved you out of earshot, so that we might sleep in peace." Whatever tenderness remains in Nagg he reserves for his wife, Nell (Esther Mulligan), who makes a brief appearance to reminisce with Nagg to offer one of the play's signature lines. "Nothing is funnier than unhappiness," she says, before telling Nagg she is going to leave him. As written, the character of Nell is nostalgic and elegaic; Mulligan lends her a curiously uninvolved, stilted quality, out of sync with the high emotional temperature of this strong production.
Hamm, Nagg and Nell occupy fixed positions on the sparse stage; their minds are also fixed on endings and emptiness. But Clov (the superb Ian Scott McGregor), whose deadpan wit and flashes of feeling recall one of Shakespeare's scene-stealing fools, owns the stage even as he is beholden to its dominating tyrant, dragging his lame foot (Clov can't sit down) back and forth across the room, following Hamm's capricious orders. "There's one thing I'll never understand," Clov says. "Why I always obey you. Can you explain that to me?" Clov is the play's most dynamic character, and McGregor's performance is simply breathtaking, bristling with kinetic intelligence and poignantly alive to the undercurrent of love that lies buried under the years of ancient frustrations and outright hostility. For Clov, the endgame will come to have a different meaning. Like Beckett's Waiting for Godot, where the solitary tree that appeared dead in the first act grows a few leaves for the second, Endgame concludes with the suggestion that, even in endings, things must go on.
All the characters in Endgame are acutely aware of their unfree, role-playing lives, none more so than Hamm, who impatiently awaits the end; for to all things The End must come. Hamm is unable to move his decaying body, but listen to the great animal of Whitworth's voice, ranging masterfully across the scale of dramatic temperament. Often pitched to a spare, almost steely rasp, Hamm's speech is nearly all that remains of a lifetime of raging against the sounds and furies of a suffering existence. In this magnificent play about the pain and the relief of any leavetaking, Hamm provides Whitworth a fitting role for his final season with SCC.
Endgame plays in repertory at the Mainstage at UC–Santa Cruz through Sept. 2. Tickets are $26–$40. (831.459.2159)
Send a letter to the editor about this story.