August 22-28, 2007
home | metro silicon valley index | the arts | stage | review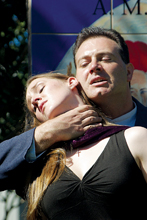 Photograph by Emri Celibi
Universals: The Traveling Jewish Theatre finds common humanity in the stories of Bernard Malamud.
Taking The Bard's Measure
Arclight Rep finds revelations in a problem play
By Marianne Messina
BRAVO to Arclight Repertory Theatre not only for giving downtown San Jose summer Shakespeare without the commute but also for taking on one of Shakespeare's "problem" children, Measure for Measure. The first problem is dereliction of duty by Duke Vincentio (an affable Mark Jordan) when he appears to abandon his ducal see in corrupt Vienna (but in fact dons the guise of a humble friar and orchestrates incognito). The duke has left Angelo (David Koppel) in charge of cleaning up the city and in laying down the law, Angelo decrees a death sentence on Claudio for "fornication" on the discovery that Claudio's fiancee, Juliet (Meredith Moseley), is pregnant.
Critics have had problems with the comedy's dark undercurrents and the unhappily begotten "happy marriages" at play's end. As if those aren't enough challenges, the Arclight production at Theatre on San Pedro Square is austere of costume (except for the sharp, pressed military uniforms) and goes light on scenery and props, leaving those long speeches naked on an open stage. But director Donna Foley has put most of her chips on the text, trusting the actors to bring out Shakespeare's incredible tensions, the chemistry between key characters, the emotional prickly pears—and that choice pays off within 10 minutes of the industrial dance-music opening.
This Vienna seems unanchored in time and place, but it maps an emotional impression in all the key scenes—those between Angelo and Isabella (Fiona Lawson) as she pleads for her brother Claudio's life, those between Isabella and Claudio (Benjamin Boucvalt) as he fearfully awaits death. With a desk between them, Koppel and Lawson bring about a mesmerizing tension as they argue the merits of the law over grace. Isabella's first approach to the Duke has added fun provided by Lucio (Martin A. David), who as Claudio's friend eggs her on from the sidelines ("That's well said," "more on't"). Superb timing brings Lucio's asides in just in time to burst progressive build-ups of tension and release them in humor. For anyone intimidated by Shakespearean language, Foley and cast have worked to make this an extremely lucid presentation. Rather than dashing through the double-entendres, comic characters like Pompey (Charles Remington) the pimpin' bawd and Lucio (somehow everyone's best friend) speak with deliberation and plenty of side-glances.
Plus they illuminate every good pun—"groping for trout"—with appropriate gestures. Even the tiniest gestures come from great significance. When Isabella urges Angelo to "ask your heart what it doth know," she physically presses her hand on Angelo's chest, an innocently seductive move with harsh consequence. On another level, the gesture brings out Angelo's tragic limitation; he lives life only through his mind. When Isabella literally "touches his heart," it drives him into panicky confusion that brings out his worst.
Succumbing to lust, Angelo offers Isabella her brother's life in exchange for her chastity. Because the capable Koppel is such an earnest Angelo, you want to feel his anguish as he examines himself: "Dost thou desire her foully for those things that make her good?" Again, when Isabella visits Claudio, Boucvalt says a lot with his hands, often held fragilely as if suspended in time. In the final denouement, the duke leaves Angelo's fate in Isabella's hands, and the entire scene is a breath holder.
Pushing creatively on the text, Arclight's production adds revelation between the spoken lines, which makes it full of surprises: a bluesy ballad to open Act 2, a woman in the role of Escalus (Carrie Madsen) and an interesting call regarding the duke's marriage proposal to Isabella. The play starts out with abuse of power and hypocrisy, but comes to rest at forgiveness—and Arclight's touching ending, a kind of bonus dumb show, gives this problem play a soft landing.
Measure for Measure, an Arclight Repertory Theatre production, plays Friday–Saturday at 8pm and Sunday at 2pm through Sept. 9. Tickets are $10–$15. (800.838.3006)
Send a letter to the editor about this story.