August 23-29, 2006
home | metro silicon valley index | silicon valley restaurants | review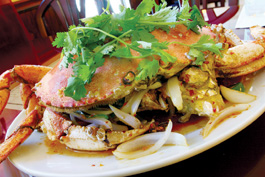 Photograph by Felipe Buitrago
They've got legs, they know how to use them: Presentation is a point of pride at Nha Toi, as this crab dish shows.
Vietnam's Food As Fine Art
Nha Toi is rare taste of the stylized northern Vietnamese cuisine
By Stett Holbrook
SAN JOSE HAS the largest Vietnamese population of any city in the United States. Following the fall of Saigon in 1975, the Vietnamese diaspora swelled San Jose's Vietnamese population from about 8,000 in 1980 to 80,000 in 2000.
This influx of refugees changed the face of San Jose and Silicon Valley in general. It also gave us a lot of really good Vietnamese restaurants. While once an exotic import 25 years ago, Vietnamese restaurants are now as common in Silicon Valley as taquerias and burger shacks.
But unless you're Vietnamese or go out to eat with someone who is, teasing out the special dishes and regional differences at local restaurants can be tough. When in doubt, I used to order spring rolls and a bowl of pho or grilled pork over rice noodles. But as Vietnam is a country that goes from the subtropical south to the cold highlands of the north, its food is quite diverse, and I knew I was missing out on a lot of good food. I found what I was missing at Nha Toi restaurant.
Most Vietnamese restaurants in San Jose focus on the food of the southern and central parts of the country. Pho, Vietnam's famous beef noodle soup, is from the northern city of Hanoi, but it has become a dish that's served at almost every local Vietnamese restaurant. Restaurants that serve a full repertoire of northern-style food are a rarity and that's one of the things that makes Nha Toi so special.
Nha Toi occupies a yellow, bamboo-fronted building on William Street and is part of a low budget restaurant row that includes not only Vietnamese restaurants but Mexican, Salvadoran, Chinese, Thai and even cheese-steak restaurants. Inside, the restaurant is decorated with dark red wainscoting, square rice paper lamps and beautiful framed paintings from north Vietnam. It's a comfortable and even elegant dining room. Only the droning of a TV tuned to Fox News behind the bar spoils the mood.
Nha Toi, which means "my home" or "my darling" in Vietnamese, is taken from a poem written by actor and director Don Duong, the brother of co-owner Susie Bui. Two copies of the poem hang on the wall.
Northern Vietnamese food is less sweet than southern Vietnamese food, and less spicy than the food of central Vietnam, yet it makes wider uses of aromatic ingredients like ginger and galangal. Because the north has traditionally been one of the poorest parts of the country, Bui says northern cooks make a special effort to present food in artistic manner in order to disguise its humble origins and ingredients.
Apart from the food, which is quite good, what sets Nha Toi apart is the obvious pleasure and pride Bui and her partner Trung Ngo take in cooking and discussing their food.
"For me, food is art," says Bui.
Bui was born in a small village outside of Hanoi and then moved to Saigon as a young girl where she grew up eating her mother's northern-style food. She fled the country in 1975 on an odyssey that took her to a refugee camp in the Philippines, then to Arkansas and finally to California.
Artistic achievement runs in Bui's family. Her son Tony Bui directed the spellbindingly beautiful film Three Seasons, which starred her brother-in-law and Harvey Keitel. Her other son, Timothy Bui, directed Green Dragon, a more recent film that featured Duong, Forest Whitaker and dirty dancer Patrick Swayze.
Ngo is also from north Vietnam and he brings his passion for the cuisine to the restaurant as well. When he found out I was interested in trying north Vietnamese food, he made several recommendations, including the excellent shrimp paste on baguette ($4.50), a creamy and delicious appetizer.
You've probably had fried summer rolls before, but I doubt they were as good as the ones at Nha Toi. The rice paper, translucent and crackly thin, is imported from Hanoi and filled with shrimp, crab, shiitake mushrooms and rice vermicelli. The rolls ($4.50 for four), called cha gio bac on the menu, are thin and light and compulsively edible. Order more.
A traditional Vietnamese meal consists of soup, a stir-fried dish and something a little salty. Following Bui's recommendations, I got down to work. The soup I chose, Vietnamese spinach and shrimp ($7.95), was grassy and light and refreshing. The delicate shrimp balls add a wonderful salty sweetness to the soup.
For the salty course, the braised tuna ($8.95) was one of the most intriguing dishes I tried. The fish is simmered with galangal (similar to ginger root) and tea leaves. The dark-tinted fish is moist and meaty and the aromatic sauce is perfect spooned over an order of com chay ($4.50), a thin cake of crispy, crackly rice.
For the stir-fry course, I loved the watercress and fermented bean curd ($7.95). I expected a funky, pungent flavor from the bean curd but it was quite mild and provided a subtle saltiness and creamy sauce, an excellent contrast to the bright green and vegetal flavor of the watercress.
By the way, the little bowl provided with your meal is not just for soup. To eat like a real Vietnamese, scoop or ladle out a portion of food from the larger dishes into the bowl and then eat out of that. Repeat as necessary.
Nha Toi's food is so good and so different from much of the Vietnamese food I've had before that it's like eating it for the first time. Nha Toi-style grilled pork ($7.95) is a must order. Thin slices of delicately marinated pork are pounded thin, grilled and served with crunchy shredded Vietnamese watercress atop rice noodles. With a splash of seasoned rice vinegar on top, it's simple, light and delicious.
Nha Toi is well named because it deserves to be the darling of San Jose's Vietnamese restaurants. And after three visits, it's become my home away from home for good food.
---
Nha Toi
Address: 460 E. William St., San Jose.
Phone: 408.294.2733.
Hours: 9am-10pm
Cuisine: Vietnamese
Price Range: $5.25-$22.95.
Send a letter to the editor about this story.