August 23-29, 2006
home | metro silicon valley index | columns | live feed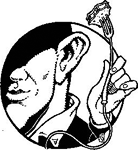 Live Feed
Into Indo
By Stett Holbrook
EARLY THIS MONTH I wrote about Bay Leaf restaurant, a good new Indonesian restaurant in Sunnyvale. I said that as far I knew, it was the only Indonesian restaurant in Silicon Valley. But two alert Metro readers clued me in to another Indonesian eatery: Ori Deli. Located in a refreshingly out of date shopping center on Snell Avenue in San Jose, Ori Deli has been in business for 30 years. I can say with confidence that Ori Deli is the only combination Indonesian restaurant/Dutch-Indonesian mom-and-pop grocery store in Silicon Valley.
The restaurant is adjacent to the market, a small grocery crowded with Dutch and Indonesian products. The shelves are loaded with Dutch chocolate, cookies, licorice and what looks like fruitcake. There is also jar after jar of sambal (a potent chile pepper relish that's a key ingredient in Indonesian cooking), bottles of satay sauce, packages of rice noodles and canned curry sauce of questionable age.
According to co-owner Robert Tan, a Chinese-Indonesian man originally from Jakarta, the store used to cater to the South Bay's Dutch-Indonesian population. (The Dutch colonized and occupied Indonesia for more than 300 years. In Holland, Indonesian food is like Mexican food in California.) I didn't know there was such a community here, but there is. Or was. Tan said Silicon Valley's Dutch-Indonesian community is dying off.
"It's not like it used to be," says Tan.
Today, most of his customers are Indonesian and the few odd Dutch who find their way to this outpost of the Netherlands. The restaurant has an appealing backroom feel to it. The blue vinyl booths, blue carpet and artificial plants hanging from the ceiling make the restaurant look like an Indiana diner. That is until you look at the Indonesian tourist posters and the Balinese demonlike shadow puppets on the wall. The fish sauce and Dutch mustard on the table (apparently mosterdsaus is the Dutch word for mustard) are other signs that you're in for something different.
The menu offers a good selection of Indonesian standards drawn from the central part of the country, a region that includes the capital Jakarta. Your best bet is one of the nasi (rice) plates. I tried the nasi rames, a platter of steamed rice, slow cooked coconut beef stew, sambal goreng tahu (tofu, green beans and bamboo shoots in a light coconut curry sauce), salty-sweet potato strings, pickled vegetables and serundeng (peanuts seasoned with dried coconut, salt and sugar). Good stuff.
If you've got a taste for Indonesian food or need to restock your supplies of Dutch fruitcake, you'd better get to Ori Deli soon. Tan says that after 30 years he's getting tired and may only stay in business another two years. His wife, Ming Tan, is ready to hang it up, too.
"If I win the lottery today I quit," she says.
Ori Deli 5479 Snell Ave, San Jose. 408.578.6262.
Send a letter to the editor about this story.