August 23-29, 2006
home | metro silicon valley index | music & nightlife | band review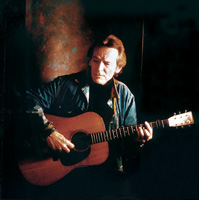 Hip to be Square: A rare photo of Gordon Lightfoot, posing with a guitar.
You Lightfoot My Life
In praise of Gordon Lightfoot, who takes the high ground in the middle of the road
By Sara Bir
IN CANADA, he's a living national treasure; here in America, Bob Dylan, Steve Earle and my mom hold him in high esteem. Gordon Lightfoot, a veritable folk-music giant, retains not a whiff of coolness or hipster cache, and that's just fine. Ah, good old Gord, the folk troubadour whose easygoing singles tread the middle of the road softly.
Lightfoot was involved in music throughout his formative years in Ontario, Canada. In the 1960s, he achieved more success with his songs than his recordings—and those songs got around. "Early Morning Rain" and "For Lovin' Me" alone have been covered by dozens of artists, including Peter, Paul & Mary, and the Grateful Dead.
It wasn't until 1971 that Lightfoot made the charts in the United States with a recording of his own, "If You Could Read My Mind," beginning a decade-long run of commercial success, with "Sundown," "Carefree Highway," "The Wreck of the Edmund Fitzgerald," and others. This stable of songs—the names of which you might not recognize, although the melodies you would—keeps both karaoke singers and open-mic folk newbies stocked with prime material. What does it matter that "Daylight Katy" and "Wreck of the Edmund Fitzgerald" are most often heard in waiting rooms and airport lounges? They are as comforting as an old sweater, as moving as a favorite childhood book.
It you look at photos of Lightfoot through the ages, you notice that he doesn't project much of a persona, other than a dude with a guitar; he's not the most recognizable guy. Billie Holiday rarely looked the same in any two photos, creating a mystique both protective and unforgettable. Lightfoot, too, often does not look the same from photo to photo, but it's as if he were happily brandishing a cloak of anonymity. There's absolutely nothing iconic about the way he looks—none of the gauntness of Dylan, none of the hard-eyed gruffness of his fellow Canuck, Neil Young. That anonymity serves him well, allowing him to easily assume the mantle of Everyman. Not handsome enough to be a womanizer or dangerous enough to be a wayfaring stranger, Lightfoot manages to convincingly pull off both roles in his songs.
And those songs are eminently singable. Johnny Cash, who covered Lightfoot's "If You Could Read My Mind" on American IV, would have done wonders with "Carefree Highway," and Judy Collins' "Early Morning Rain," the sad-sack tale that juxtaposed the classic downers of fast women and liquor with the ultimate modern-day downer, the airport, is as lovely and heartbreaking as it is pitiful. Even so, Lightfoot's versions have a great ownership, somehow seeming less dramatic but truer, more matter-of-fact and therefore more genuinely moving. "For Lovin' Me" is not a kind song, but the listener develops sympathy for the caddish narrator, whose selfish, uncompromising ways cut him off from ever truly receiving compassion and comfort. "Everything you had is gone, as you can see/ That's what you get for loving me," he sings dismissively to his naive lover, but the subtext is that's what I get for being an asshole.
The most dynamic moment of actor-director Vincent Gallo's unfoundedly controversial The Brown Bunny was not the cameo made by Gallo's salami, but his use of Lightfoot's "Beautiful," a ballad so understated that it took the nail-biting space and quietude of Gallo's filmmaking to reveal its power.
A burst artery in 2002 put him into a coma for six weeks, but he rebounded with a new album, Harmony, in 2004, and maintains an ambitious touring schedule. People enjoy seeing him live. In a 2001 interview, singer/songwriter Ron Sexsmith confessed his own Lightfoot fixation, mentioning that he'd caught him in concert. "It's not the most exciting show or hip show—he just gets up there and sings the songs—but there's something beautiful about it," he said. Lightfoot does not challenge us with his lyrics or songwriting or edgy showmanship; he merely entertains us, but he does so expertly. The man sings a great story.
Gordon Lightfoot will perform at the Fox Theatre in Redwood City on Thursday, Aug. 24, at 7:30pm. Tickets are $45-$65; Ticketmaster.com.
Send a letter to the editor about this story.