08.26.09
home | metro silicon valley index | columns | silicon alleys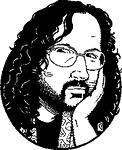 Silicon Alleys
Steppin' Out
By Gary Singh
LAST WEEKEND saw another zenith in what seems like a long string of reunions celebrating San Jose's music scene of 20 years ago. This time, we're talking about the last half of the '80s and the legendary alternative club One Step Beyond. Known throughout the land as "One Step," the place was a haven for many alternative types in those days: punks, goth kids, '80s New Wavers, mods, rockabilly dudes, metalheads or basically anyone subjugated in high school by the jocks and cheerleaders and who wanted to fine-tune his or her teenage angst for use later in life.
Drawing folks from across the country, the event was like a family reunion, and it was all for a very worthy cause: The George Mark Children's House, a facility that treats children with life-span-limiting conditions. A young boy, Franco Louis Bastoni, passed away last year at the age of 4 due to an obscure brain-stem tumor, and since his mother, Corrina, has tons of friends from the One Step Beyond days, folks got together and organized the Sacred Leaf Benefit, a mini-Bacchanalian gothlike weekend among the custom-carved décor at Smoke Tiki Lounge.
Mary Zuchowski and Karl Holtz orchestrated the entire affair, and Stan Kent, the zany British crackpot who owned One Step, showed up from Los Angeles and emceed the event both nights. DJs played on Friday, and bands hit the outdoor patio stage on Saturday.
One Step was located on Martin Avenue in the industrial wasteland sector of Santa Clara, and thousands of folks have fond memories of driving up Lafayette, turning left near the Humane Society and heading on over to One Step.
It was a huge place with many different rooms for various goings-on, and the entire club occupies an important part in the alternative cultural landscape of San Jose history, since it was an all-ages venue. Sixteen-year-olds could go dancing and see national touring bands, while those of drinking age could imbibe.
Looking back, the list of bands that played there is downright staggering. This was also during the initial stages of the rave explosion, so One Step would stage underground after-hours events once all the bars closed. All in all, for a bunch of disenfranchised young people growing up in a suburban wasteland with absolutely nothing to do except hang out at the mall, One Step was pure heaven—Or pure Valhalla, depending on your perspective.
"It was like something that was inevitable, given the fact that so many kids had nowhere to go," Kent recalled. "But what was amazing to me, was that we actually pulled it off. ... What kept it going was all the bands that came in, and you had this amazing energy of kids that had nowhere to go, and you realized that you were their home. This was their home away from home. People met their loves there. People had their first sex there. It was an awesome place to be around."
The Ramones usually played at One Step every summer—often it was two nights—for usually about 8 to 10 bucks a show, and one year they even came back a few months later to play a two-day benefit for the Humane Society. Personally, I must have seen the Ramones at least six times at that club.
"Something I will always remember about One Step is that the Ramones were essentially our house band at the time," Kent said. "I can remember taking them out for dinner in their van, and we'd go for curry, because they liked vindaloo. And to me, I think I'll never forget that. It was like being in a dysfunctional family, and we had our dramas like any other club, but for me, the Ramones were the essence of One Step Beyond." At the end of the weekend, $1,800 was raised for the George Mark Children's House. Kent also said that a full-blown, higher-profile One Step Beyond reunion is planned for sometime next year. (For those who wish to donate, One Step Beyond T-shirts are still available for $15. Check the Sacred Leaf Benefit Facebook page.)
Contact Gary Singh or send a letter to the editor about this story.