08.26.09
home | metro silicon valley index | the arts | stage | review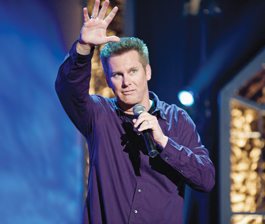 THE JOY OF LAUGHTER: Brian Regan puts an off-kilter spin on life.
Brian Damage
Comedian Brian Regan appreciates what audiences go through for his comedy
By Steve Palopoli
BRIAN REGAN doesn't understand why people keep laughing at him. It's not that he doesn't think he's funny. He just thinks laughter is overrated.
"Laughter to me is the most bizarre experience," says Regan. "To physically laugh is so strange. There's something about it that's so uncomfortable. You're gasping for air. Why would you seek that out?"
And yet, people do. Which is lucky for Regan, all things considered. As he prepares to perform at Montalvo on Sunday, he's wrapped his head around the laughter issue.
"It's so pleasurable," he says. "The psychological joy has to be pretty strong to put up with the physical aspects."
If deconstructing the physiology of laughter makes Regan seem a little overanalytical—well, as his fans know, he definitely looks at the world from a unique perspective. Unfortunately, the off-kilter spin he puts on his comedy is often lazily labeled "observational humor."
Perhaps this is because Jerry Seinfeld considers Regan one of his favorite standup acts, but in any case it doesn't do much to adequately define the wordplay and surreal tangents in Regan's bits on topics as varied as learning Spanish, kidnapping Russell Crowe and writing banana jokes for Planet of the Apes.
Another curious quirk of Regan's reputation is the media obsession with the fact that he doesn't curse or do lewd material in his act. In fact, it's difficult to find a story about him that doesn't make it seem as if his lack of profanity is just as—or even more—important than his jokes.
"I cringe when I read the 'clean' headline in a newspaper. I feel like it oversimplifies what I'm trying to do," he says.
"I don't sit down and think, 'Man, I'm going to write some clean jokes!' It's like someone looking at an Ansel Adams photo and going 'Wow, those are black and white! Look how black and white those are!' It's like—yeah, but aren't they pretty good photographs too?"
Regan didn't necessarily plan how his career would play out. One of the biggest surprises came in 1997, when a producer gave him his first shot at a comedy record. At this point, he was relatively unknown, though he was performing regularly and had been appearing on Letterman for a couple of years. The album, Brian Regan Live, was recorded in a dinky comedy club in Irvine, but caught on. More than a decade later, it still charts as a top seller for comedy albums.
"I had no clue it would end up taking off the way it did," he says. "The fact that it continues to sell blows my mind. It sells as good or better now than it did then."
Since then, he's had Comedy Central specials and DVDs, and has become the "comedian's comedian," a favorite of other stand-ups Seinfeld and Patton Oswalt. Occasionally, he gets a reminder of how far he's come.
"I saw an old tape of mine that was actually on Beta. It was from my second year in comedy. I'm onstage, and I'm just completely lacking confidence. A joke wouldn't work, and I'd be apologizing. Basically, apologizing for living. For me, the skill in getting better is trying to learn how to perform, how to get on stage and take control of a room. It's not easy. It's a gradual thing."
And he learned not to worry too much about how people talk about him—as long as they do.
"People ask me to describe my humor, and as a joke I'll say, 'It's probably Machavellian, with maybe some Kirkegaardian undertones,'" says Regan. "And sometimes they'll be like 'Yeah!'"
BRIAN REGAN performs Sunday, Aug. 30 at 8pm at Montalvo Arts Center's Garden Theatre, 15400 Montalvo Road, Saratoga. Tickets are $45–$65; call 408.961.5858.
Send a letter to the editor about this story.