08.26.09
home | metro silicon valley index | music & nightlife | band review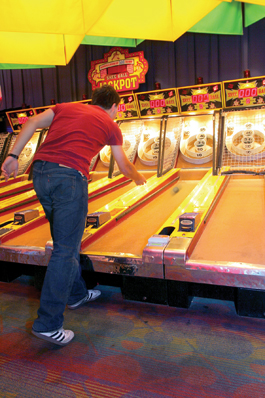 Photograph by Felipe Buitrago
BRIGHT LIGHTS, SUBURBAN CITY: The gaming action never lets up at Dave & Buster's in Milpitas.
Video-Game Heaven
By Colleen Watson
THE WORST part of growing up? You can't play at Chuck E. Cheese anymore. The best part? Obviously the sex and alcohol. Thankfully, Dave & Buster's in Milpitas gives you the best of both worlds. OK, they don't give you the sex, but it seemed like if you tried hard enough you might be able to end up with some of that at the end of the night anyway. 
What they do have is a ton of games. They have video games ranging from the early '80s to the newest flashy things that you dance or skate on. They have cool games like House of the Dead 4 (a personal favorite—I like killing zombies) to really lame games like Deal or No Deal. They also have alcohol, food, billiards tables, air hockey and shuffleboard. There are also midway games for those who like to trade in dozens of tickets for cheap prizes.  
I am a nostalgic video-game fan so I proved how bad I am at games from my childhood like Ms. Pacman and Space Invaders (the aliens were faster then I remembered). I then proceeded to lose badly at air hockey. Apparently, I can talk the talk but my walking skills need some work.
Dave & Buster's has some deals and happy hour specials, although I'm not a fan of the cover they charge on Thursday, Friday and Saturday nights, but over all it's a great place to go have fun and relive your childhood while sipping on a frosty beverage. 
Dave & Buster's
940 Great Mall Dr., Milpitas; 408.957.9215.
Send a letter to the editor about this story.