08.26.09
home | metro silicon valley index | silicon valley restaurants | review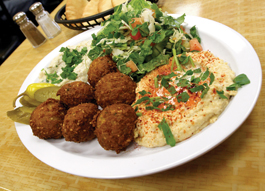 Photograph by Felipe Buitrago
TREATS IN THE ROUND: The vegetarian plate at the Golden Falafel Ball includes a salad and hummus.
Great Balls Of Joy
Santa Clara's Golden Falafel Ball does falafels right
By Stett Holbrook
I WOULD love to have been a fly on the wall at the brainstorming session when the owners of Santa Clara's Golden Falafel Ball were naming their restaurant.
"How about '5075 SCB,' after our address on Stevens Creek Boulevard?" I imagine someone suggesting. "Lots of restaurants these days go for those edgy, urban names."
Silence fills the room. No takers. Then someone else tosses out an idea.
"What about naming the restaurant after an ingredient, like 'garbanzo' or 'cumin.' That could be cool."
No good, the others say. You're trying too hard.
Then a wiser, maybe older, man in the room who had been listening patiently speaks up.
"We make a great falafel," he says with a gravitas that demands attention. "That's what we do. Why not a name that calls to mind our delicious, golden falafel balls? Let's call the restaurant 'The Golden Falafel Ball.' That way there can be no mistake about what we do."
That's it, everyone agrees. The Golden Falafel Ball. It's so descriptive. It's so direct. It's so ... literal.
Maybe that's not how the 2-year-old restaurant got its name, but in any case I like it, because it gets right to the point. The falafels are indeed golden, and they are so good they merit a big sign across the front of the building touting them.
I wrote a roundup of Silicon Valley falafel restaurants a while back, but somehow "Golden Balls" (as I now call the restaurant) escaped my notice. It's my new favorite for falafels.
You know how some falafels are kind of dry and cakey inside? Golden Balls' falafels are nothing like that. They are crisp outside, but the interior is moist and rich, almost creamy. For me, they call to mind a potato croquette or hush puppy, and yet they're not as heavy or dense. The secret may be the addition of flour to the garbanzo bean, onion, parsley and spice mixture. Rolled into a sandwich with tomatoes, lettuce, cucumbers, pickles and tahini sauce ($5.99), it's a memorable meal.
I'm not crazy about the restaurant's pita bread, though. It's plenty fresh and light but too thick and bready. A pita is a flat bread, but these are too puffy and spongy. But I quibble. It's a great sandwich.
Golden Balls serves more than falafels. Another great sandwich is the hulking sabiche ($5.99), slices of fried eggplant loaded into a pita with sliced hardboiled eggs, lettuce, cucumbers and tomatoes. There's a self-serve condiment bar with hot sauce, tahini sauce and pickles, ingredients I dutifully packed into my sandwich.
For a generous appetizer, go for the hummus ful ($5.99) a mound of creamy hummus topped with garlicky fava beans and a hard-boiled egg with wedges of sliced pita on the side. The babaghanouj ($4.99) is a standout, too.
The chicken shawarma plate ($8.99) is pretty good, but the chicken lacked the tangy goodness that defines top-notch shawarma for me. The french fries served with it, however, were as good as McDonald's. There's little I can praise at McDonald's, but they make a good fry, and they're just as satisfying here.
The Golden Falafel Ball is billed as a Mediterranean restaurant, so the inclusion of chicken schnitzel ($8.99) may seem out of place. But at an Israeli-American-owned restaurant, the battered and fried chicken dish fits right in. Schnitzel means "cutlet" in German, and the dish traveled to Israel with Jews who immigrated there.
At Golden Balls, the chicken is pounded thin and dipped in a sesame-flecked egg and flour batter and fried a light but crispy golden brown. The meat is juicy and tender and a squeeze of lemon on top really sets it off.
For something to drink, try a bottle of Malt Star ($2.50), an Israeli-made nonalcoholic beverage that tastes like a sweeter version of Guinness stout. I love it.
With the Israeli soap operas playing on TV and the preponderance of Hebrew spoken by customers seated in the simple but clean dining room, the restaurant appears to be a favorite for Silicon Valley Jews and Israeli expats even though it's not kosher. But the quality of the food, especially those namesake golden balls, has earned it a much wider following.
---
The Golden Falafel Ball
Address: 5075 Stevens Creek Blvd., Santa Clara.
Phone: 408.246.3800.
Hours: 11am–9pm Sun–Thu and 11am–6pm Fri.
Cuisine: Mediterranean.
Price Range: Entrees $6.99–$10.99.
Web: goldenfalafelballs.com
Send a letter to the editor about this story.