08.26.09
home | metro silicon valley index | movies | current reviews | film review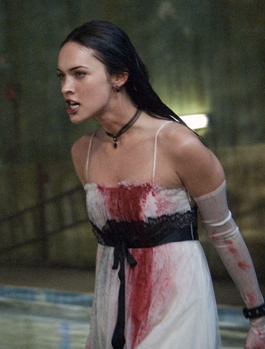 HAND OVER THE YEARBOOK, AND NO ONE GETS HURT: Megan Fox plays a cannibal teen in 'Jennifer's Body.'
Fall Arts Guide 2009
Film
By Richard von Busack
I BRING NEWS of cinematic destruction. This season is skewed toward apocalypse and messages of planetary peril. Once the summer's over, the fall crop of films is guaranteed to send people back to school whether they're students or not. Such is the result of a plethora of documentaries and film festivals trying to fill in the blank spaces Hollywood and the Murdochified news leave out.
The big-name prestige items are all in place, though. A Serious Man (Oct. 2) is the new Coen Brothers offering, another sort of noncomedy set in a cow-college, where a physics professor (Michael Stuhlbarg) gets the works from students, family and friends.
George Clooney is back in the Wes Anderson/Noah Bambauch stop-motion animation Fantastic Mr. Fox (Nov. 13), which features two filmmakers who have a bit of trouble getting over their childhoods doing an out-and-out children's story (by Roald Dahl). Clooney in fox form seems right; so does Bill Murray as a badger.
But the really big box office should go to New Moon (Nov. 20) the sequel to Twilight featuring the steadily improving Kirsten Stewart, since anyone will flock to see vampires doing anything. More bloodsuckers bare their fangs in Cirque du Freak: The Vampire's Assistant (Oct. 23), with the ever-amusing John C. Reilly as a vamp. Megan Fox stars as a cannibal high school chick in the Diablo Cody–scripted Jennifer's Body (Sept. 18). Zombieland (Oct. 9), a comedy despite its dire title, co-stars Abigail Breslin among the munched and munchees. The Road (Oct. 16), John Hillcoat's adaptation of Cormac McCarthy's prestigious gut-muncher, is just the uplifting bummer you'd expect—even if the zombie ogres in it aren't per se zombies, just post-apocalyptic cannibals. Viggo Mortensen limps through the action, indomitable; only Abe "Grandpa" Simpson could properly read aloud McCarthy's lamentations and biblical warnings. We're doomed, I tells ya!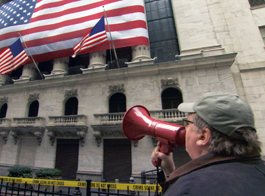 JUMP! JUMP! Michael Moore has a message for America's financiers in 'Capitalism: A Love Story.'
As one can see from the nuclear winter, piled-up human skulls and weird product placements for Coke and Jack Daniels in The Road, Earth really has it coming. Only Roland Emmerich can properly discipline the impending doom:
2012
(Nov. 13) gives Deutschland's Duke of Demolition a chance to blow up the planet as John Cusack looks properly aghast; the ancient Mayan prophecy is fulfilled, and we all lose our cleaning deposit.
Cloudy With a Chance of Meatballs (Sept. 18) has a rogue inventor nigh destroying the planet with good intentions. The CGI-animated 9 (Sept. 9), not to be confused with the Rob Marshall musical Nine (Nov. 25) or District 9 , may be one of the year's highlights, considering how adult-friendly and compulsively watchable Coraline and Up were. In a wasteland long after the age of man, mechanical/biotic creatures quest for the secret of life.
Planet 51 (Nov. 20) is like a comedy version of Ray Bradbury's "Mars Is Heaven!" with a planet full of 1950s suburban aliens. More plausible demolition—the attempted crushing of one fat girl in late 1980s Harlem—takes place in the acclaimed but dire indie Precious (Nov. 6), the adaptation of one-named novelist Sapphire's Push. It's a realist film with Italian touches: a bit of Juliet of the Spirits flavoring and a clip from De Sica's Two Women. A drab-looking Mariah Carey, as a seemingly sensitive social worker, and a very good Mo'Nique as the world's worst mom, beg us not to judge them. Too bad director Lee Daniels is judge, jury and executioner. Oprah is going to weep buckets.
As the film year progresses, I'm finding that documentaries and cartoons are what look the most promising. As Metro's Don Hines once put it, "The romance comedies don't have any sex, and the sex comedies don't have any romance." The dramas take place in a televisionized vacuum of prosperity, as unrelated to 2009 realities as the escapist comedies of the 1930s were to the Great Depression.
"Energy and the World" is the theme of the stalwart UNAFF Film Festival, running Oct. 17–25 in Palo Alto (and other Bay Area locations). The lineup this year is particularly strong. Slated is work by Dogtown and Z-Boys' Stacey Peralta, The Garden, the riveting true story of a fight over a community garden in south Los Angeles; The Age of Stupid, starring Peter Postlethwaite as a man of the mid–21st century looking back at us, his stupid global-warming-denying grandfathers. Also on view will be Sally Ingleton's Seed Hunter, about the search for heirlooms, and The Yes Men Fix the World, a sprightly documentary about two provocateurs who beard corporate suits in their dens. San Jose's Silicon Valley Jewish Film Festival makes its annual appearance Oct. 21–Nov 22, opening with the Argentine/Israeli production Letters for Jenny. The Arab Film Festival will also be traveling through the area Oct. 15–24; exact dates and exhibitions to come.
SHAVE AND A HAIRCUT, TWO BITS: Chris Rock looks at the politics of locks in 'Good Hair.'
Good Hair
(Oct. 23) by ace comedian Chris Rock takes its title from an African American expression: translated it means "as nonkinky as possible." People of color still spend millions on gross chemicals and expensive procedure. The old-time corrosive methods of hair relaxation—lye, gasoline or other caustics—have changed but not the essential meaning of this war on nappiness. (Fun fact: Billie Holiday's trademark gardenia is something she picked up to cover a hole burned in her hair.)
Capitalism: A Love Story (Oct. 2) is Michael Moore's bouquet to the only system that could ever possibly work, world without end, amen. Twenty years after the fall of the Berlin Wall—and the capitulation of the much-feared competition—the system is, well, just as you see it around you. Moore's focus is more on this last year right after Wall Street got the U.S. government to find its checkbook for them. Get out your handkerchiefs: Moore tells a sad tale of poverty-stricken CEOs and bankers mewling for sustenance like abandoned kittens.
Speaking of our overlords, Crude (Sept. 25) is Joe Berlinger's documentary concerning the $27 billion lawsuit that Ecuadorian natives brought against Chevron and Texaco (the company Chevron engulfed). And Earth Days (Sept. 18) charts the almost 40 years of Earth Day celebrations, with notes on the eco movement from astronauts to biologists. And the almost-documentary The Informant! (Sept. 18) presents Steven Soderbergh's comedic version of a serious story about the unlikely whistleblower (played by Matt Damon) who helped nail Big Ag's Archer Daniels Midland. Similarly, The Men Who Stare at Goats (Nov. 6) takes a true story and skews it a bit; it's based on Guardian reporter Jon Ronson's book about the U.S. Army's attempts to create psychic assassins and soldiers who can walk through walls like Sprite from the X-Men.
In dutiful response to the calendar, Robert Zemeckis' adaptation of A Christmas Carol (Nov. 6) pushes back the unavoidable holiday six weeks with a performance-captured animated version of Dickens, and Jim Carrey playing Scrooge and the three ghosts. The digitized London—with a Big Ben under construction scaffolds—is essential to this extravaganza.
And lastly, served up for Thanksgiving, The Princess and the Frog (Nov. 25)—a New Orleans–set version of "The Frog Prince" in traditional animation by Disney—may either be the continuation of a 75-year-old tradition of quality cartooning or the tombstone of it. And do we want to live in a world without flat animation?
Send a letter to the editor about this story.