08.26.09
home | metro silicon valley index | movies | current reviews | film review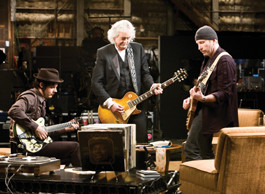 STRING TRIO: Jack White, Jimmy Page and the Edge jam in 'It Might Get Loud.'
Monsters of Rock
Jimmy Page has more to reveal with Jack White and the Edge in 'It Might Get Loud' documentary
By Richard von Busack
SOME WILL remember the Blind Faith incident: the supergroup that gets together and can only play a half-remembered Buddy Holly song. The trio of Jack White, the Edge and Jimmy Page got together for a summit meeting in a studio for It Might Get Loud, Davis Guggenheim's fine documentary paean to the electric guitar. What happens is not really more than a sum of its parts, though it's gratifying to see three such first-rate guitarists stumbling over the tricky chords of the Band's "The Weight" just like all of us campfire jammers. Davis Guggenheim (An Inconvenient Truth) tells the backstory of these three musicians. White was born to an enormous Catholic family in a tough part of Detroit. He was a drummer-turned-guitarist, scavenging and salvaging instruments while taking up the upholsterer's trade. The success of his band, the White Stripes, revived punk, roots and blues among listeners who had never heard anything rougher than a synthesizer. At a farm in Tennessee, White demonstrates how to make a one-string electrical instrument, a variation on the blues diddley bow; he screws in a pickup and uses it to rattle the countryside. In British country-home splendor, the now white-haired Page shows us how to play the mandolin riff from "The Battle of Evermore" and takes us on a tour of the stairwell where "Stairway to Heaven" was recorded. And in Dublin, the Edge displays the tall cart loaded with effects pedals that help him inundate stadiums and bring together multitudes. Of the three, Page seems the most eclectic and the one most willing to divulge his process; it's unfortunate to watch a documentary about three people and decide that it's a good thing that the film isn't a sinking ship with one life preserver aboard. The film is most interesting when it comes back to Page. We see him as young prodigy who bridges the era of British skiffle and today's heavy metal and as a hard-working London session musician whose guitar is in the mix of John Barry's hit "Goldfinger."
Guggenheim's contrast of three different styles—roots blues, city blues and post–Brian Eno stadium rock—is absolutely instructive; the subjects are forthcoming, appealing and modest. White is more of a mystery man. He plays for us his recording of an a cappella Son House track, his favorite song in the world. Of the three, White seems to have formed himself from study of models. This means nothing to the younger fan; to the older fan, that kind of serious homage sends you back to the music of long-dead originals. White is the kind of powerhouse who plays so hard that his fingers bleed; we see this happen during one session with the Raconteurs. The Edge's own seriousness goes without saying—he's a member of a uniquely sober-sided U2. Page more than any of these three has preserved his sense of playfulness now that he's in old age. Lastly, this movie could have used a woman in it—maybe Corin Tucker or Carrie Brownstein? Rory Block? Bonnie Raitt? The film's triumvirate implies that the big show is all about the men. Some female guitar god might have brought this all-star summit meeting up to the next level.

IT MIGHT GET LOUD (Unrated; 97 min.), a documentary by Davis Guggenheim, opens Aug. 26 at Camera 12 in San Jose and the Aquarius in Palo Alto.
Send a letter to the editor about this story.