08.26.09
home | metro silicon valley index | music & nightlife | band review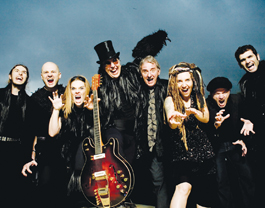 TROPICÁLIA THUNDER: Os Mutantes charges into Outside Lands on Saturday.
Good Mutations
Brazilian Tropicália stars Os Mutantes change the game at Outside Lands festival
By Curtis Cartier
ABOUT HALFWAY down the 68-act list of artists slated to rock Golden Gate Park at this weekend's Outside Lands Music & Arts Festival, there's a name that sticks out like a sore thumb. It's not Pearl Jam, MIA or even recent Beastie Boys replacements Tenacious D but rather a band as influential as it is obscure, and one that, for fans of psychedelic rock, is a monolith of the genre's proud history.
That name is Os Mutantes. And after reuniting and recording the group's first new album in 35 years, the crew will bring its signature Tropicália sound to the festival's Sutro Stage on Saturday. I tracked down the troop's lead guitarist and only remaining original member, Sérgio Dias, at his home in São Paulo, and got the goods on the band's latest mutations.
"I'm the same kid I was back in the '60s," says Dias with a lilting Portuguese accent. "Really, it was you—it was the kids—who got us to come back out. The music we are doing now, I think, is the music that Os Mutantes would naturally be doing in the 21st century."
Brazil in the 1960s was a country locked in the throes of a social and political revolution. While America suffered through the assassination of President John F. Kennedy and the debacle of the Vietnam War, Brazil saw a coup d'état of then-President João Goulart and a subsequent military dictatorship installed.
Out of the turmoil Americans got Bob Dylan, Jefferson Airplane and Jimi Hendrix. Brazil got Os Mutantes. At the time, the band was a well-groomed, wholesome-looking trio made up of Dias on guitar, his brother, Arnoldo Baptista, on bass and keys, and doe-eyed starlet Rita Lee on vocals.
The Tropicália movement sprang up around the same time, and was, by most accounts, a Dada-style mishmash of music ranging from samba and funk to folk and acid rock. It was also condemned by the Brazilian regime for its Western influences and eventually led to Caetano Veloso and Gilberto Gil, two of the style's principal founders, being persecuted and exiled from the country.
Yet Os Mutantes, though their music was censored for content, was allowed to stay in Brazil, because, as Dias puts it, "We were too clean-cut for [the government] to be seen as throwing out."
Dias continues, "I remember America suffered its own coup d'état with Kennedy, and I think that triggered all the other coup d'états in South America. I remember we all got sent home from school when we learned about [Kennedy's assassination], and there was a three-day period of mourning. I know there were a lot of troubles for America in the '60s. Here it was the same thing but with a much harder aspect. My father was a politician, and he was arrested when I was 13. It was like being in a film of cloak and dagger. But we were kids, and we had no fear. The way we could counterattack was by being honest with our art and music and by not giving a damn about the repression they would threaten us with."
Since then, Os Mutantes have been cited by bands like Beck, Nirvana and the Talking Heads as being one of the most influential groups in pop music. Beck's 1998 album Mutations was a tribute to the band and was made famous by the hit single "Tropicalia."
Yet the Mutants of 2009 are a far cry from the '60s and '70s version. The lineup, having gone through 11 band member additions and deletions over the years, is still anchored by Dias but now features longtime Mutante Dinho Leme on drums plus five recently added musicians on vocals, keys, bass and guitar.
The group's new album, Haih or Amortecedor, due out Sept. 8, is a departure from the lush samba-psyche-pop of yesteryear and a step toward a more progressive rock sound, but one where the iconic Tropicália style still shines through. Folks looking to hear a rehashing of '60s-era Mutantes tracks at Outside Lands will leave disappointed, Dias says, as he plans on playing mostly new songs live.
"Mutantes is not about me or the band, it's an umbrella term for a state of mind," Dias explains. "The music speaks for itself. And when you see us live, there won't be any special lights or pyrotechnics, it'll just be us smiling onstage and getting lost in the music."
OS MUTANTES performs on the Sutra Stage at the OUTSIDE LANDS MUSIC & ARTS FESTIVAL in Golden Gate Park, San Francisco, on Saturday (Aug. 29) at 4:50pm. The three-day festival runs Aug. 28–30 and also features performances from Pearl Jam, Dave Matthews Band, Ween, Modest Mouse and the Mars Volta, along with 62 other acts on seven stages. Single-day tickets are $89.50 and three-day passes are $225.50. Check www.sfoutsidelands.com for more details.
Send a letter to the editor about this story.