08.26.09
home | metro silicon valley index | columns | style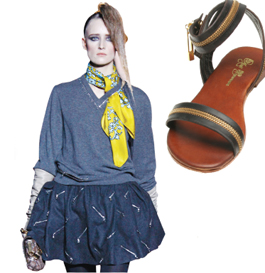 HARD WEAR: Toothy metallic elements are oll over Marc Jacobs' fall 2009 collection, and these Matt Bernson sandals.
Zip It
By Holly Szkoropad
THIS SEASON, the humble zipper has been thrust into the limelight as a sparkling, must-see addition to many outfits. Designers are questioning the very concept of zippers, treating them as a new toothy medium that can be incorporated into attire in a variety of innovative ways.
The brazen unveiling of this once basic notion gives clothing and accessories a taste of punk and '80s nostalgia without overtly making an outfit seem like a costume. It adds a touch of throwback glam while still appearing fresh and modern, and has even been pulled apart and reconstructed into everything from headbands to handbags lately.
Marc Jacobs' upcoming fall collection is bedazzled with zippers, not as fasteners but as an added metallic element sewn into the hems of skirts and seams of cardigans.
Kate Cusack sews zippers into glitzy flower pins, which are constructed with an extra dash of shimmer with the help of the gold and silver teeth. This trend has swept so far that even Martha Stewart recently gave a step-by-step craft recipe for making zipper flowers on her show.
This trend is a favorite for celebrities like Victoria Beckham, who has been donning frocks with zippers left bold and exposed. More artistic applications have been seen on Lady Gaga, who sported a zipper eye patch during her American Idol appearance last April.
Wearing a zipper accent can get a little tricky, so shoppers should take note to wear little to no jewelry to avoid hard wear overload. Zippered hair accessories are a great option for starters because most women are essentially familiar with wearing them, and trying it out won't break the bank.
For example, Lolo B. Design's bobby pins feature gold zipper pulls that add a touch of funky luster without causing too much commotion. Although there's no promise that zipper accents will be around forever, for now they are an unconventional way to brighten any outfit.
Send a letter to the editor about this story.