08.27.08
home | metro silicon valley index | movies | current reviews | dvd review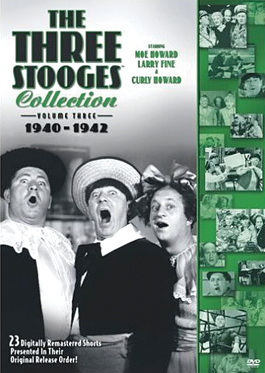 Three Stooges Collection, Vol. 3, 1940–42
Two discs; Columbia; $24.96
Reviewed by Richard von Busack
Wise men still seek these wise guys. They are at their prime in these early years of World War II in 23 two-reelers representing the acme of Curly's folly, Moe's burning wrath and Larry Fine's moon-man passivity. Included here are You Nazty Spy (1940) and its sequel I'll Never Heil Again (1941), a ref to the popular song "I'll Never Smile Again." Moe Howard plays "Moe Hailstone," dictator of Moronica. Moe bears an astonishing resemblance to Hitler, and You Nazty Spy was both Moe's favorite film and the first caricature of Der Führer in an American movie. You Nazty Spy was filmed even as a congressional committee of isolationist senators was investigating anti-Nazi prejudice in the American movie industry. (For understandable reasons, the committee adjourned for good on Dec. 8, 1941.) Politics aside, these shorts have the appeal of kinetic slapstick at its most merciless and disreputable. Moe's invective for his hulking, concrete-headed brother Curly is almost Shakespearean: "apple head," "Airedale," "porcupine," "groundhog." In between assault and battery, the three try their hands at various crafts: insurance fraud, ice hauling and fishmongering ("We've been trying to sell these fish for a month!," Larry complains). They take up "a simple job for simple people" in A Plumbing We Will Go, with Curly irrigating some electrical conduit ("Hey, no wonder these pipes don't woik, they're full of wires!"). Though the Stooges were famous as pastry abusers, The Sweet Pie and Pie is one of the few serious pastry-flingers they made. It is interesting to see it done, but the first reel of this particular short gets highly black-comic, with the "jerk by jerk" radio commentary of a triple execution of the Stooges at Hangemup State Prison. Speaking of commentary, the two-disc set is bereft of it; a little word about the Stooges' longevity and historical background would have been welcome.
Click Here to Talk About Movies at Metro's New Blog
Send a letter to the editor about this story.