08.27.08
home | metro silicon valley index | movies | current reviews | dvd review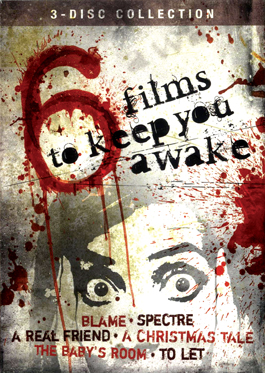 6 Films to Keep You Awake
Three discs; Lionsgate; $27.98
Reviewed by Steve Palopoli
The AfterDark 8 Films to Die For HorrorFest series has been a smart way to package indie horror films for two years running now. Lionsgate puts out the series on DVD, and it is obviously hoping to have similar luck with 6 Films to Keep You Awake, a three-disc set. The box doesn't let on that this is actually a series of short films made for Spanish TV in 2006—Barcelona's Masters of Horror, if you will. It seems like an odd marketing choice, since the cult value of a foreign horror series has got to be worth something, and unwitting Americans who suddenly discover all six films are subtitled might not be too happy about it. Spain has had its fair share of credible horror exports lately, and these roughly 75-minute episodes are surprisingly well shot, with better acting than we'd usually expect on American TV. With intriguing setups that often take their sweet time to unfold, they have the ability to suck even the casual viewer in. However, most of the endings are downright abysmal, "twists" that aren't even really twists. They're just bad. Even the best installments, the supernatural tale The Baby's Room and the psycho-landlord story To Let, start off great and then nose-dive, cranking the suspension of disbelief required to ludicrous levels. Blame, an anti-abortion story (featuring a creepy lesbian abortionist, even), is typical of the rest: interesting beginning, tension builds, nasty stuff is hinted at (there's some gore in most of the stories) and then it tanks. Stick with the HorrorFest.
Click Here to Talk About Movies at Metro's New Blog
Send a letter to the editor about this story.