August 23 - September 2, 2008
home | metro silicon valley index | the arts | fall preview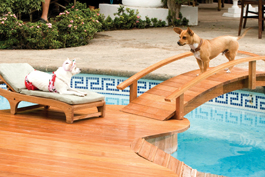 Beverly Hills Chihuahua
2008 Fall Arts Issue
Movies
By Richard von Busack
F
ALL IS the shoulder season between summer escapism and winter prestige. Since
Harry Potter and the Half-Blood Prince
has been postponed until summer 2009 (obviously the work of Voldemort), the biggest draw of the fall season will be the new James Bond adventure,
Quantum of Solace
(Nov. 14). As in
The Dark Knight
, expect escapism that isn't all that escapist; not to give away the plot of the new 007, but the documentary
Flow: For the Love of Water
will be a primer for it.
Other highly anticipated documentaries are on the way, too: Trouble the Water, heralded as one of the great films about Katrina's wrath; Religilous by Bill Maher takes on the Godly odd. New feature films by Rian Johnson of Brick, Charlie Kaufman, Spike Lee, Gus Van Sant, Clint Eastwood and Kevin Smith are part of the season's bill as well.
Of course, now is really the time for the garage-sale stuff the distributors picked up at Toronto and Sundance—and they looked like such bargains at the time (Hamlet 2, Towelhead); now is the time for talking dogs (Beverly Hills Chihuahua, Bolt) and the first outbursts of heart-wringers (I've Loved You for So Long, The Soloist, literally bringing out the violins).
On top of that, October is uncannily packed with film festivals: Mill Valley (Oct. 2–12), the Arab Film Fest (Oct. 16–31), the San Jose Jewish Film Festival (Oct. 26–Nov. 19) and the United Nation Association Film Festival (Oct. 19–26) and the International Latino Film Festival (Nov. 2–18, with a stops in San Jose at MACLA, SJSU and the Camera Cinemas).
Let's have a look—starred films are recommended, based on previews and the track records of the filmmakers alone. Our guide runs from Labor Day weekend through Thanksgiving; we'll do the Holiday Prestige Films in the fullness of time. (Opening dates, especially for art-house films, vary; as much as possible, we have indicated Silicon Valley opening dates.)
Aug 27
Hamlet 2 A comedy about a drama teacher and a wacky sequel to the Danish tragedy.
Traitor Don Cheadle is a suspected U.S. Special Operations double agent; Guy Pearce is the FBI agent investigating him on his rounds around the world.
Aug 29
Babylon A.D. Vin Diesel stars as some sort of transporter in a scary post-apoc future. Directed by Frenchman Mathieu Kassovitz (Gothika, La Haine).
College Three high school kids get mistaken for college-frat pledges. "Pervasive crude and sexual content, nudity, language, drug and alcohol abuse" raves the MPAA. Mitigating Factor: it's directed by a woman.
Disaster Movie Cross-programming for those who won't get the jokes in the above. Jason Friedberg and Aaron Seltzer (Meet the Spartans and so on) tickle your funny bones by quoting the movies they saw last spring.
What We Do Is Secret  A decent low-budget biopic of Darby Crash, lead singer of the especially raw L.A. punk band the Germs.
Sept 5
Bangkok Dangerous Remake of the Pang Brothers' Thai gangster movie, starring Nicolas Cage as an enforcer.
I Served the King of England Director Jirí Menzel (Closely Watched Trains) hits the rails again in this World War II–era story of a Forrest Gumpish waiter who runs afoul of communists and fascists alike.
Ping Pong Playa Jessica Yu's film-festival-circuited comedy about a basketball-loving Asian American kid who is stuck playing pingpong.
Trouble the Water Small-camera documentary about the Katrina disaster. Just as blues music memorialized the unthinkable 1927 flood, Kimberly Rivers Waters' rap music turns out to be a powerful record of the flood and its aftermath.
Sept 12
Burn After Reading Pitt, Malkovich and Clooney in a story of a CIA memoir that gets loose among the public in the new Coen brothers film.
The Duchess Whigs and wigs both with Keira Knightley as the Duchess of Devonshire (1757–1806), the model for Sheridan's Lady and girlfriend of the Earl Grey (Dominic Cooper) remembered in the eponymous tea.
A Girl Cut in Two New Chabrol about a Lyonaisse TV weather girl (Ludivine Sagnier) with two equally ardent and unsavory suitors.
Righteous Kill  De Niro and Pacino as New York coppers on the trail of a poetic serial killer who is picking off deserving criminals. Directed by Jon Avnet, who did that dark tale of cannibalism Fried Green Tomatoes.
Tyler Perry's The Family That Preys Kathy Bates and Alfre Woodward co-star as the matriarchs of two different and equally troubled families.
The Women  A remake of the sisters-are-doing-it-for-themselves MGM film. Meg Ryan plays the wife who learns that her husband is untrue; Annette Bening, Eva Mendez, Candice Bergen and Jada Pinkett Smith come up to give her a good pat on the back with a dagger.
Sept 19
Flow: For the Love of Water  Irena Salina's documentary about the global politics of water.
Ghost Town David Koepp's comedy about a man (Ricky Gervais) who can see dead people—particularly one annoying dead person (Greg Kinnear).
 Igor Tim Burton–lite in computer-animated story of a rebellious hunchback (voiced by John Cusack) who tires of being the man who has to pull the switch and rob the graveyards. Co-stars Steve Buscemi and Molly Shannon.
Lakeview Terrace  Neil LaBute unleashes the ethnic cleansing of LAPD officer Samuel L. Jackson on a two-tone couple (Patrick Wilson, Kerry Washington). Jackson gets to play Othello and Iago at the same time.
My Best Friend's Girl  Dane "The Dane Curse" Cook as an asinine Boston guy who gives newly single girls such bad dates that they go back to their boyfriends. Jason Biggs and Kate Hudson co-star.
Towelhead  A Lebanese girl (Summer Bishil) becomes involved with a much older military reservist (Aaron Eckhart) after she goes to live with her father in a backward Texas suburb during the Gulf War. Alan Ball (American Beauty) directs.
Sept 26
Choke Chuck Palahniuk's dark-comic novel sources the Clark Gregg film about a promiscuous weasel (Sam Rockwell) who pays his mother's medical bills by scamming.
Eagle Eye Shia LeBeouf and Michelle Monaghan are forced into a bizarre game of "Simon Says" by a killer who has them both under surveillance.
The Lucky Ones Neil Burger (The Illusionist) follows three wounded Iraq vets (Rachel McAdams, Tim Robbins and Michael Pena) during a trip across America.
 Miracle at St. Anna In 1942, four black GIs are trapped across enemy lines in Tuscany. Spike Lee's movie aims to show the forgotten side of the war; after publicly donnybrooking Clint Eastwood about the whiteness of the troops in the Pacific War, his work is cut out for him.
Nights in Rodanthe  Diane Lane and Richard Gere are reunited from Unfaithful; it's a Brief Encounter romance set at a North Carolina hotel.
The Pool In Goa, a poor rural boy becomes fixated with the perfect swimming pool of a wealthy resident.
Oct 3
Appaloosa Ed Harris directs Viggo Mortensen as a police officer in a corrupt Western town.
Beverly Hills Chihuahua  In live-action animation, Drew Barrymore is Chloe, a pampered lapdog who gets stuck in Mexico; an all-star cast of Latino entertainers (including "Piolin" Sotelo) do the voices.
Blindness Central Station's Fernando Meirelles' horror story of a plague of blindness hitting a modern-day city. Only Julianne Moore can see what's happening. Co-stars Gael García Bernal and Mark Ruffalo.
Flash of Genius  Greg Kinnear strikes again as Robert Kearns, the college professor who invented the intermittent windshield wiper, only to be stiffed by Detroit automakers. Kinda like Tucker, except much more narrowly focused.
 How to Lose Friends and Alienate People  Screenwriter Peter Straughan adapts Toby Young's novel about journalism; Simon Pegg stars. Also features Kirsten Dunst, Jeff Bridges and Gillian Anderson.
Nick and Norah's Infinite Playlist After-hours romance in New York's nightclubs and underground clubs with Michael (Superbad) Cera and Kat Dennings.
 Religulous  Bill Maher and Larry David (of Seinfeld) investigate the resurgence of religious fanaticism; note that the poster is parodying what Henry Poole Is Here takes seriously.
What Just Happened?   A Barry Levinson comedy about a beleaugered producer (Robert De Niro).
Oct 10
  Body of Lies Reporter David Ignatius's novel about an ex-journalist (Leonardo DiCaprio) recruited by the CIA is the source of this Ridley Scott thriller; Russell Crowe co-stars.  
City of Ember In a mystical city, the lights are about to go out for good. This fantasy, starring Bill Murray as the mayor of Ember, is adapted from a novel by Menlo Park's Jeanne Duprau.  
The Express  Ernie Davis (Rob Brown) was the first black football player to win the Heisman Trophy; Dennis Quaid plays the no-doubt tough-but-fair coach who helped him get there.
Quarantine  Remake of the Blair Witchy Spanish horror film REC with Jennifer Carpenter as the TV reporter who discovers an outbreak of viral mania.
Rachel Getting Married Anne Hathaway gets to play a mean, rehab-prone lady turning up for her sister's wedding. Jonathan Demme directs.
Sex Drive Road trip! A high school student (Josh Zuckerman) and two pals head across country to meet an Internet date. The characters, according to the IMDB, include "Christian Girl," "Amish Greasemonkey," "Fat Cop," "Pregnant Prisoner" and "Ms. Tasty."
Oct 17
 Ashes of Time Redux Wong Kar Wai's re-edited 1994 costume martial-arts movie, based on the classic novel The Eagle-Shooting Heroes (and burlesqued in a great Jeffrey Lau film of the same name); Leslie Cheung and Maggie Cheung co-star, along with Tony Leung and Brigitte Lin.  
Max Payne Mark Wahlberg in the film of the video game about a cop turned avenger.
The Secret Life of Bees  Dakota Fanning plays a motherless child in the rural south of 1964. An adaptation of Sue Monk Kidd's bestseller.
W. Josh Brolin furrows his brow and utters malapropisms in Oliver Stone's biopic. As his crew ("Now that's a picture only Charles Addams could paint"—Cary Grant, North by Northwest): Thandie Newton as Condi, Toby Jones as "Turd Blossom," Richard Dreyfuss as Cheney and Jeffrey Wright as the long-suffering but loyal Colin Powell.  
Oct 24
 The Brothers Bloom  Rian (Brick) Johnson's sophomore film about a group of international con men stars Adrien Brody, Rachel Weisz and Mark Ruffalo.
High School Musical 3: Senior Year Must graduation mean goodbye? Zac Ephron and Vanessa Anne Hudgens return for more singing and dancing. Maybe the kids really ought to see American Teen instead.
*Passengers Longtime HBO vet Rodrigo Garcia directs this thriller in which a group of survivors of a plane crash are debriefed by a therapist (Anne Hathaway). Then they start to disappear one by one.
Pride and Glory And also shame and ignominy in this saga of an NYPD family over the generations; Colin Farrell, Edward Norton and Jon Voigt star along with the underrated Jennifer Ehle.
Saw V Litterbugs, jaywalkers and those who don't cover their mouths when they cough: beware!
Oct 31
Changeling Clint Eastwood's thriller, based on a L.A. case from the 1920s, features a single mother (Angelina Jolie) whose child comes back strange from a kidnapping.
 I've Loved You So Long  Novelist-turned-director Philippe Claudel follows the adventures of Kristin Scott Thomas as an ex-con trying to re-enter life.
RocknRolla  Guy Ritchie's thriller about swindlers scrambling after a crooked land deal in London. Gerald Butler and Thandie Newton co-star.  
Zack and Miri Make a Porno Kevin Smith is back, and he's got overworked Seth Rogan and Elizabeth Banks as novice skin-movie makers.
Nov 7
The Lonely Maiden Security guards at a museum miss a painting they used to gaze at—so they heist it. Peter Hewitt (Zoom) directs.
Madagascar: Escape 2 Africa Those perky, annoying jungle critters are back to cover Reel 2 Reel again.
Repo! The Genetic Opera Taking time out from her political schedule, Paris Hilton co-stars with Alex Vega and Anthony Stewart Head (Giles from Bufffy) in a futuristic tale about biotech gone wrong.
Role Models A pair of slackers (Seann William Scott and Paul Rudd) are forcibly enlisted into the Big Brothers program. Directed by Stella vet David Wain.
Slumdog Millionaire Danny Boyle (Trainspotting, but frankly a lot of crap since them) directs a story about an Mumbai orphan who wants to be a contestant on the Indian game show.
 Stranded: I Have Come From a Plane That Crashed on the Mountains  And I Thought the Airline Food Was Bad Dept: Gonzalo Arijon directs the documentary version of the story filmed as the not-so-bad Alive; here are the first-person interviews with the survivors of the 1972 Andes plane wreck.
Synecdoche, New York Charlie Kaufman (Adaptation, Eternal Sunshine ... ) returns with the tale of a drama professor (Philip Seymour Hoffman) who tries to fold a life-size version of New York City into a warehouse; Michelle Williams, Emily Watson and Catherine Keener join in.
Nov 14
Nothing Like the Holidays John Leguizamo and Freddy Rodriguez join up in a Latino family warmedy set in Chicago during Christmas.
 Quantum of Solace James Bond (Daniel Craig) discovers that Mr. White (Jesper Christensen) has a posse. In South America, Austria and Italy, Bond tracks them down in a mission that's half-vendetta, half-business. The girl in the picture is Camille (Olga Kurylenko).  
Soul Men The last of Bernie Mac; he plays a music legend who agrees to reconnect onstage with his former partner, Samuel L. Jackson.
Nov 21
Bolt  Who watches the watchdog? John Travolta does the voice for a TV superhero pooch who helps a lost dog (voiced by Miley Cyrus) cross the country, in one of those incredible journey things.
The Soloist Joe Wright (Atonement) directs Robert Downey Jr. as a journalist who discovers a former prodigy (Jamie Foxx) living as a homeless violinist on the streets of L.A.
Twilight Taking the delayed Harry Potter and the Half-Blood Prince's spot is this equally franchisable Catherine Hardwicke film version of the vampire romances in rural Washington; Kristen Stewart as Bella and Robert Pattinson as the mysterious teen Edward, who is actually older than McCain.
Nov 26
Australia  Baz Lurhmann goes old-time-movie big with Nicole Kidman as a high-toned Englishwoman who inherits some Oz land. She is led there by a dusty, rugged local (Hugh Jackman); both get to witness the famous bombing of Darwin by the Japanese.  
 Four Christmases It's Christmas time, and a couple (Reese Witherspoon, Vince Vaughn) rush to go spend the holiday with all of the parents. Mary Steenbergen co-stars with Jon Favreau, Robert Duvall, Carol Kane and Sissy Spacek. Directed by Seth Gordon (The King of Kong).
Transporter 3  Ex-graffiti artist Olivier Megaton directs this latest Jason Statham action opera.
Nov 28
Milk Sean Penn as Harvey Milk in the Gus Van Sant biopic about the gay San Francisco supervisor who was murdered by Dan White.  
Send a letter to the editor about this story.