August 23 - September 2, 2008
home | metro silicon valley index | the arts | fall preview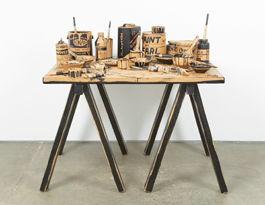 2008 Fall Arts Issue
Visual Arts
ABOUT 40 years ago, Benjamin Braddock learned in The Graduate that the future could be summed up in one word: "plastics." Now, in the face of environmental change and the need to conserve and recycle, the watchwod this fall is "cardboard." The San Jose Museum of Art has assembled an intriguing group show called "This End Up: The Art of Cardboard," which shows how contemporary artists are making use of the humble medium. Both lightweight and yet sturdy, cardboard allows artists to think big. In a related show, Ann Weber demonstrates some of her oversize woven cardboard sculptures.
More traditionally, the Cantor Arts Center will be showing off some of its own treasures, all acquired in the last 10 years. This haul includes everything from a magnificent Summer Landscape by 19th-century American artist Asher D. Durand to an early Picasso, Courtesan With Hat (1901), to English artist Cyril E. Power's The Tube Staircase, a color linocut that echoes in a vertiginous swirl of risers Duchamp's Nude Descending a Staircase, minus the nude.
San Jose Museum of Art
  110 S. First St., San Jose; Tuesday–Sunday, 11am–5pm; 408.294.2787.
Fred Spratt: Color and Space, monochrome abstracts by Fred Spratt—runs through Sept. 28.
01SJ Biennial: Superlight—runs through Aug. 30.
Robots: Evolution of a Cultural Icon—runs through Oct. 19.
Road Trip, a mixed-media exhibition of drawings, collage and video by more than a score of artists focusing on the idea of getting away from it all on America's roadways— Sep. 19–Jan. 25.
Frida Kahlo: Portraits of an Icon, photographs of the artist, with images by Manuel Alvarez Bravo and others— Oct. 11–March 22.
This End Up: The Art of Cardboard, a show about a humble medium, with works by Shannon Goff, Tobias Putrih and Scott Hove and more—Nov. 8–Dec. 8.
Boolen Valley: in a collaboration with Montalvo Arts Center, Adam Silverman and Nader Tehrani created a large installation of clay objects that merge to create a 3-D landscape—Nov. 8–Jan. 11.
Cantor Arts Center
Stanford University; closed Monday–Tuesday; free; 650.723.4177.
Spared From the Storm: Masterworks  From the New OrleansMuseum of Art—runs through Oct. 5.
Richard Diebenkorn, Artist, and Carey Stanton, Collector: Their Stanford Connection With Richard Diebenkorn: Abstractions on Paper—runs through Nov. 9.
Contemporary Glass, artisan objects from Salviati, a Venetian company—ongoing.
Dürer to Picasso, museum acquisitions from the last decade—Nov. 12–Feb. 15.
Timbuktu to Cape Town, African art— Dec. 3–March.22.
Hendrik Goltzius: Promised Gifts From the Kirk Long Collection, selections by the 16th-century printmaker—Dec. 17–March 29.
Montalvo Arts Center
15400 Montalvo Rd., Saratoga; daily 11am–3pm; 408.961.5800.
Urban Design and the Next Generation, a joint project with ADOBE Youth Voices and headRush looking at possible futures for San Jose—runs through Sep. 28.
Drowning Without You, paintings by Susannah Bettag—Oct. 19–Jan. 11, in the Project Space.
De Saisset Museum
Santa Clara University; Tuesday–Sunday, 11am–4pm; free; 408.554.4528.
Hank Willis Thomas and Kambui Olujimi: Winter in America, stop-motion animation video and stills that re-enact a racially tinged killing—Sep. 27–Dec. 13.
Just Pretend Everything Is OK: Evri Kwong, socially charged narrative paintings by a San Francisco artist—Sep. 27–Dec. 13.
The Hapa Project: Kip Fulbeck, portraits in images and words by Hawaiian life and culture—Sep. 27–Dec. 13.
Euphrat
Interim Museum, A9 Building, De Anza College, Cupertino; Monday–Thursday, 10am–4pm; 408.864.8836.
De Anza and Foothill College Art Faculty/Staff Exhibition—Sep. 30–Oct. 30.
Art Museum of Los Gatos
4 Tait Ave.; Wednesday–Sunday, noon–4pm; free; 408.395.7375
Sex, Politics and Misogyny! , works by Peter Langenback and Kenney Mencher—runs through Oct. 24.
Los Gatos Art Association Member Show—Oct. 30–Dec. 5.
San Jose Museum of Quilts & Textiles
520 S. First St., San Jose; Tuesday–Sunday, 10am–5pm; 408.971.0323.
Charged Sites: Radka Donnell's Art Quilt, a retrospective for art quilter and author—Sep. 2–Nov. 2.
Wrapped/unwrapped tapestries, by Mary Zicafoose; Variations2 by Eleanor McCain; and Visible Presence by Polly Barton; three shows by fiber artists—Nov. 18–Jan. 25.
Triton Museum of Art
1505 Warburton Ave., Santa Clara; Monday–Sunday, 11am–5pm, Thursday till 9pm; 408.247.3754; free.
Betty Nobue Kano: Peace Paintings—runs through Aug. 31.
Vicky Walsh: Beyond Appearances—runs through Aug. 31.
Contemporary Still Lifes—runs through Sep. 7.
Mike Narciso: Walk the Island, dreamlike photos of Mare Island—Sep. 8–Nov. 16.
Ann Weber: Wonderland, an installation of oversize woven cardboard sculptures— Sep. 13–Nov. 23.
Spirit & Form, works by a trio of Bay Area sculptors: Randall Shiroma, Yoshio Taylo and Wanxin Zhang—Sep. 20–Nov. 23.
Annual Blues Bash, with Vinny Peterson and All-Stars Band and the Usual Suspects, plus a picnic and artwork on display—Sep. 28, noon–5pm.
Tech Museum of Innovation
201 S. Market St., San Jose; daily 10am–5pm; 408.294.TECH.  
Leonardo: 500 Years Into the Future, models and artifacts based on the ideas of da Vinci–Sep. 27–Jan. 4.
Anno Domini
366 S. First St., San Jose; Tuesday–Friday, noon–7pm, Saturday, noon–5pm; 408.271.5155.
Bruno 9L1—New pieces by Brazilian artist. Ends Sept. 20.
Hope Leaves, Works by Michael Page— Sep. 7–Oct. 20.
The Deep Dark, a solo exhibit by
Katy Horan—Sep. 5–Oct. 18.
Know Hope, a solo show by California/Israeli street artist—Oct. 3–Nov. 22.
Maxwell Holyoke Hirst, The Season in Hell—Nov. 7–22.
Fresh Produce, Annual sale—Dec. 5–Jan. 10.
History San Jose
History Park, 1605 Senter Road, San Jose; Tuesday–Sunday, noon–5pm; free; (408.287.2290)
A Breath of Plein Air, paintings by Santa Clara Valley artists—runs through Sep. 21.
Home Front: Santa Clara Valley's World War II Experience—Nov. 9–May 31 at the Pacific Hotel Gallery.
She Made It, an Exhibition of Needlework, Arts and Crafts by San
Jose Women—opens Oct. 19 at the McKay Gallery in the Pasetta House.
La Galleria
  Mexican Heritage Plaza, 1700 Alum Rock Ave., San Jose; Monday–Saturday, noon–5pm; free; 408.928.5563
Mi Coche—My Culture: Livin' the Lowrider Lifestyle—Ends Aug. 31.
Bill Steen, photos showing the work he does on sustainable building projects in Mexico—opens Sep. 21 and runs through Mariachi Festival.
MACLA
510 S. First St., San Jose; Wednesday–Thursday, noon–7pm, Friday–Saturday, noon–5pm; free; 408. 998.ARTE.
The Art of Style, a group show—Sep. 3–Oct. 25.
Youth Photography + Video Exhibition—Nov. 7–Jan. 3.
Mohr Gallery
Community School of Music and Arts, 230 San Antonio Circle, Mountain View; Monday–Friday, 10am–7pm, Saturday, 9am–3pm; 650.917.6800.
Ala Ebtekar, Epic Verse, drawings by Persian-American artist—runs through Sep. 23.
Los Altos Art Club: A Symphony of Color—Sep. 8–23.
Flo Oy Wong: Raising the Voices— Oct. 6–Nov. 26.
Comic Book Art—Dec. 1–Jan. 25.
Palo Alto Art Center
1313 Newell Road, Palo Alto; Tuesday–Saturday, 10am–5pm, Sunday, 1–5pm, till 10pm Tuesday–Thursday; 650.329.2366.
Timothy Berry: More Missing Magic—runs through Sep. 7.
Nathan Oliveira: The Painter's Bronzes—runs through Sept. 7.
The Miniature Worlds of Bruce Metcalf, tiny figures in silver and wood enact troubling scenarios—Sep. 28–Dec. 21.
In the Bigger Picture: Richard Misrach, large-scale photographs—Sep. 28–Dec. 21.
Great Glass Pumpkin Patch, annual show of glass art—Sep. 30–Oct. 5, with sale Oct. 4–5.
San Jose Institute of Contemporary Art
560 S. First St., San Jose; Tuesday–Friday, 10am–5pm, Thursday till 8pm, Saturday, noon–5pm; free; 408.283.8155.
Eureka! , works by winners of the Eureka Fellowship award—runs through Sep. 20.
Medusa, Timothy Horn's large rubber and fiber optic sculpture inspired by Ernst Haeckel—runs through Sep. 24.
Polarity Convergence, a Night Moves installation in the front window offers a retro control panel that looks like it could send a man to the moon—runs through Oct. 17.
Fall Exhibition and Auction—Oct. 3–25, auction events begin at 6pm on Oct. 25.
Manuel Neri: The Figure in Relief, relief sculptures and drawings—Nov. 7–Jan. 10.
Chris Dorosz: The Painted Room, an installation piece that features a room fashioned from suspended dots—Nov. 7–Jan. 17.
Natalie and James Thompson Gallery
San Jose State University, Art Building, San Jose; 408.924.4328
Spiele: Otl Aicher's Olympic Graphic Design, a show of work done for the 1972 Munich Olympics—Aug. 26–Sep. 26; presentation by guest curator Joe Miller on Aug. 26 at 5pm.
William Brice: A Memorial Exhibition, works by late L.A. abstract artist—opens Oct. 7.
Don Reitz, ceramic sculpture–opens Nov. 18.
WORKS/San Jose
451 S. First St, San Jose; Tuesday–Friday, noon–4pm, Thursday, noon–7pm; free; 408.295.8378.
Members Show—runs through  Sep. 13.
Asian Art Museum
200 Larkin St., San Francisco; Tuesday–Sunday, 10am–5pm; 415.581.3500
Power and Glory: Court Arts of China's Ming Dynasty—runs through Sep. 21.
Arts of the Islamic World From Turkey to Indonesia—Sep. 5–March 1.
Afghanistan: Hidden Treasures From the National Museum, Kabul—Oct. 24–Jan. 25.
SFMOMA
151 Third St., San Francisco; Monday–Sunday 11am–5:45pm, Thursday, till 8:45pm (open at 10am till Sep. 28, open till 7:45 Saturday–Sunday till Sep. 28); 415.357.4000
Frida Kahlo—runs through Sep. 28.
The Art of Lee Miller—runs through Sep. 14.
Half-Life of a Dream: Contemporary Chinese Art—runs through Oct. 5.
Double Down: Two Visions of Vegas— Sep. 18–Jan. 4.
Brought to Light: Photography and the Invisible, 1840–1900—Oct. 11–Jan. 4.
Send a letter to the editor about this story.