08.27.08
home | metro silicon valley index | music & nightlife | band review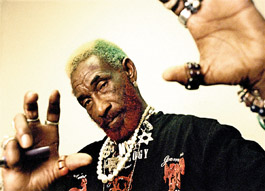 In His Sights: Lee 'Scratch' Perry's got your number.
Reggae Party
Lee 'Scratch' Perry teams up with Andrew W.K. for 'Repentance'
By John Gentile
HEAR YE, hear ye, sinners, Lee "Scratch" Perry, the 72-year-old legendary reggae producer, performer and wild man, is telling you to repent.
Although the artist frequently blames corrupt governments and world leaders for the state of current affairs, on his new album, Repentance, he is taking aim at both the ruling class and the people being ruled (and that means you). His message? That we have to dig ourselves out of the hole we're in.
"If you are evil, and you are doing evil things, stop being evil and stop doing evil things!" says Scratch. "If you are a gangsta, stop being a gangsta and be a good person. Stop the bad things that you are doing, and start being a good person!"
For over five decades Lee "Scratch" Perry has been a driving force behind reggae music. Despite his eccentric behavior, which included building a pond in a recording booth and spending a year tagging graffiti throughout Europe, Perry has recorded and produced some of reggae's most influential recordings, including early Bob Marley and the Wailers albums, Max Romeo's biblical War in Babylon and the Clash on their self-titled debut. After the '70s, Perry made an exodus to Switzerland, left the producer's chair and began to record his own vocals. While his recordings were rooted in reggae, they included strange sounds like double-tracked vocals, odes to defecation and cows mooing with dubs.
Although Perry made quantum leaps in the fields of dub and remix, his latest album, Repentance, is a blending of reggae with electronica, hip-hop and random word associations, and is co-produced with noted party aficionado Andrew W.K.
"Anything you need to see in my work, Repentance, with Andrew W.K., can be seen in the first single 'Pum Pum,'" says Perry. "If it has some rock, it is a good idea coming from W.K. Maybe the sound comes from the gutter and that sounds good, too."
And anything else you hear? That comes from the man upstairs.
"Everything we do is a part of Jesus Christ," says Perry in his heavy Jamaican patois. "If you are living good, and you get rich, you go, 'Jesus Christ, something good happened to me!'"
But Perry's version of Christ isn't exactly the blue eyed, loving savior found in most Christian bibles. In his view, God is just as evil as he is good, because God created evil. "If you are living bad," says Perry, "and you happen to get in a fight, and a man stab you, you must say, 'Jesus Christ stabbed me! If you get shot, then it is Jesus Christ that shoot you!"
Perry's view of creation blends primitive religions filled with phallic imagery with futuristic notions of the divine. "I say Jesus Christ's name, it goes in every ear, and comes out every sex," says Perry. "That word Jesus Christ is a very powerful word. I say 'Jesus Christ, give me more, give me more,' and the woman say, 'Here is more, here is more!' Some people want sex until they die."
Perry's wild proclamations are sometimes distracting, especially when combined with his peculiar attire—the hundreds of buttons sewn into Scratch's hat, jacket and sneakers, and the baubles that constantly jangle from his threads, each having their own magical importance. But these days he's surprisingly straight-laced—he's sworn off marijuana, alcohol and meat for a good part of his career.
"I do not smoke marijuana," says Perry. "I got all the knowledge that I need from marijuana. So I stop smoking and I stopped drinking the fermentation. Do not overdo the brain. The brain is a child. Give the child just enough and do not oversmoke. Brain healing! Body healing! Spirit healing!"
Although the most popular Perry videos on YouTube feature him making wacky soliloquies and shaking oddly topped canes, the less popular videos feature him as a stoic producer and recorder, intently focusing on his music, unable to be distracted by even the most annoying peripheral bothers. But, if you ask Perry just what he is, his answer is surprisingly simple for such a complex man. Perry slows his rapid speech and says proudly, "I consider myself an artist, a singer, a preacher, a poacher, a magician. I can do anything that I think I can do, and that is anything."
LEE 'SCRATCH' PERRY performs on Thursday and Friday (Aug. 28–29) at 9pm at the Independent, 628 Divisadero St., San Francisco. Tickets are $25. (415.771.1422)
Send a letter to the editor about this story.