August 29-September 4, 2007
home | metro silicon valley index | music & nightlife | preview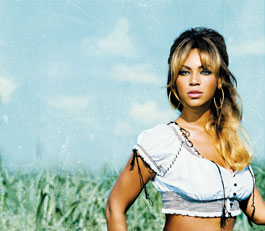 Jelly-filled: Beyoncé Knowles won't take any guff from men crazy enough not to sleep with her.
Beyoncé Vs. Toby
In a battle of hip-hop vs. country lyrics, nobody wins
By Mike Connor
MEGASTARS don't get to where they are without talent—think about Milli Vanilli. On second thought, don't ever think of Milli Vanilli again.
Instead, think about this: between the two of them, Beyoncé Knowles (who performs at the Oracle Arena in Oakland on Aug. 31) and Toby Keith (who performs at the Shoreline Ampthitheatre in Mountain View on Aug. 30) have sold more than 10 gazillion records, making them more popular than Jesus Christ Superstar. So what do they have that Christ didn't? Besides a booming booty and a sly redneck drawl, they both wade in music genres with ass-kicking legacies.
Both country and hip-hop music are full of outlaws, rebels and gangstas, from Johnny Cash and Waylon Jennings to N.W.A. and 50 Cent. And like any counterculture movement, they've since been co-opted and polluted by wannabes trying to make a buck. Picture R. Kelly standing on the shoulders of giants, then tinkling on their heads. It could happen.
Happily, purists like Toby and Beyoncé remain, courageously rebelling against things like terrorists, not driving Ford trucks, sleeping alone with a body as sexy as Beyoncé's and dating men who don't wear name-brand clothing.
Toby Keith came from humble beginnings—he was a football player who didn't make the team and took to playing honky-tonk bars instead. He got his big break when one of his fans passed on Keith's demo to a Mercury Records exec, who finally signed him, and not for nothing—his first single, "Should've Been a Cowboy," hit No. 1 on the Billboard country singles chart.
Keith is probably best known for being the "Ford Truck Man," for which he wrote the compelling, no-nonsense lyrics, "I'm a Ford Truck man, that's all I drive/ I ain't got no boundaries, I don't compromise," and for his controversial "Courtesy of the Red, White and Blue (The Angry American)," Keith's fair and balanced analysis of 9/11 and its aftermath:
Now this nation that I love
Has fallen under attack
A mighty sucker punch came flyin' in
From somewhere in the back
Soon as we could see clearly
Through our big black eye
Man, we lit up your world
Like the 4th of July
Notice how Keith addresses the terrorists in the second person, adding to the fear they'll feel when they hear his song. The Dixie Chicks said Keith's lyrics are "ignorant" and cast an unflattering light on country music; Keith responded by rebelliously PhotoShopping Natalie Maines' picture next to Saddam Hussein and displaying it behind the stage at his concerts. Take that, Chicks.
Ten-time Grammy winner Beyoncé Knowles grew up singing in church, but quickly rose to megastardom as the lead singer of the hip-hop and R&B group Destiny's Child, which became the bestselling female group of all time. Her debut solo album, Dangerously in Love, was aimed squarely at the club-thumping niche, scoring huge with "Crazy in Love," a track she did with rap mogul and boyfriend Jay-Z.
Like her boyfriend, Beyoncé has extended her reach way beyond music. She's shilled for Ford (yes, her too), L'Oréal, Tommy Hilfiger and Emporio Armani, but has her own clothing line now, and has made successful forays into film.
More importantly, Beyoncé hasn't lost the songwriting verve that earned her the "Songwriter of the Year" award from the Pop Music Awards in 2001 for lyrics like "I don't think you're ready for this jelly ... 'cause my body's too bootylicious for ya, babe."
On the women's lib tip, there's "Independent Woman," on which Knowles takes an independent stroll through commercialism's gaudy aisles, letting the world know she bought her own shoes, clothes, house and car, singing, "All the mommas that profit dollas/ Throw your hands up at me." Truly a liberated spirit.
Toby Keith performs on Thursday (Aug. 30) at 7:30pm at Shoreline Amphitheatre, 1 Amphitheatre Pkwy., Mountain View. Tickets are $29–$65. (408.998.TIXS) Beyoncé performs on Friday (Aug. 31) at Oracle Arena, 700 Coliseum Way, Oakland. Tickets are $59.50–$150.75. (408.998.TIXS)
Send a letter to the editor about this story.