August 29-September 4, 2007
home | metro silicon valley index | silicon valley restaurants | review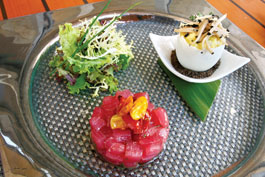 Photograph by Felipe Buitrago
Quattro pro: It's the new style in East Palo Alto. Above: ahi tartare (center), and duck scrambled egg with truffle (right).
East Rising
East Palo Alto now has one of the valley's best restaurants in Quattro
By Stett Holbrook
EAST PALO ALTO has come a long way since it was known as the murder capital of the United States. While the city isn't as dicey as it used to be, few know it now has one of best restaurants in Silicon Valley.
Quattro Restaurant and Bar brings high-style, impeccably sourced Italian cuisine to the South Bay, an area that has about as many great Italian restaurants as it does snow days. OK, so Quattro is located in the gleaming Four Seasons hotel and it feels more PA than EPA. It's on the west side of Highway 101 and its glass tower, flowing fountains and late-model luxury cars purring out of the parking garage say money and power and not the grit and crime many people conjure up when they think of East Palo Alto.
It is out-of-towners, not locals, who appear to have discovered this culinary gem. Over the course of my visits, the restaurant was crowed with business types, mainly groups of well-dressed men with loosened ties and women with sensible shoes huddled together over plates of food with cocktails firmly in hand. Lucky them that they get to eat and drink in a place as nice as this.
The restaurant itself is a beauty. Set in a boxy but open building of glass, steel and wood, the restaurant has a sleek modern feel that's airy and inviting. Contemporary paintings and sculptures on the walls add to the effect. There's also an appealing outdoor dining area where I enjoyed a late summer evening and witnessed my first falling leaf of the soon-to-change season from one of several pistache trees.
Chef Alessandro Cartumini has created a big, almost too long menu. By all means start with the crudo four ways ($26). The menu changes regularly but when I ordered it included a shucked oyster floating in its liquor, barely seared hamachi, ahi and my favorite, cubed salmon dusted with smoked paprika and sea salt and dabbed with extra virgin olive oil. Each dish was bracingly fresh and a simple expression of its piscine identity.
Another perfect dish for sharing is the bruschette Quattro ($11). The bruschette are best enjoyed like a flight of wine because the toppings—oven-dried tomatoes, Sambuca-cured salmon, panforte and peperoncino-seared beef tenderloin stuffed with arugula—range from light to big and bold. Each topping comes on a toasted piece of bread that's curled up to look like a little potato chip.
Hurry before the artichoke and watercress pesto soup ($10) comes off the menu. It's the best bowl of soup I've had all year. It's meaty and rich but still has a snappy lightness. The smoked duck salami on top was a nice touch, too.
For a light entree, I tried the borlotti beans and poached duck egg ($17 for a small plate, $23 for larger portion) and loved it. Speckled borlotti beans (also known as cranberry beans) are meaty and plump. Pierce the duck egg and mix in some of the Oregon summer truffles shaved on top and you've got a dish of simple decadence.
The warm seafood over cannellini beans and shaved fennel ($30) presented the only bump on the road to culinary bliss. The massive sea scallops, shrimp and squid were all well cooked (but not cooked well done) but needed some sauce to tie it all together because otherwise it was bite after bite of naked seafood.
It was also nice to see local lamb instead of the frozen, air-freighted stuff from New Zealand. The lamb duo ($37) offered rib and rack portions of exquisitely tender and flavorful meat accented with an English pea purée, grilled baby eggplant and a great, bittersweet goji-berry orange marmalade.
Desserts too often come at you like a sugar brick to the head, but at Quattro they display a restrained finesse. The roasted white nectarines dessert ($8) presents sliced fruit fanned out in a circle topped with a peachy flavored "gazpacho." It looked like fruit in heavy syrup but it was light, half sweet and utterly delicious, especially when mixed in with the dollop of creamy buttermilk foam and pleasantly grainy polenta shortbread. Then there's the blood orange pannacotta ($8). Pannacotta is standard fare, but it's given new life here. The vanilla bean–flecked pudding is topped with just a dab of blood orange syrup and gilded with a creamy pistachio confection.
Lunch isn't as ambitious as the dinner, but it's still very good. My dining partner and I started with two great salads that could have worked as light entrees, a seared hamachi panzanella (bread salad) for $13 and a fresh, sparingly dressed arugula, watercress and butter lettuce salad ($10) served with wonderful late-season peaches dusted with some kind of Amaretto crunch. If you order a salad be prepared for the pepper mills wielded by the waiters. They're as big as rocket launchers but do kick out a wide pattern of medium grind pepper over your salad.
The smoked turkey, avocado and applewood bacon club panini ($15) was good but the turkey was piled on a little too thick. I had to remove some just to get a bite.
I tend to think of risotto as a cold weather dish, but the seafood and spring pea risotto ($19) with plump roasted scallops and beautiful, head-on Hawaiian blue tiger prawns was light and satisfying. The foamy saffron emulsion draped on top was a great finishing touch.
Service is one of the high points at Quattro. Since it's a Four Seasons hotel, you expect first-rate service. Waiters are knowledgeable, disciplined and unobtrusive. Even the busboys and the guy who dropped off the bread were well versed in the menu and conducted themselves with grace and ease.
The Italian-slanted wine list is a pleasure. I especially like the glossary of varietals at the front of the menu. Most people know sangiovese and barolo, but varietals like arneis and negroamaro are more esoteric, so the definitions help. I also appreciated the way glasses of wine are served. I ordered a glass of wine and instead of just appearing with the glass in hand, the server brought the bottle over, showed me the label and poured. Part of the enjoyment of drinking wine is the ceremony, and that's often done away with when you order by the glass, so I appreciated the extra effort here.
It's time for more people to crash the party at Quattro. Why should the suits get this place to themselves? The restaurant is too good for just out-of-towners on expense accounts. It deserves a local following as well.
---
Quattro Restaurant and Bar
Address: 2050 University Ave., East Palo Alto.
Phone: 650.470.2889.
Hours: Breakfast 6:30–11am Mon–Sun, lunch 11:30am–2:30pm Mon–Sat and dinner 5:30–10pm Mon–Sun.
Cuisine: Italian.
Price Range: $27–$48.
Send a letter to the editor about this story.