August 29-September 4, 2007
home | metro silicon valley index | the arts | stage | review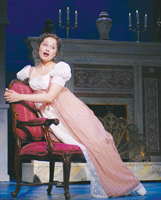 Photograph by David Allen
Matchmaker: Lianne Marie Dobbs plays the title role in 'Emma.'
Jane Sings
Austen's 'Emma' gets a musical face-lift from TheatreWorks
By Marianne Messina
THEATREWORKS' new musical Emma is one of those "There's music in the air" kind of romantic comedies, and to make it literal, director Robert Kelley perches a lovely four-piece chamber group (piano, double reeds, cello, violin) on a tall set of archways directly over the action. In this Paul Gordon (book/music/lyrics) adaptation of the Jane Austen novel, Gordon has maintained most of the favorite, familiar lines while adding memorable songs. Emma Woodhouse (Lianne Marie Dobbs) spices up life in her sleepy country town (south of London, 1815) by setting her healthy imagination to the task of matchmaking: "I will make matches till no creature is neglected," she sings.
As she hunts a suitable match for her (pedigree-deficient) friend Harriet (Dani Marcus), Emma gets everything wrong, including the leanings of her own heart. Boasting social prescience beyond her 21 years in "The Argument," Emma tells lifelong family friend Mr. Knightley (Timothy Gulan) that Harriet can do better than the country farmer Mr. Robert Martin. Gulan injects plaintiveness into Knightley's retort: "Because of you, your friend might lose the only love she had." None of the musical format's typical contrivances can hold this indomitable, bright adaptation down. In white, empire-waisted dresses, the charismatic Dobbs, with her dimpling smile, turns exaggerated personality into an intimate inside joke between herself and the audience—that look of horror as Harriet prates on about Robert Martin.
Gordon has craftily made all the song reprisings welcome. Reprisings of "Mr. Robert Martin" and Harriet's other theme song, "Humiliation" (when polite society isn't so polite toward Harriet), become linchpins of the play's comedy. Marcus' not-so-fragile Harriet makes it OK to laugh at her girl-doll squawks, but she can shift into more fluid tones for a romantic line. That balance between giddy humor and touching empathy earned Marcus a thundering curtain call on opening night.
Like the mood, the show's operating principle is lightness. In the picnic scene, green silk stands in for verdant hills, and it billows like tall grass in the wind. Steven B. Mannshardt creates the sense of walls where there are none, all by way of his lighting designs. Yet the production's visual shorthand remains data rich. Delightful set pieces by scenic designer Joe Ragey are sparse, but telling. A variety of picturesque hearths suggest the size of the room and the opulence (or not) of the owner. The wealthy Woodhouse candelabras contrast with the Bates' modest candlesticks.
With costume designer Fumiko Bielefeldt, clothes make the man, from Mr. Knightley's country gentleman riding boots to Mr. Elton's black, man-of-the-cloth knee breaches and hose to Mr. Frank Churchill's (laughably) urbane trousers, shiny shoes, top hat and cane. As the frank and even stern Mr. Knightley, Gulan moves with a sort of pressed grace. The reserved quality of his charm heightens the stakes when he sings his romantic ballad, "Emma." With this title song, Gordon's upbeat score with its cascading piano and airborne strings moves into pop hit territory. Knightley first sings it in a kind of reverie—"Emma, what is this endless dance we're in?"—and the powerful choreography between him and Dobbs has that "so near, yet so far" tension as they meet, hand-to-hand, enfold and mesh like rotating gears, all without actually touching. Generally, you can count on musicals for fluff and on TheatreWorks for Swiss-clockwork productions, but Emma makes all that disappear in its overall lightness of being.
Emma, a TheatreWorks production, plays Tuesday–Wednesday at 7:30pm, Thursday–Friday at 8pm, Saturday at 2 and/or 7pm through Sept. 16 at the Center for the Performing Arts, 500 Castro St., Mountain View. Tickets are $25–$61. (650.903.6000)
Send a letter to the editor about this story.