August 30-September 5, 2006
home | metro silicon valley index | movies | current reviews | film review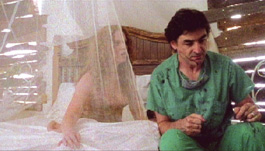 Red's Anatomy: The blood flows freely when Dr. Cranston (Christopher Page) goes to work on unsuspecting patients in 'Bit Parts.'
Slice of Death
'Bit Parts': Those eyes, those lips
By Richard von Busack
CALLING director Dave Reda on the phone, I wanted to make sure that I had understood the subtext of Bit Parts, playing Sept. 6 for one night only in San Jose at Camera 12. Bit Parts concerns a mad plastic surgeon loose in Hollywood. Using aliases like "Robert Evans" and "Irving Thalberg," Dr. Cranston (Christopher Page) lures fresh-off-the-bus actresses with fake auditions. Later, he kills them and harvests their facial features to graft onto his disfigured daughter, Maggie. Sure, Bit Parts will resonate with gorehounds, but it's also a statement about the abuses of science. It needs to be said: There are some doors man was not meant to enter! "You picked up on that? You're good!" Reda said. "You probably picked up the other messages, then: Hollywood is scary. Torture is bad."
Reda should know about both these principles, having lived 10 years in L.A. Though long gone, he still has nothing but good things to say about San Jose. The son of Morgan Hill jazz musician Howard Reda, Dave is also the descendant of grandparents who owned movie theaters in Kentucky. He went to Prospect High and West Valley College, but Reda also got an education listening to his father and his grandfather poring over movies in the evening. Later Reda formed Elftwin Films with his Dragons & Dungeons buddy Karl Schweitzer. Together, the two did short comedy films connected with the troop Click This!. Filed under Elftwin, Click This!'s "Turn That Trick" is visible on YouTube; it's a commercial for a board game Parker Brothers will wish they had invented.
Though Reda has been working for three years on Bit Parts, the actual shoot was 12 days long, nine of them spent in 100-degree-plus heat in a small house in the foothills of Pasadena. Reda was fortunate to have cast his cousin Michelle Angel in the role of Maggie. Angel endured the overheated shoot wrapped in bandages. "She never complained once. If she'd been a brought-in actress I never would have heard the end of it."
As the surgeon, Second City alumnus Christopher Page has plenty of edifying moments, warbling at the steering wheel as he drives around on his unholy errands and doctoring his own face in the bathroom mirror. (It's sort of a re-creation of the cover of the Mothers of Invention's album Weasels Ripped My Flesh). Reda notes that with Page's comedy background, it was sometimes hard to repress the ad libs. One line neither Reda nor Page could resist is by the doctor, about to kill a would-be actress, who pleads for one more take: "We'll fix it in the post ... the post-mortem!"
After bringing this film home so that valley friends and well-wishers can have a look, Reda and Schweitzer are weighing the commercial prospects of Bit Parts. It may either be distributed as is, or perhaps remade with some real studio money behind it, as per Sam Raimi's The Evil Dead 2. And, as Reda is thinking of sequels, Angel's Maggie might be a name-psycho some day: "She could be the next Freddy or Jason."

Bit Parts (Unrated), directed by Dave Reda, written by Jon Rosenberg and starring Michelle Angel and Christopher Page, plays Sept. 6 at 7 and 9pm at Camera 12 in San Jose.
Send a letter to the editor about this story.